Sports
Dal wins fourth lacrosse title in five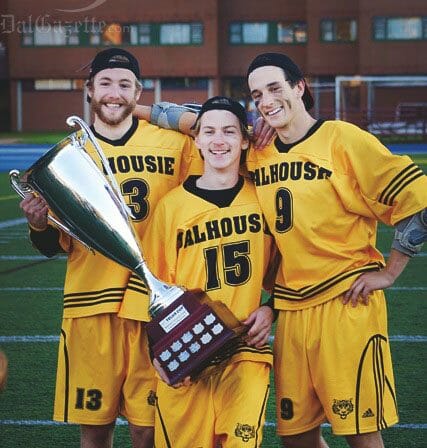 Tigers claim crown with lopsided win
CORRECTION: We accidentally overstated the success of Dal's lacrosse team in our 144-11 issue. This article should have said that the Tigers have won three titles in four years. St. FX actually won the league championship in 2007. The Gazette regrets the error.
They don't come much sweeter than this one.
What was a nail-biter at halftime turned into a laugher, and no one laughed harder or cheered louder than Dalhousie's lacrosse team after they defeated St. FX on Nov. 6 at Huskies Stadium to capture their fourth championship in five seasons.
The final score was 13 – 4, but somehow it seemed even more lopsided than that. After a game that had the Tigers up 4 – 3 midway through the match, it got out of hand in a hurry. Dal scored their next six goals out of the break in rapid succession, refusing to take their foot off the pedal.
First-year Dal head coach commented on his team's seemingly Jekyll and Hyde performance: "I think in the first half our team was just a little nervous and made some fundamental mistakes. In the second half, we just got better and better and better. We loosened up a bit."
He was also quick to give credit to his entire team, from the coaching staff down, praising them for their hard work and dedication, both of which clearly paid off.
The result comes after a much more tightly fought semifinal on Saturday in which Dal beat Mount Alison 13 – 8 to earn their way into the championship game. The previous reigning champion Saint Mary's Huskies lost to the X-Men that day as well, setting up what most had expected to be a closer championship game, and for the first 40 minutes it was.
Though it seemed that everyone on the Tigers must have scored, it was actually far more concentrated than that. Duane Davis led the Tigers in scoring, netting five goals on his way to winning the offensive MVP award. Dal's Matt Dunbar won the defensive award.
Davis, like his head coach, is a first-year addition to the team. He speaks to the bright future the already dominant squad has ahead of them. His coach agrees:
"We are losing two or three of our best offensive guys and a couple of real good defensive guys are going. But we played a lot of our guys this year to give them experience for next year."
If this is only a work in progress, the rest of the league should be considered on notice for the foreseeable future.
St. FX's goals were scored by Chris Foran and Rob Diamond, both of whom scored two apiece.