Hockey
Dalhousie residences face off for charity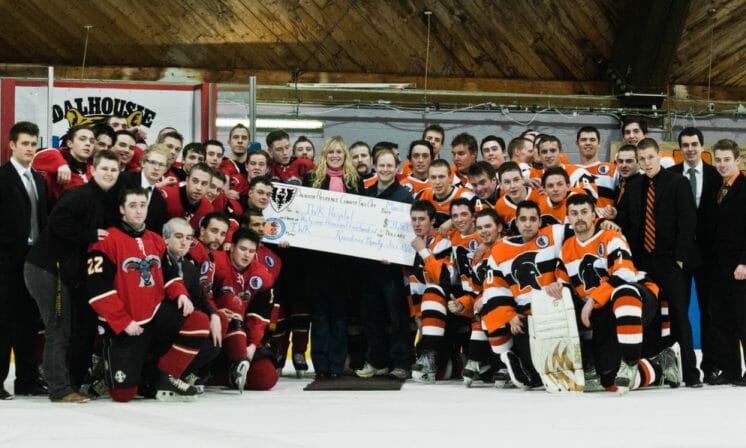 As spring beckons outside, Dalhousie residences will gather indoors for a hockey game as a fundraiser for the IWK Health Centre, which specializes in treatment for women and children.
The big game, contested annually between the Bighorns and the Trojans,will occur on Saturday, Mar. 22, with excitement already starting to build.
"The game brings the community together," says Jessica MacDonald, a residence assistant in Shirreff Hall and enthusiastic supporter of the Charity Face-Off.  "We have players from Shirreff, Mini-Residence and Risley that come out together."
The Bighorns, who pulled out a lucky win last year, will include the above-mentioned residences, along with members of Eliza Ritchie Hall. The Trojans will look to avenge last year's loss with a team that includes students from the Gerard, O'Brien and Howe Hall residences.
The hockey game is one of the biggest intra-residence events of the academic year. Joshua Poole, another Shirreff Hall RA, says it's something to look forward to. In past years, the stands have been wildly energetic with residents cheering for their respective squad.
Recognizing this potential, Charity Face-Off organizers hope this year's edition offers another opportunity to unite the campus community while supporting the IWK. Residence assistant Olive Swinski notes that the game tends to "really [bring] friends together."
All proceeds from the game will go straight to the hospital, where they will be used to buy new equipment and to fund ongoing as well as new research. Even students who no longer live in residence can buy tickets to support the cause.
"It feels really good to know that the money is going to the IWK. It's something that makes the Charity Face-Off really exciting: the money is not going back to residence, it is going to a great cause," says MacDonald.
In the run-up to the hockey game, students in residence have raised additional money for the IWK through a pie-in-the-face fundraiser, a murder mystery party and a player auction.
The pie-in-the-face event proved particularly popular, allowing students to shove cream-filled pastry into the faces of anyone in residence—including friends, residence assistants and the residence life managers—in exchange for a donation to the IWK.