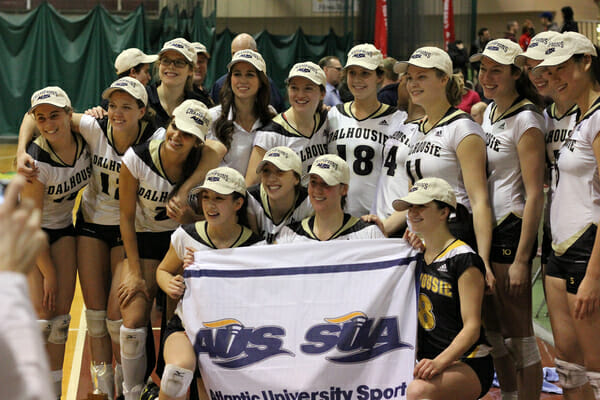 By: Ian Froese, Sports Editor, Henry Whitfield, Benjamin Blum, Stephen Campbell, Monica Mutale, Staff Contributors
Let's not gloss over it: this was a semester unlike any other for Dalhousie Athletics. Instead of the slap to the wrist many expected, the university garnered international attention by taking a strong stance against hazing, forcing women's hockey to forfeit the second half of their season. The suspension–and criticisms about its severity–easily made hazing the most talked about story on campus this year.
It took a while, but once hazing left the headlines, there were a number of teams (minus women's hockey) turning heads with their actions in competition. The usual teams claimed AUS titles and there was a changing of the guard in women's volleyball.
We recap what went down in our latest Semester in Review. Come for the women's hockey jokes, stay for everything else. – IF
Winter teams in review
Swimming – A
A 16th straight AUS banner for the men and a 12th for the women, these teams continue to control the AUS competition but have failed to turn that into success at the national level. – HW
Track & Field – A-
Surprise, surprise. Both the men and women dominated this season, crushing their opposition at most meets and breezing to another AUS banner. This year marks the 24th women's title in a row and 12th consecutive for the men. Rob McCullogh and Simon Watts each claimed a bronze medal at nationals.  – HW
Women's volleyball – A-
This season was a successful one for the Tigers, who culminated an impressive AUS campaign by avenging their loss in last year's championship to seize the crown. Led by AUS coach of the year Rick Scott and a strong core of veterans and young players, women's volleyball had a season for the ages. They did fall short in the CIS quarter-final, but achieved their goal of bringing home their first conference banner since 2004-05. – BB
Men's basketball – B
The men's basketball team surprised us this year. They had just two wins under their belt by the end of December, when they swept their home exhibition tournament just in time for the New Year. Despite crashing out in the AUS quarter-finals, John Campbell's squad played better ball in 2013 to improve their final ranking by one step, finishing the season in fourth place. – MM
Men's volleyball – B-
This was a year to forget for men's volleyball. A huge turnover in the form of 11 new players did not limit Dal to clinching home court advantage in the finals against UNB, but two straight losses in four sets to the V-Reds abruptly ended their season without a banner. Dal's dominance over the AUS–winning 31 of the last 34 titles–is slipping as UNB has topped the Tigers twice in the last three years to effectively end Dal's dynasty. – SC
Women's basketball – C+
Inconsistency was the name of the game for women's basketball. The squad managed to win only three of their last 11 games. Combine this with a fall in the early round of playoffs, and you get a disappointing season. While their fourth place finish is definitely an improvement on landing sixth on the table in 2011-2012, it's not enough to earn them more than a C+ from this sports desk. – MM
Men's hockey – C
The futility streak is expanding for men's hockey. Dal has spent two consecutive years outside the playoffs and nine of the past 10 seasons in a league where six of eight teams qualify. The Tigers played close games down the stretch, sure, but their ever-shrinking fan base wants more. – IF

Women's hockey – D
They forfeited their final 12 games after a hazing scandal suspended all of their veterans, but the fact is, they didn't have much success before the sanctions were handed down anyways. The Tigers were just 2-10 prior to their suspension and there are a lot of holes to be addressed in the lineup. – HW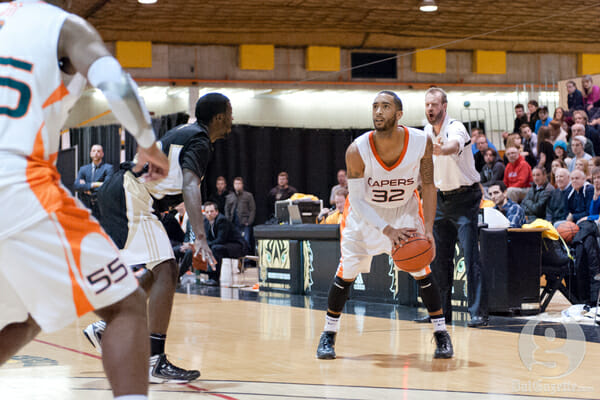 Best of the Dal Tigers:
Best Player: Louise Facca, women's volleyball
Honourable mentions: Rob McCulloch, men's track and field; Simon Watts, men's track and field
In her final season as a Tiger, Facca went out in style by leading the women's volleyball team to an AUS title. The captain was consistently an invaluable contributor, finishing third in kills and second in aces this season in the AUS, and was recognized for her community service off the court in winning the Erin Bursey Memorial Award. – BB
Best Game: Men's basketball loses by two to Cape Breton Jan. 26
Honourable mentions: Dalhousie Residence Charity Face-off decided in a shootout Mar. 9; men's hockey wins 8-7, still eliminated from playoff contention Jan. 26
There hasn't been as much excitement at the Dalplex in quite some time like the way there was on the eve of Jan. 26. The Tigers took the undefeated Cape Breton Capers to the brink and put on a show for a packed house on residence night. The Tigers, who held the lead for most of the game, were trailing by three with eight seconds left when star rookie Devon Stedman drained a huge three-pointer to send the Dalplex into a frenzy. The night did not end in Dal's favour, as the Capers added a bucket with two seconds left for the victory, but the gusty effort proved that Dal can compete with the league's best. – SC
Best Individual Performance: David Sharpe, men's swimming
He's the Tiger who made it all the way to the London Olympics, and he's still blowing the competition out of the water. Sharpe's stellar season included setting Dalhousie and AUS records in the 200 metre backstroke and individual medley. He also brought home the hardware at nationals, winning two silver medals and a bronze for Dal swimming. – MM
Best Moment: Last women's basketball game for Keisha Brown, Anna von Maltzahn
In their final game wearing black and gold, Anna von Maltzahn and Keisha Brown gave the hometown crowd one last thing to cheer about by putting up 27 and 22 points, respectively, in a 88-77 victory over the Acadia Axewomen. In an emotional celebration, the pair were honoured with a post-game presentation of plaques and flowers, thanking them for their service to the team. A choked up coach Anna Stammberger expressed her gratification for their significant contributions in their years as Tigers while wishing them the best in their future endeavours. – SC
Best Ass-Kicking: Women's volleyball's season
It was a dominant season for a Tigers team that mauled the competition in the AUS. Dal women's volleyball capped off an undefeated AUS season by winning 29 straight sets en route to a first place regular season finish and won their first AUS crown since 2005 by dispatching the defending champs from Saint Mary's. Impressed? You should be. – BB
Best Fan Support: Dalhousie Residence Charity Face-off
Despite being shipped up to the Halifax Forum this year (Yeah, another result of demolishing the good old DMA), residence students turned up in droves and created a rocking atmosphere. The game itself was memorable, a 7-6 shootout win for the Big Horns. – HW
Best Rookie: Jordan Bruce, men's track and field
Honourable mention: Sarah Taplin, women's track and field; Hassan Abdullahi, men's basketball
Under the mentorship of multiple CIS All-Canadian Simon Watts, triple jumper Jordan Bruce took advantage of the expertise at his disposal in his outstanding debut season. He didn't earn a medal like Watts did at nationals, but Bruce was a close fifth place. The rookie also qualified for nationals in hurdles, as well. – IF
Best Turnaround: Women's hockey
They had a horrible first half of the season, but after Christmas they went undefeated… Oh wait, what? That's awkward. – HW
Best Program We're Pulling For: Men's and women's hockey
Abysmal seasons on and off the ice, we're hoping that something can change in the 2013/2014 season. It cannot get any worse, right? – HW
Best reporting: Henry Whitfield's coverage of women's hockey hazing
Surprise! Henry Whitfield has no idea this would be here, but the recognition is well-deserved. Whitfield's exclusive conversation with a women's hockey player just days after the team's suspension  garnered remarkable attention. Hits on the Gazette website went through the roof, his work was credited on Deadspin.com twice and it helped alter national conversation about the hazing saga away from the team's bullying to whether the university's sanctions were fair. This exclusive, which undoubtedly frustrated the big media outlets that spent days to get the same information themselves, is really unmatched by most journalists of the same age. – IF