By Ian Froese (Sports Editor) Tim Vanderweide, Henry Whitfield, Arfa Ayub, Andrew Johnson, Jason Savoury, Graeme Benjamin and Armaan Ahluwalia (Staff Contributors)
It was a semester of met expectations. Dalhousie's varsity teams performed exactly how the crystal ball envisioned. I'll admit, it's not the most exciting of outcomes, but that's what we got.
Dal's swimming and track teams surprised nobody when they won even more AUS banners; the same can be said about men's volleyball, too. As expected, women's volleyball proved they are now among their loop's finest. On the court, our basketball teams squeaked into the playoffs. Over on the ice, women's hockey got the final playoff seed, and men's hockey wasn't so lucky. Again, no one was surprised.
While the scorelines weren't a shock, it was still another thrilling semester of campus sport to rave and rant about. That's where we come in. Back by popular athlete demand—which is a helluva lie—here is our second ever 'Semester in Review' feature. We promise only a few jokes about the men's hockey team. – IF
Best winter sports teams:

Men's volleyball: They weren't as talented as last year's conference finalists, but the difference with this season's group was that they got the job done. The Tigers proved that last season was only a fluke, reclaiming the league crown from the team that dethroned them a year ago, UNB. They did so with two convincing 3 – 1 victories in the championship series where Dal's superiority was never in doubt. – IF
Women's volleyball: Easily one of the most fun teams to watch on campus, women's volleyball enjoyed a great season, finishing runners-up in season play along with the playoffs. Led by fourth-year Louise Facca and rookie Maggie Li, the girls finished the season strong on a seven-game winning streak, including an impressive 3 – 1 upset victory over the Saint Mary's Huskies, the nation's second best team. Dal has prospered since the appointment of coach Rick Scott and we should only expect good things in their future. – TV
Swimming: Highlighted by David Sharpe winning a gold and two bronze medals at the CIS championships, the men's and women's teams once again dominated the AUS. The Tigers also swept all but one individual conference award, including both the men's and women's swimmer of the meet awards. – HW
Track & field: As expected, Dal was once again triumphant on the track. Their list of accomplishments are vast, so we'll keep it short. The men ran away from the competition with their 11th consecutive AUS banner, while the women continued to set the conference pace, claiming their 22nd—yes, their 22nd—straight nod. The men added to Dal's success at nationals with Simon Watts, Robert McCulloch and Seth London hauling back four medals between them. – IF
Not best:
Men's hockey: As you have probably read in this space before, the Tigers did not fail to disappoint this year—although a mid-season turnaround nearly salvaged their season. The end result, however, was not a pretty one. The Tigers finished seven points out of the playoffs, just two points ahead of the last place St. Thomas Tommies. At the end of the day, it was still business as usual for the men's hockey program at Dal. – Arfa  
Women's hockey: This team is perhaps the best of the not best category. Yes, they were never at the top of the standings, but they had a respectable record and were usually able to hold their own against the best in the league. Who could forget when Jocelyn Leblanc set the Tigers' all-time scoring record earlier this season? You have to feel bad for them, though, seeing as their last game was a victory over the eventual champion UPEI Panthers yet it wasn't enough to advance them to the title game. With only three graduating players leaving their roster, Dal's future at wherever they play next season looks bright. – GB
Men's basketball: This season was more erratic than Snooki on a bender (and at some points, less attractive, as well). Oh, and they're losing arguably their best player in graduating senior Robert Nortmann. On the bright side of a turbulent 9 – 11 campaign, coach John Campbell found at least three new blood vessels in his forehead while yelling at the referees. But as long as that fire is there and the blood is still pumping, this team will be in good hands. We're already excited for next year. – JS
Women's basketball: After a surprising playoff run for the sixth-ranked team, the Tigers should have high spirits entering next year. Losing only two seniors, the young squad's only fear should be the inevitable day when rookie Tessa Stammberger beats coach (and Mom) Anna Stammberger in a one-on-one matchup. Hell hath no fury like a woman posterized by her own daughter. – JS
Best of the Dal Tigers:
Best dud: Dal/UNB men's volleyball rivalry
Honourable mention: The Big Horns' performance in the residence hockey game
What I once stood on a limb for and hailed as Dalhousie's most competitive sports rivalry fell far short of expectations this season. It's a shame, really, considering how thrilling the point-for-point matches between Dal and UNB usually are. It's not to say the bouts weren't close this year, but Dal was always in control. The webcast commentators probably said it best in the championship-ending set in Fredericton when they simply ran out of ideas for how UNB could attempt a comeback. By year's end, Dal bested their rivals 5 – 1 when season and playoff play is considered. – IF
Best game: Dal gives Saint Mary's its only women's volleyball defeat this season Jan. 29
Honourable mentions: Women's hockey beats UPEI in overtime to end season Mar. 2, and men's basketball beats Saint Mary's 78 – 76 Jan. 25.
At the moment, Dal was on a three-game winning streak and quickly closing the gap on the league-leading Huskies. Saint Mary's, meanwhile, was undefeated, and Dal needed a win to make a push for first place. In what proved to be a statement to the rest of the league, the Tigers put in a top-class performance to defeat the CIS No. 2 ranked Huskies 3 – 1, handing the eventual champs their first and only loss of the season. – TV
Best coach: Rick Scott, women's volleyball
Honourable mentions: David Fry, swimming, and Chris Donnelly, men's hockey
A deserving award for a coach that is as competitive, supportive and successful as they come. In his fourth season as leader of the women's volleyball team, Scott led his group to an AUS final and a 14 – 3 record in the regular season. The feat is even more impressive when you consider where the team was during Scott's first season in 2009, trying to recover from their third consecutive year outside the playoffs. Since then, the Tigers have steadily improved. Hats off to Scott for all the hard work he has put into the program. – GB
Best ass-kicking: Dal's AUS dominance of swimming & track and field
Honourable mention: Women's basketball beats St. FX 71 – 42 Jan. 29
If you're a budding university swimmer or track star and you're looking at schools on the east coast, you recognize Dalhousie as the best of the bunch. That's something to take pride in, folks. All four teams have won consecutive AUS banners for at least the past 11 years. Bravo. – IF
Best fan support: Dal men's basketball
While it's no ACC, the home of the NBA Raptors, fans did a good job packing the Dalplex stands for all of the men's team's games this season. The sometimes rowdy crowd gave the Tigers an edge throughout the season, including during a gutsy late January victory over nationally ranked St. FX. – Armaan
Best atmosphere: Residence Charity Face-Off
In its seventh year, the residence game was bigger than ever and the fans were unbelievable, singing and cheering the entire night while dancing to the music. At the same time, the event raised over $31,500 and broke the total 100k fundraising mark in the past five years. – HW
Best player: David Sharpe, men's swimming
Honourable mentions: Robert McCulloch, men's track and field, and Katie Webster, women's swimming
After winning gold at the league championship in February, Sharpe blew that achievement away at nationals, setting a new AUS 200m butterfly record on the way to his third career gold medal performance at the CIS championships two weekends later. The third-year has quickly become the gold standard for Dalhousie Athletics. – HW
Best upset: Dal's men's hockey beats UNB at home Feb. 4
Honourable mention: Men's basketball beats nationally ranked St. FX at home Jan. 29.
Considering the Tigers' on-ice struggles, particularly early in the campaign, a win against the CIS No. 2 ranked UNB did not seem very likely. Things did not look promising for Dal when they fell behind 2 – 0 to start this game, but in a match they basically had to win to stay in the playoff race, the Tigers notched things up at two apiece. Some strong defensive play, a rare accomplishment for the Tigers, led to a shootout in which Dal scored the winner. The victory meant the Tigers would remain just one point out of a playoff spot with a week left on the schedule, making what was seemingly impossible when they were in the midst of an 11-game losing streak, suddenly possible. – Arfa
Best individual performance: Robyn Nicholson's three-goal performance in the final two minutes to win women's hockey game 3 – 2 Feb. 18
Honourable mention: Simon Watts winning gold at CIS track and field championship. Dal's first ever.
Down two goals with less than two minutes remaining against the country's fifth-ranked team in Moncton, the Tigers looked destined for their 16th loss of the season. That is, until Robyn Nicholson turned in a performance for the ages. In under two minutes Nicholson posted a natural hat trick, igniting a packed arena and giving the Tigers their biggest win of the season. – HW
Best rookie: Maggie Li, women's volleyball
Honourable mentions: Katie Webster, women's swimming, Wendell Vye, men's hockey, Ritchie Kanza, men's basketball, Sarah Robichaud, women's hockey
"Stomp, tromp, kaboom! That was Earth-shaking, maybe even jaw-dropping!'' The words of Dal's MC Adam Hotchkiss pretty much sums up Li's performance this season. A constant presence in the Tigers' front line, while helping her new team become one of the conference's top contenders, Li's attacking prowess was evident all season. As anybody who watched her this season can tell you, this girl can hit the ball! Look out for her next year—she'll be a Tiger to watch. – TV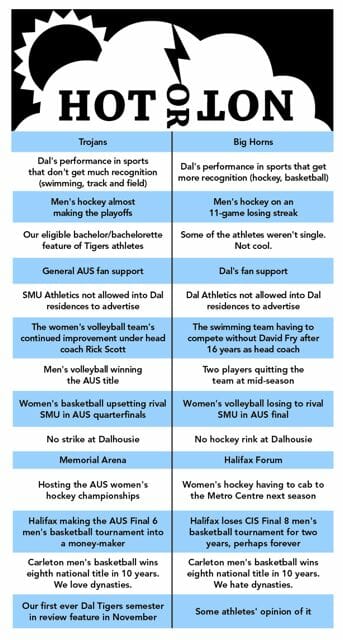 Best turnaround: Dal men's hockey
For a team that finished with a 2-11-1 record (those 11 loses coming in a row) before the holiday break, their second half was a miraculous recovery. Not only did they play better, but the statistics speak for themselves. With a revamped 5-7-2 record to end their year, the Tigers had a much improved goals against average of 3.36 per game, allowing only 47 goals. This is compared to an unimpressive 5.57 GAA during the first half of the season in which an alarming 78 goals were given up. – Arfa
Best lifetime achievement: David Fry, swimming
This is our version of that award at the Oscars where everybody stands up for a heartwarming standing ovation. Nobody deserves this more than swimming head coach David Fry, who announced his retirement earlier this month after a successful 30-year run with the program, and the last 16 as head coach. In fact, he has led the men's and women's squads to 30 of a potential 32 AUS titles—a nearly impeccable record if we've ever seen one. – IF 
Best Graduating Player: Jocelyn LeBlanc, women's hockey
Honourable mentions: Ashley Ryer, women's track and field, and Graeme Higgins, men's volleyball
The perennial Tigers superstar closed her career with another stellar season, cementing her place as the team's all-time leading scorer with 156 points and as one of the best to don the black and gold. LeBlanc scored 90 goals in her time as a Tiger, the third highest total in AUS history. – HW
Best Improvement: Robert Nortmann, men's basketball
Honourable mention: Connor Maessen, men's volleyball
Robert Nortmann's career was building to this season. The fifth-year player had a minimum role in previous years but was thrust into the spotlight this season, now with the responsibility of holding the torch from last year's AUS champion team that was heavy in graduating seniors. A hard worker, night in and night out, Rob helped his team earn a playoff berth to the league championships, while averaging 14.6 points a game. – Armaan
Best moment: "Go Tigers Go!" chant at final men's hockey game
Honourable mention: Robyn Nicholson's three-goal comeback performance in front of the team's obviously very excited mothers during mother/daughter weekend.
It's tough to write the appropriate words to bring this moment to life, but it was definitely the most emotional moment I've witnessed as a sports fan. It was really something listening to all the fans—which was minimal due to lack of promotion, mind you—give the men's hockey team a final hoorah as the clock ticked away. Pride and sorrow were mixed in one as the Dalhousie Memorial Arena (DMA) chapter for men's hockey team came to its likely closure. – TV
Worst decision: Tearing down Memorial Arena, although it's no longer a guarantee
We're making a 'Worst of' category just for this one. In an announcement that surprised nearly everyone, the Board of Governors decided last November that Memorial Arena would be torn down at the end of the year due to the roof repair an increased snow-load from the new mixed-use facility would cause. In what was easily the BoG's most controversial decision of the year, an uproar ensued. Numerous complaints from neighbours, however, has caused the Board to reexamine its decision, and they'll look into the matter further in April.
So, in other words, the demolition of the arena is not a sure thing anymore, although it is likely. Whatever decision is made, it's definite the DMA will not be functioning next year. Stay tuned to our website for updates. – TV
Best potential: Women's soccer
Sure, it's a fall sport, but we can't help but look forward to this September at Wickwire. Arguably one of Dalhousie's best teams, the Tigers are built on second- and third-year talent. But the team also has a strong crop of promising first-years and is led by one of the best midfielders in the AUS, Rieka Santilli. With the potential for the entire team to return, they will surely claim the top spot in the AUS once again. – AJ