Hockey
Short-term captaincy, long-term problems for men's hockey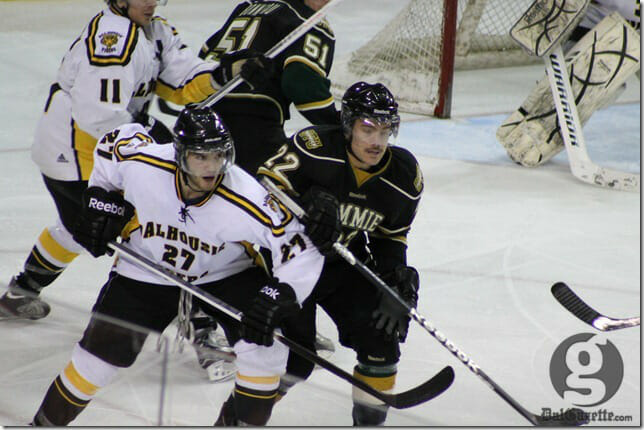 Desperately looking for some kind of spark, the Dalhousie's men's hockey team have found themselves a new leader. Although Pierre-Alexandre Vandall was originally named captain, his recent injury has forced head coach Chris Donnelly to temporarily transfer the proclaimed 'C' to fourth-year forward Benjamin Breault.
The Tigers, though, may need more of a change than just a captaincy switch, with the team struggling to put together more than two wins in a row this season. Their fortunes didn't change this weekend with an away defeat to Acadia on Nov. 23 and then a 5-2 loss against the St. Francis Xavier X-Men Nov. 24 at the Halifax Forum. Dal now sits in front of last place St. Thomas with 10 points following their fifth defeat in six games.
To turn their two-game losing skid around, the Tigers will be looking to a new leader for guidance.
"I think we need someone to fill in the position while Vandall is injured," says Donnelly. "He won't be back till after Christmas."
Breault was not designated as an alternative at the start of the year.
"We came to the rink this morning, the next thing we knew he was captain." says goalie Wendell Vye.
"I mean, he is definitely a leader—he was the assistant last year. When Vandall can't play, we know he is going to be there to step up and take over the role."
Veteran keeper Bobby Nadeau and defenceman Pascal Amyot are among other key injuries for the Tigers.
The inability to play a full 60 minutes has been a reason for Dal's lack of success. Out of the 14 games they have played, Dal has scored first eight times but only came out winners in three.
"I thought the guys played well," said Vye after losing to the X-Men. "It wasn't my best, but overall we played a decent game and I thought we deserved a little better of an outcome. Some nights things just don't click. Pucks bounce off our sticks, we hit a few posts. Most of the time we are right there. We just haven't been able to put it in the back of the net when it really counts."
Saturday night was no exception. About 15 minutes in, Dal surrendered their 1-0 lead. It did not take the X-Men long to capitalize and turn the momentum around, jumping ahead to a two-goal lead.
Great pressure by Dal early in the third period reduced their deficit within one. Bronson Maschmeyer responded with 12 minutes left on the clock to make the score 4-2 for the X-Men, while Jarrad Struthers' late goal secured the away team's victory.
Currently three points outside the sixth and final playoff spot, upcoming contests for Dal against the UNB Varsity Reds and the UPEI Panthers this weekend are of vital importance as they continue their fight for a postseason berth.