Editor's note: Shortly after this article was published, the Nova Scotia provincial government announced new COVID-19 restrictions that go into effect in Halifax on Feb. 27, 2021. Among these restrictions include the banning of sports events, meaning the cancellation of all exhibition games mentioned in this article (with the exception of virtual swim meets).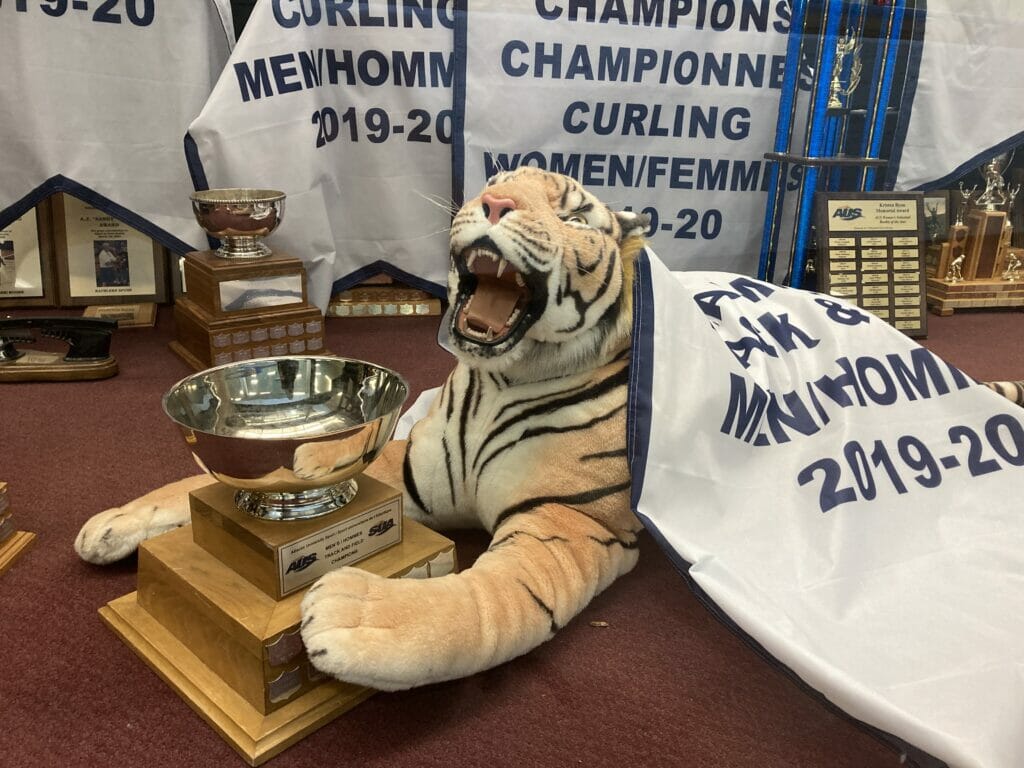 The Dalhousie University Tigers will finally be back on the ice, court and pool against other teams as part of an informal competition schedule over the next month.  
Dal, the Saint Mary's University Huskies, and the Acadia Axemen and Axewomen have begun a five-week exhibition schedule featuring the possibility of games in as many as four sports: basketball, hockey, swimming and women's volleyball.
For teams in each sport, this is their first taste of play against Atlantic University Sport (AUS) opponents in roughly a calendar year. With the exception of women's volleyball, the teams primed to play this semester had finished their 2019-2020 seasons before the first COVID-19 shutdowns hit in March 2020. Last November, the AUS cancelled the 2020-2021 season's official regular season and playoffs.
"Based on what we're pulling together, most of our teams wouldn't even be playing one game a week. We're still confirming a lot of those [scheduling] details," Tim Maloney, the Tigers' executive director of athletics and recreation, said of the schedule the three schools are planning. "We're just excited to provide our student-athletes with an opportunity to compete after training all year."
Structure of exhibition schedule
The schools haven't committed to a formal schedule of exhibition games publicly. But, they plan to hold a series of controlled scrimmages that may not be the same as a typical game. A spokesperson for Acadia said the athletic department is planning to confirm most games about a week in advance to ensure times and protocols work with involved teams.
Maloney said teams, for some games, may simply meet up to play in shorter or modified matches. He added Dal may not publish scores for every game if teams decide to count scores at all.
Regular game lengths and scorekeeping will remain the same in hockey, based on games played so far. The Chronicle Herald also confirmed the hockey teams would play a four-game schedule, twice against each opponent.
But in the past, basketball teams have played four quarters while resetting the score after each quarter in exhibition play. Six or eight-minute quarters have been played as well, instead of the usual 10.
"It's very special that they're now going to get a chance to be able to compete, even if it's just a small number of games over a short period of time," said Kevin Dickie, executive director of athletics at Acadia, in a CBC interview earlier in February 2021. "It really isn't so much about winning now, it's just about getting the chance to play the sport they love."
The distance (and risk) factors
The St. Francis Xavier University X-Men and X-Women teams were in talks to join the three southern Nova Scotia universities in their exhibition schedule. The school's administration, however, said at the start of February it won't allow its teams to take part.
StFX is in Nova Scotia Health's eastern health zone, compared to Dal and SMU's locations within the central health zone. Acadia, although in the western zone, lies roughly 20 km from the central zone and 90 km from Halifax. StFX is more than 200 km away from Halifax, a much longer and less flexible trek to play other schools.
Swimming, should it return in the five weeks, will be virtual. The swimming team hinted at this during the summer but hasn't taken place yet due to recent COVID-19 case spikes. Theoretically, teams outside of the three-team bubble could take part since this competition would not involve travel and simply compares times.
Fans or anyone else not authorized by teams won't be allowed inside games or events this year. Maloney said the earliest fans could be back at Dal games is next year.