Washington, D.C., is more than just the capital city of the United States. The Washington metropolitan area, or DMV as we like to call it, is composed of almost 6.2 million people who live in the city, and the surrounding states of Maryland and Virginia.
I was born in Washington, went to elementary school there and had my high school graduation ceremony there even though I live in Bethesda, a neighbouring town in Maryland.
When former president Donald Trump's supporters stormed the U.S. capitol on Jan. 6, 2021, I was infuriated. The rioters yelled awful things about Washington and the U.S. Congress. On social media, many rioters quickly expressed they didn't break into the Capitol, while other social media accounts made memes about the tragedy only hours after the aftermath.
It disturbed me people were actively not taking responsibility while others laughed at my city in pieces. The attack also made me worried for my community. By the time the riot occurred, I had already left Bethesda and was safely in the middle of my first day of quarantine in Halifax. But distance didn't stop me from being terrified, and these feelings of fear were shared by friends and other D.C. residents.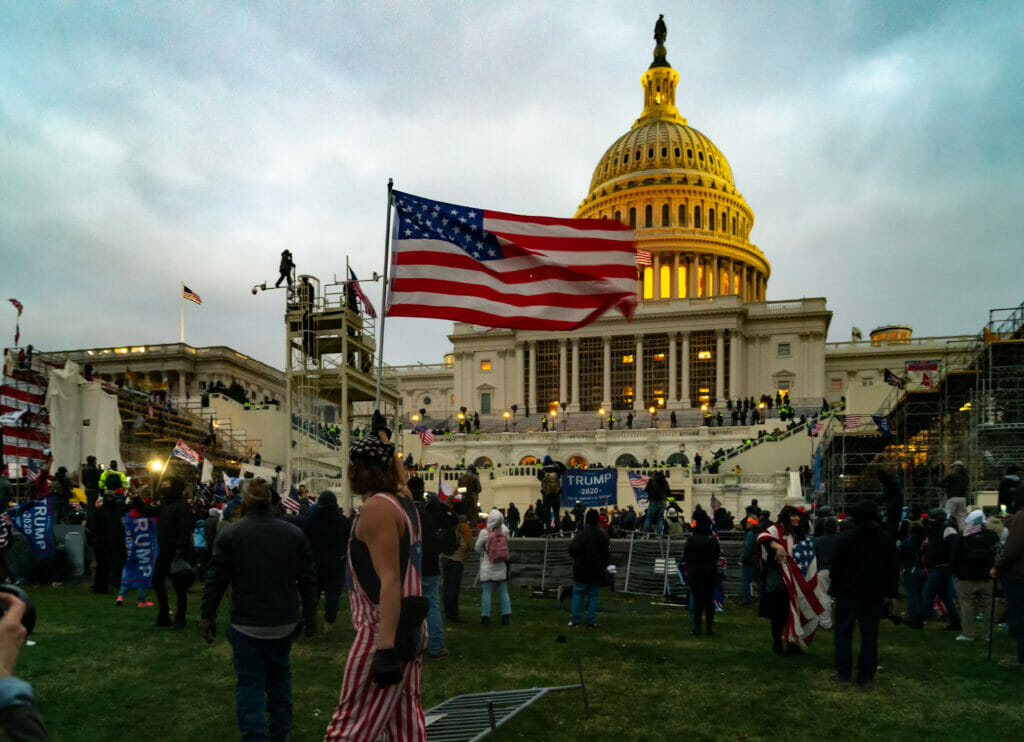 Words from D.C. residents
Alex Van Nieuwkoop, a first-year Dalhousie University student and commerce major, was already in Canada for the winter school term when the Capitol Hill attack occurred. He is also from Bethesda, and worried for his friends and family back home.
"I was anxious that something else would happen, and there would be more violence and unrest in the country," he says.
Anita Rasmussen, a business consultant who grew up in Maryland and now lives in D.C., remembers she initially found the rioters staying within the roped areas of the Capitol comical, but soon became shocked at the lack of police presence.
"Growing up in D.C., there is always a security presence and this was just odd," Rasmussen says.
As a longtime Washington resident, Ryan Miller remembers being horrified when he saw the attack unfold. He has been going to Trump protests the past couple of years to calmly talk and share ideas with the former president's supporters. Miller says standing amongst rioters on Jan. 6, 2021, was nothing like he has ever experienced before.
"I've never seen a violent mob before, and I've never been literally surrounded by enraged white supremacists. Everything you're hearing on the news and in video footage is true," he said.
After the storm
After the attack, more than 20,000 National Guardsmen were deployed to the city to protect President Joe Biden's inauguration on Jan. 20 from attack. Roads around the monuments, government buildings and the White House were closed, and were only open to essential workers and residents who had to show identification cards at checkpoints.
It was eerie to see how militarized my hometown had become — something I never imagined seeing in my lifetime, even from 800 miles away watching on TV.
Jenny Wolski, a business analyst living in Capitol Hill (the neighbourhood surrounding the Capitol building), saw her street being heavily guarded in the two weeks between the attack and the inauguration.
"Sidewalks had huge fences up. Cars couldn't drive down my street. The National Guard presence was very unsettling. I had never seen so many guns in my life. It was very surreal," she says.
Sophie Geernaert, a first-year Dal student and health promotion major, is currently living in Frederick, Md. She says "everything and everyone [in the DMV] was moving slower than normal and doing everything with hesitation," between Jan. 6 and the inauguration.
Rasmussen remembers walking near the Washington Monument after the attack and seeing the heightened security.
"Layers of fencing and barricades were being put up all over the National Mall making it feel like a prison yard," Rasmussen says. Later that week, she decided to leave Washington until after the inauguration.
Similar to Rasmussen, Cristy De Olbaldia lived in Washington around the time of the attack, and was in the middle of moving when she and her husband decided to stay in their new empty home in Virginia until after the riot ended. They waited until later to return and retrieve the rest of their belongings.
"We decided we wanted to get away from the city as soon as possible," De Olbaldia says.
Some worry the city of Washington could be forever changed, like Risa Oshinsky from Maryland.
"I am scared that every time I go into D.C., now there's going to be such increased security that I can't enjoy my own city. I've never been in the White House or the Capitol and I'm thinking I never will now," Oshinsky says. "I really love the city. It's beautiful and welcoming and I want it to stay that way."
On home
Though the inauguration is now over, 5,000 troops will remain in the city through March 2021 and Capitol Police want to erect a permanent fence around the Capitol. All these measures are an unfortunate reminder of how the events on Jan. 6 and will continue to affect Washington's millions of residents for many months to come.
However, Washington is more than just a government capitol and the city's spirit will never die out. We will continue to have our National Cherry Blossom Festival, enjoy free museums and cheer on our sports teams. The citizens of the DMV will continue to cherish our home no matter what happens in government buildings.