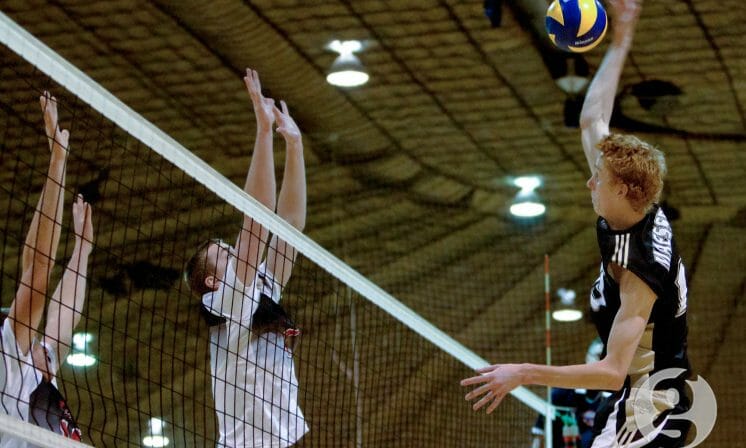 More times than not, a team with 11 new players is likely to have a rebuilding season. Try telling that to the Dalhousie men's volleyball team.
Though the majority of last year's AUS-winning team either graduated or did not return, the new-look Tigers showed no signs of their youth in the first game of their back-to-back series against the UNB Varsity Reds last weekend.
The Tigers came out with guns blazing. It took Dal four sets on Nov. 9 to knock aside the defending finalists.
But the Tigers sure looked dazed the next day.
The young team showed their inexperience, losing in straight sets in a game that didn't even seem like a contest at times.
Tigers head coach Dan Ota blames the loss on a lack of pressure from the get-go.
"It could have gone either way, but I don't like how we responded today," says Ota. "We got off to a really flat start and it just got worse from there."
Outside hitter Bryan Duquette has a similar opinion.
"We just didn't stick to our game plan," he says. "We let it get away and we just got to keep that intensity that we had last night."
The Tigers fell apart during the second set. UNB's Matt Sweet's serving prowess combined with Craig Toonders' powerful kills led the V-Reds to a 25-9 win. They continued that momentum into a tighter third set, winning 25-22.
Toonders, who was named player of the game, credits the connection he and Sweet have on the court to much of their success.
"Matt was setting the ball for me really well, helped us force one-on-ones which worked really well," he says.
It's clear both teams have bad blood for each other. The V-Reds took exception to their opening loss and responded with high energy. Oftentimes, the teams traded subtle comments after earning their respective points.
Despite the trip up in their latter match, Ota feels confident his young squad can repeat last year's success.
"We've come a long way even in the few months that we've been together," he says. "Compared to the team that we saw in September, we've come so far already. They're a really committed group and a lot of these things are new to them."