The Dalhousie University Tigers women's hockey team didn't go all the way in the Atlantic University Sport (AUS) playoffs, but the success this year was still a big step forward.
The Tigers earned a playoff spot when they finished in the league's top six teams for the first time since the 2017-2018 season.
"When I first entered this program four years ago, it was in a completely different place than where it is now," said Izzy Weist, captain of the team. "I think we made some really great steps and we showed the league that we're one of the teams to beat and I think that will carry into next year."
The opening playoff series didn't go in the team's favour, losing the first game 1-0 and getting shut out by the University of Prince Edward Island Panthers.
"I think we struggled with our offence and we couldn't finish on some of the chances we had," said Weist about their play in the series.
Natasha Falk, one of seven rookies on the team, thinks it was also about the team's mentality going into the series.
"I think we need to believe a bit more," said Falk. "We worked really hard all season, so [we] just need a bit more belief that we can really do that as a team will really help us go a long way."
The Tigers showed resilience, sticking with it in a close second game and scoring in double overtime after two scoreless periods, winning the game 4-3.
Olivia Eustace scored that game-winner. She was the team's top goal scorer this season with a career-high 12 regular season goals. Eustace placed seventh in the AUS in that category and had 19 points.
"That was a really special moment for me," said Eustace about her overtime goal. "Our whole team played a phenomenal game and the bounces weren't going our way. The shot was a rebound and it went in so slow and that finally paid off in our favour."
She's quick to deflect sole responsibility for her success, crediting linemates such as Brooklyn Paisley, who led the team in points this season.
Weist is particularly proud of that second game.
"We fought back into it. We really came through. We were playing down players and we managed to pull out the win and I think that really is a defining factor of our team," she said.
Unfortunately, the Tigers were unable to pull through in the third game against UPEI and were shut out 3-0, giving up two goals on the penalty kill and not having success on any of their five power plays. UPEI goaltender Sarah Forsythe had a great series, posting two shutouts over three games against the Tigers.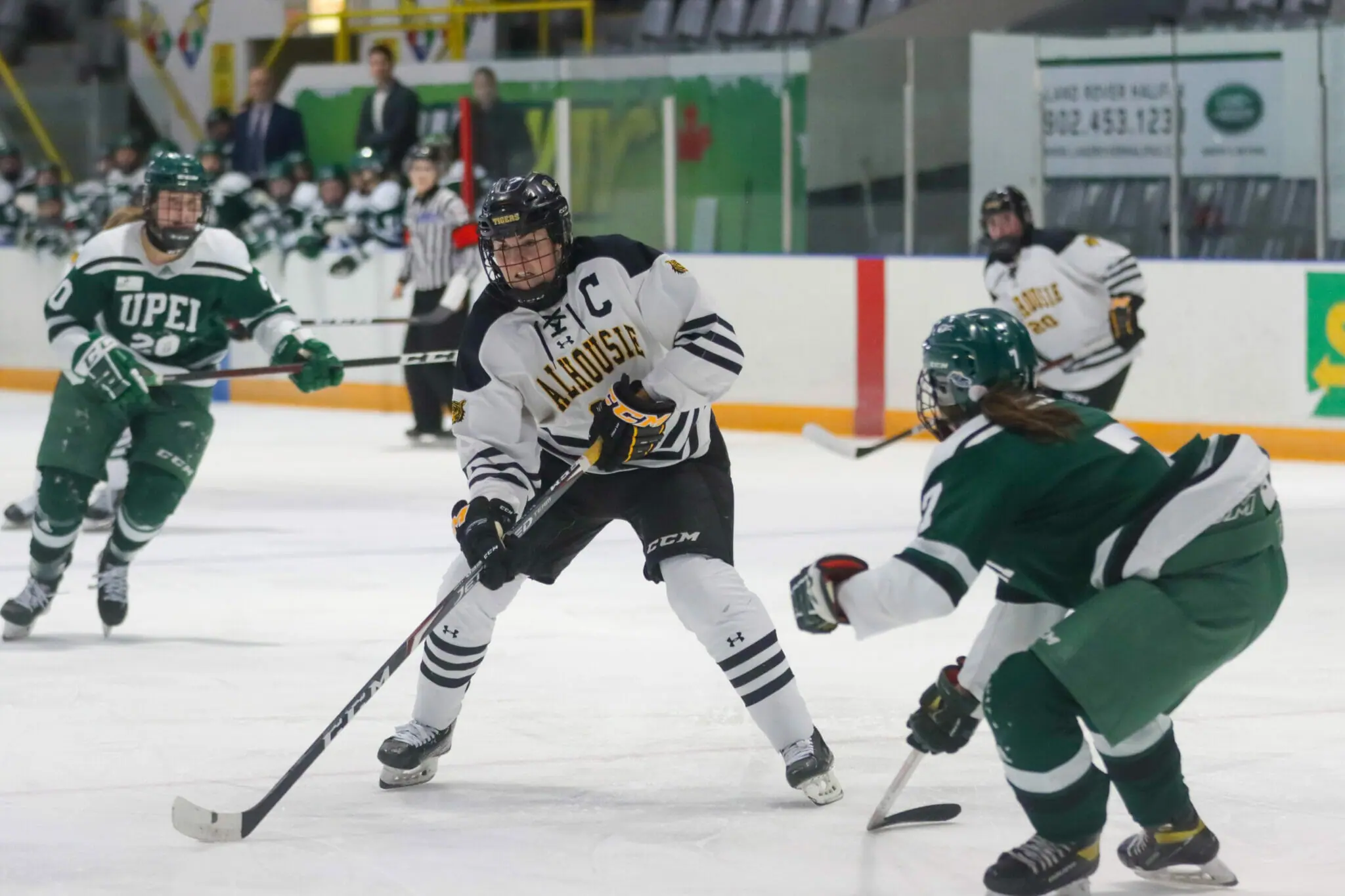 Looking ahead
Having had a taste of the playoffs, the team is hungry for more next year, chasing their first-ever AUS title.
"It was great to see us make it to the first round but next season, I want us to go even further," said Falk. "I am really proud of us for making it there but we can't be satisfied just making it to the first round."
Falk is also happy with the team's attitude off the ice and thinks it's a big reason for their success this season.
"You can talk to anybody on our team. Everybody would say our group is very close-knit and we get along really well. Everybody can always have fun, but we can also be serious."
The Tigers also couldn't have been successful without Grace Beer, their rookie starting goaltender, who had a save percentage of .931 per cent in three playoff games.
"It was important to have the confidence of my coaches and my teammates," said Beer about playing such a key role in her first year. "Knowing that they had my back made it easy."