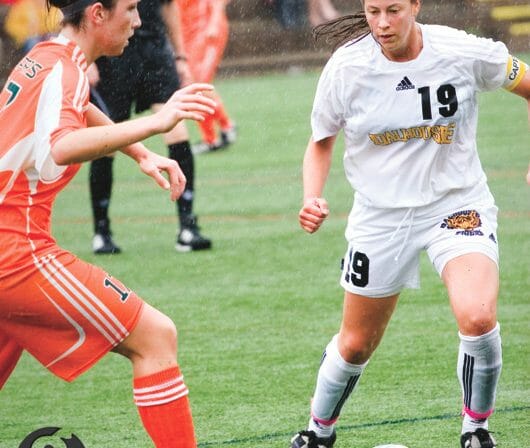 Correction: An earlier version of this story misspelled Dalhousie women's soccer coach Jack Hutchison's last name as Hutchinson. The Gazette regrets the error.
Instead of being looked upon as the rebuilding team they were last fall, the women's soccer team has a new ambience about them now. They are the defending champs, after all.
The confidence boost is a welcome addition, but it means Dal's rivals now have their number. The Tigers won't be able to surprise teams any longer, explains coach Jack Hutchison.
"I think this season will be more challenging. This year people are saying, 'they're returning everybody,' and I think people will be gunning for us."
Hutchison is right. Not only does this squad have the experience of a championship under their belt but, save for a few new faces, this is the same successful roster from last year. Seventeen players, including all starters, are returning. Joining the fold are new recruits, Samantha MacDonald and Alberta teammates Ashley Salvador and Elise Bilodeau, each of whom are expected to be active players. Forward Jenna Goobie will be in action as well after sitting out a year following her transfer from a NCAA school.
With virtually the same team arriving as the year before, falling short of another league championship will be seen as a disappointment. The only fifth-year, Rieka Santilli, is undoubtedly one of the strongest midfielders in the AUS. She'll be marked tightly by opponents, but it'll leave space for Bianca Jakisa and Emma Landry to contribute from the wings. Unfortunately for Dal, last year's star rookie Doriana Homerski is expected to be out for the early portion of the season while she nurses a knee injury.
The Tigers were not clear-cut champs last season, finishing third in the regular season and then having to beat two clubs with stronger records than themselves to qualify for the title game. All Dal knows is that, again, it won't be an easy ride.
"Dalhousie has always been one of those AUS teams that people like to beat. There's always been pressure on us," says Hutchison. "Now you've got it where people want to upset us."