Name: Kaitlynne Lowe
Age: 21
Hometown: Bowmanville, Ontario
Program: Double Major in English and History, Minor in Theater
Nominated for: Vice President (Internal)
Relevant Experience: VPI and now President of the Arts and Social Sciences Society, two years on the Review Committee, one year on the Grant Committee, Chair of the DSU Executive Review Committee, Vice President of Campus Relations for the Women's Fraternity Alpha Gamma Delta, member of the Halifax Greek Council, Classics Society, and the History Society.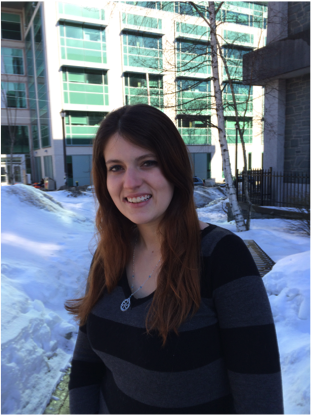 Dalhousie Gazette: Why are you running for this position?
Kaitlynne Lowe: I've always had a deep passion for society, community, diversity, and I feel there are many ways the student experience can be enhanced by improving and developing services and resources. This will allow students to put on different programs and events to cater to students across campus. Societies are invaluable tools that have definitely been underutilized in their ability to communicate with students. I want to create a system where societies feel like they can maximize their opportunities to contribute to the student experience.
DG: How would you communicate with student societies?
KL: I would like to see a more structured communication procedure that includes updates on the DSU and other committees. This could be through calendars, newsletters or any other form. I feel that this type of communication has been underutilized this year, even though it is the best way for students to know what is going on. There needs to be an increase in the amount of communication the DSU has with social media. The DSU should be a network to reach out to other societies, no matter how big or small. The DSU website should also become a more relevant and better source of information. There also needs to be more communication with Carleton and Sexton Campuses. This would come from my involvement with the Sexton Advisory Committee, as well as working with the societies that are stationed on these campuses.
DG: What would you improve from this year's communications with students?
KL: I think the biggest problem with this year's communications with students was having things like minutes and reports not being posted quickly. We need to have constant updates. We need to see the importance of small-scale information and need to be communicating everything that happens in the DSU. I would also like to see more executives on the Carleton and Sexton Campuses, using resources there for those societies, and having more events on these campuses – services and resources need to be available here too.
DG: How Twitter-savvy are you?
KL: Less Twitter-savvy than Facebook-savvy, but I'm working on it. I do a lot of social media communications for Greek Council and as VP of Campus Relations. There is always something new to learn. This year I've begun responding to Twitter questions during the Dal Gazette livetweets of DSU meetings, and DASSS has begun livetweeting their meetings as well.
DG: Do you follow the DSU on Twitter?
KL: Yes. I follow the DSU, @DalGazette and @DalPres, along with many other societies that have Twitter accounts. I think that social media is a very important tool for student organizations.
DG: What do you think about the fact that you are running uncontested?
KL: It means that I can approach the campaign differently. It allows me to tell people what I have to say, but also to respond to their feedback and begin building concrete relationships with student groups and organizations. I can use this time to build a working relationship and make a real plan for next year. It's more of a collaborative approach. I am still worried that people will vote no.
DG: How do you think Jennifer Nowoselski, current VPI, performed this year?
KL: I worked with Jennifer a lot and even had to evaluate her as Chair of the DSU Executive Review Committee. I was really impressed with her work with Type I societies, especially in terms of the SUB renovations. She really took the time to consult with most everyone who was involved. However, she was overwhelmed by the amount of administrative work and didn't have time to do the projects that she wanted to. She did a great job at getting societies to collaborate through forums and town halls and helped to combine the student and community experience. I admire her activism and how she incorporated students and societies into that activism.
This interview has been edited for clarity and brevity.