Eileigh Kadijk
Moving across the country showed her how far she has come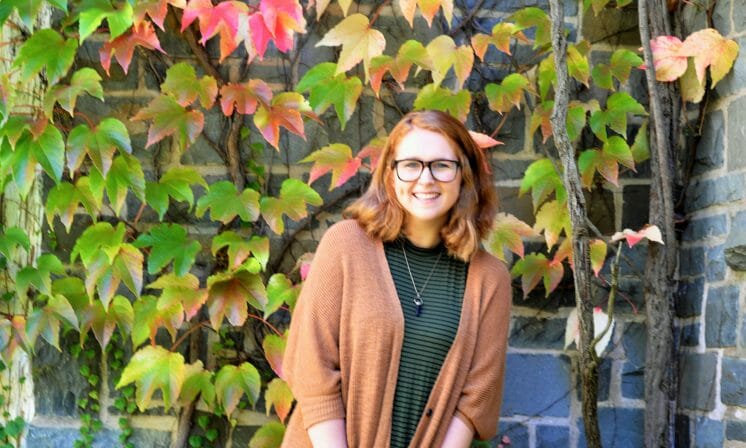 Hometown: Lethbridge, AB
Major: I'm in my first year at Dal, but I'm a transfer student because I did a year at Lethbridge College to figure out what I wanted to do. I'm in science, but haven't declared my major yet. My plan is to do microbiology and immunology, as well as biochemistry, and a minor in German and a certificate in genetics.
Proudest achievement to date: There are so many things that I'm super proud that I've done. One of them is moving across the country by myself. That was a big step! My family didn't come with me at all and I was like, "Okay, I'm going!" And now I'm here.
Another time was in grade 12, when I ended up winning a provincial acting award and I was super impressed! I never expected this and it was really cool!
Next big thing she wants to achieve: I want to be able to get my degree with honours. I want to make sure I study enough because I know that I can do it, I just have to apply myself – that's my big goal. My little goal is to get involved on campus.
Favourite pizza flavour: I like to say Hawaiian, but then people scoff at me because they hate pineapple on their pizza. It's Hawaiian or a really good barbeque chicken.
One more thing: When you sent me that message [to tell me I had been nominated for Galhousie], it was super cool. This month and a half that I've been here, the thing on the top of my mind is how blessed I am to be able to come to a top notch university and study even though I'm a woman and even though I don't come from a very wealthy family. This is the coolest opportunity I get to have to just be here – we've come so far! We have quite a ways to go still, but we've come so far, I just love it.
From a friend: "Eileigh works so hard academically. When she doesn't understand a concept, she isn't too proud to seek help and clarification. On top of her amazing work ethic and will to succeed in university, she is also an all around great person who brings positivity wherever she goes and spreads love all the time. She is the kind of person who will do anything for her friends. So is also a proud pledge to Alpha Gamma Delta, who I've been told stands for giving back to the community, how cool is that? This girl needs recognition for all her amazing hard work and for having the courage to get involved with communities around Dal in her first semester!" -Julia Duquette