Uncategorized
Trojans win on record-breaking night for IWK charity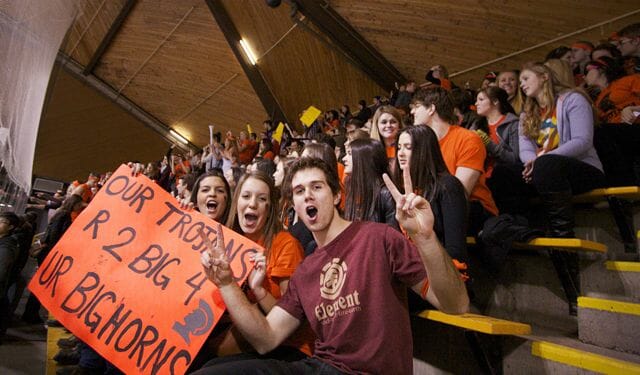 CORRECTIONS:
– Despite popular belief, the Trojans encompass more than just Howe Hall, and the Big Horns represent more residences than Risley Hall. The Gazette regrets the error that originally appeared in this story. The mistake will not appear in the Mar. 16 edition of the paper, which will include an extended story.
– Big Horns captain James Floyd was previously listed in this article with an incorrect last name. The online version of the article has since been corrected. The Gazette regrets the error.
The Trojans won the Dalhousie Residence Charity Face-off by a final score of 6 – 2 Mar. 10 over the Big Horns, but the real winner was the IWK Health Centre.
This year a record $31,500 was raised in the charity event. The Dal residences' goal of raising over $100,000 in five years was reached, and all parties involved were extremely pleased with their efforts.
"When Matt [Robinson, the residence life manager at Howe Hall,] came by the bench and showed me the paper that said $31,500, I was stunned. It's unbelievable that we raised that much money," said Trojans coach Joe Garnett.
The game itself was very exciting. The Trojans came out and dominated the Bighorns physically, quickly breaking through on the power play in the first period when John Murray redirected Ryan Oakley's point shot to get his team on the board.
The Big Horns finally showed some life in the second period with captain James Floyd throwing a big open ice hit. Matt Bartley and Chris Dubois scored for the Trojans but Josh McKenna and Stephen Edwards cancelled them out for the Bighorns, only leaving the Bighorns down by a goal, 3 – 2.
The Trojans blew the game open in the third period, scoring three unanswered goals. Dubois got a shorthanded goal for his second on the night, Moreau added his team's fifth to ice it, and Mike McCann added salt to the wound scoring the sixth and final goal.
The Trojans consist of, most notably, Howe Hall, as well as Gerard Hall, O'Brien Hall and Mini-Res. Players on the Big Horns represent Risley Hall, Sheriff Hall, Eliza Ritchie Hall and Glengary Apartments.
For an extended recap of the game, check the Mar. 16 edition of the Dalhousie Gazette.