Lisa Corey
NINE people wrote in to tell us why she's amazing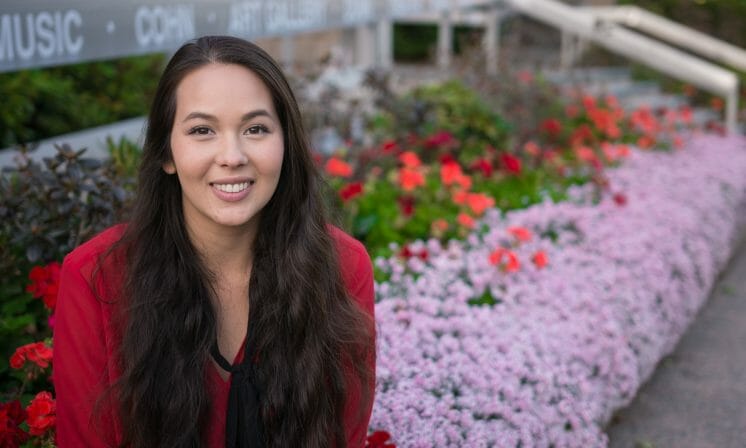 Major: Theatre major with an honours in acting at Dalhousie's Fountain School of Performing Arts. This is my graduating year.
Hometown: I moved around a lot as a child, but I consider my home to be rural St. Stephen, New Brunswick.
Proudest achievement to date: Deciding to pursue acting, which constantly challenges me to be brave and open. The majority of the roles I've played were likely written for white women, and I'm inspired that my Thai heritage has not been a barrier between myself and a role. It is the work ethic that continues to count.
Next big thing she wants to achieve: My goal is to have a recognized career as a Canadian actor. My training is in classical theatre, but I'd love to be involved in any performances that address today's cultural issues. Presently, I'm preparing for my upcoming role as Titania in Midsummer Night's Dream!
Favourite pizza flavour: Hawaiian!
From NINE friends!
"Lisa is an absolutely admirable woman. I have known her for three years and have never ceased to be amazed by her powerful eco-feminist ideals and inspirational world outlook. As a member of my FYP tutorial, a fellow member of the FSPA Acting Program, and a close friend, I have had the pleasure of being in awe of Lisa's prowess as a thinker, creator, and companion. Lisa is a fierce fighter in the battle for gender and racial equality, always willing to engage in open discussions and speaking her brilliant mind in both public and conversational settings. Lisa loves herself for the confident, hardworking woman that she is. I respect and admire my talented, funny, fabulous, creative friends and she should be recognized within the Dalhousie/King's community." -Kya Mosey
"Lisa is an intelligent, caring, and kind woman. She is one of the strongest people I know with amazing talent and a positive voice. Lisa is never hesitant to share honest and well thought out opinions. She inspires me as a creative individual and a friend to be the best that I can be. I believe Lisa enriches the lives of many people she meets." -Michelle Leger
"She is one of the most talented, down to earth, kind, compassionate, and clever ladies i've ever met. she is incredible driven and deserves recognition for her beautiful soul and determination." -Laurie Fleet
"Lisa is such a strong force of love in a sometimes negative world. She represents feminism in such a positive way by spreading knowledge in a non-judgemental way, as well as promoting union and not competition between women. She spreads such a positive light to everyone around her regardless of their race, religion, gender, or background. She's also an inspiring student of Acting. She works incredibly hard at everything that she does and it shows." -Rachael Marie
"Lisa is probably the most truly confident woman I have met. She has had a huge impact on my life in terms of helping me gain my own confidence. She is truly a role model to me because she isn't afraid to admit when she needs help, and nothing in the world will scare her into not doing something if she puts her mind to it. This woman has so much courage and guts. She is empowered and makes me feel empowered when I am with her. Her voice is strong and she is so open to talk about absolutely anything. There are no taboo subjects. She is free, confident, and fearless, and I am so proud to call her my friend." -Ursula
"She is always a positive person who inspires me to be my best. She is open, confident, and an amazing friend who always stands up for women's rights. She challenges people who say we don't need feminism and she is not afraid to tell anyone that women are important, beautiful, and awesome. Lisa is very smart and absolutely wonderful in her field of study. I believe that she is exactly the right person for this Galhousie award." -Brittney Whitaker
"She an amazing, talented, hard-working lady, who's super smart and always supportive! Also a very great feminist fighting the fight daily." -Stepheny Hunter
"Because she completely represents feminism." -Samantha Thompson
"She is an inspiring, talented, and strong young woman! A person to look up to. So kind and positive." -Meg Fenchak