News
RACISM: Black Perspectives
Discussing the realities of racism in Halifax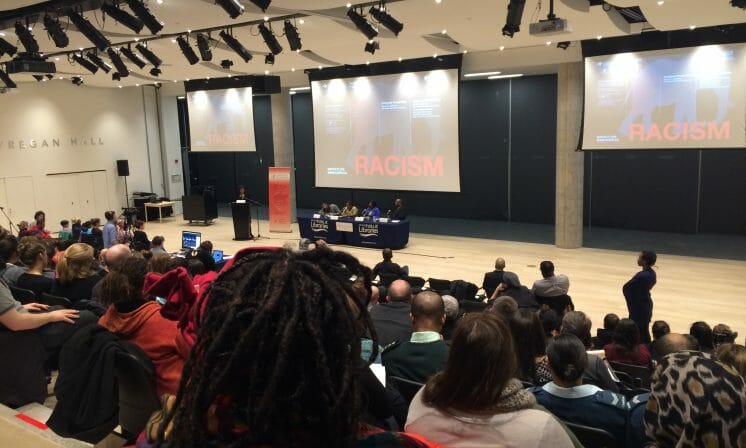 In a town where people of African descent were once confined to living near the city landfill, a crowd of people eager to change social attitudes in Halifax attended the moderated panel discussion "RACISM: Black Perspectives" on Feb. 24.
The event was hosted by Canadian Centre for Ethics in Public Affairs at the Halifax Central Library as part of a series of discussions on racism, and was supported by the Dalhousie University President's Office and the Dalhousie University Faculty of Health Professions.
Many Dalhousie students were in the audience for the event, and posed questions about how to handle racism in their professional and student lives.
An international student at Dalhousie University asked panelist Dr. Barbara Hamilton-Hinch, a Dal professor at the school of Health and Human Performance, how as a black student she could connect with other black students, citing discrimination on campus as a social barrier for her.
Addressing her experiences with racism, the student told the crowd she came to Halifax to study, and "went to Dal, so yeah…" as the audience agreed with her in their laughter, "Dalhousie has a long way to go."
Dr. Hamilton-Hinch provided resources that, in her own words, "you may have to look under a rock" for, but explains that there are supports in place for black or African descent students.
"From my experience as both working and being a student at Dalhousie, one of the things institutions don't do very well is talk about the programs and supports available to students, or don't have a spot where students can go and get a clear list of what supports are available to you as a student of African descent or a student who is black," Dr. Hamilton-Hinch said.
Among the resources that Dr. Hamilton-Hinch mentioned are Promoting Leadership in Health for African Nova Scotian Students (PLANS) and Imhotep's Legacy Academy (ILA).
PLANS, she describes, is a program designed to ensure that the deans of health and medicine schools at Dal fulfill the social accountability for improving the outcomes of African students seeking an education in the related schools.
"We're trying to increase our numbers of African descent in dentistry, medicine, schools in health professions because we realize there are big gaps and inequities there," she said.
While PLANS focuses on encouraging post-secondary education in health professions, ILA is broader in that it encourages students of African descent to have an appreciation of scientific inquiry, and addresses issues of what is preventing African descent students from joining the sciences.
"We recognize that a lot of students of African descent, particularly African Nova Scotians, are not going into the sciences," Dr. Hamilton-Hinch said. "So that program (Imhotep) is an excellent program for mentoring with our professors of African descent, supporting students of African descent in university, and supporting students of African descent in junior high and high school to think of sciences as an option, as well."
According to the Imhotep website, Nova Scotia has the largest Indigenous African population in Canada, with more than 40 Indigenous African communities in the province. Despite having a vibrant population in Nova Scotia, the website states that the Nova Scotian education system "continues to operate from a bigoted perspective."
While the programs at Dalhousie may be poorly advertised to the students who they were created to help, Dr. Hamilton-Hinch believes that these resources are bringing positive change to the Dalhousie campus.
"I can say that, despite some of the challenges Dalhousie may have, there's also some great things happening in that institution."