Sports
Dal sails to France—again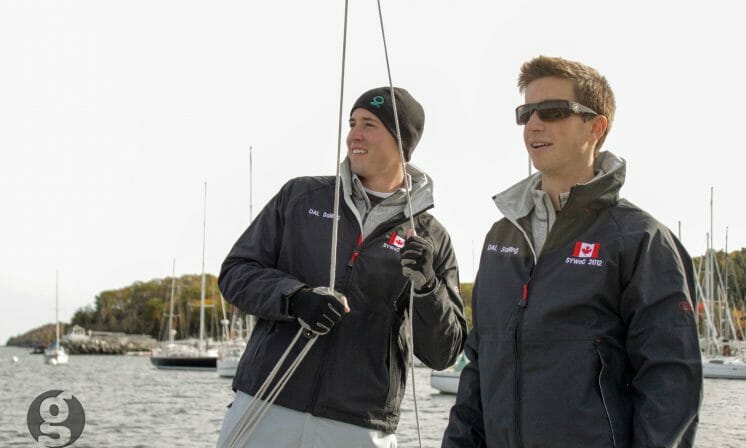 Team Canada at the 32nd Student Yachting World Cup will once again be made up of Dalhousie students: seven, in fact, and one other from Saint Mary's.
"We were a little rushed last time around," says skipper Ted Murphy. "We didn't fully know what we were getting into, so we weren't quite as prepared."
Last year they placed sixth in France out of 15 teams, ranging from top-ranked France to Australia.
Even though the team won a recent regatta on Oct. 14 to earn their third consecutive berth in the World Cup, they qualified for this trip to France a year ago.
The challenge before they left for their second World Cup? Fundraising.
"We've had some private donors who've helped us out," explains Danielle Boyd, team navigator and fifth-year student. "We've also done some small fundraisers, get-togethers and parties."
Some of their public sponsors include Burrito Jax, Strange Adventures, Colonial Honda and J&R Grimsmo. One of the several ways the Dal Sailing team has earned money is by giving sponsors the opportunity to buy ad space from the team in The Chronicle Herald, for which sailing earns 50 per cent of the revenue.
"Our goal [for] fundraising this year is $8,000," adds team captain Jacob Saunders. "We're probably going to make less than that. So a lot of this is coming out of our pockets."
Some teams going to the World Cup are more established in the yachting scene and have bigger budgets, such as the United States' club. Last year's American team had a budget that covered a private bus, paid travel, a training support boat with two coaches, and more, all for a total of $75,000.
Dal supports the club but cannot increase its budget for this particular event when it only lets a select number of people participate. Out of 70 club members, only seven get to compete in France.
The club, which finds half of its members are first time sailors, doesn't have to advertise much because the sailing community in Nova Scotia is tight-knit and word gets around, they explain. The rest of their members found out through the Dal society page. The club's successes abroad didn't hurt either.
"The student union has been able to support us as Dal Sailing in general but they don't have a lot of support for this event, which is understandable because it's only a select number of students who get to go," explains Saunders.
"In terms of our budget, it's going to be about $11,000 total, excluding flights," says Justin Hall, who has been on the team for his five years at Dal, "For a lot of us, it's about $1,000 or $1,100 out of our pockets."
Each member is paying for their own flight and splitting some costs, including portions of the team uniform. The crew left for France on Monday for a regatta that runs from Oct. 27 until Nov. 3.
"The biggest factor for us is just the stress of knowing that we have to pay for this," admits Saunders, "and the amount of time we're putting in leading up to this, fundraising, working part-time jobs, cutting down to $50 for groceries, or whatever it takes."
"And do school work," adds Boyd, laughing.
You can follow the team's adventure in France online at www.twitter.com/DalSailing.