VIDEO: Dalhousie Tigers varsity relay challenge
On Saturday, Feb. 16, Dalhousie Tigers athletes in basketball, soccer and hockey competed against each other in a friendly relay challenge during the Tiger Track Classic. The Gazette was there for the first ever event.
The Dalhousie Gazette invites all students and writers to contribute, regardless of experience. Please see our Contribute page for more information on how you can get involved. Email any questions to editor@dalgazette.com.
Recent Posts
April 26, 2016
Students' feelings of disenfranchisement from budget consultations made it a necessity to interrupt BOG meeting
April 21, 2016
Popular Posts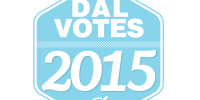 March 12, 2015