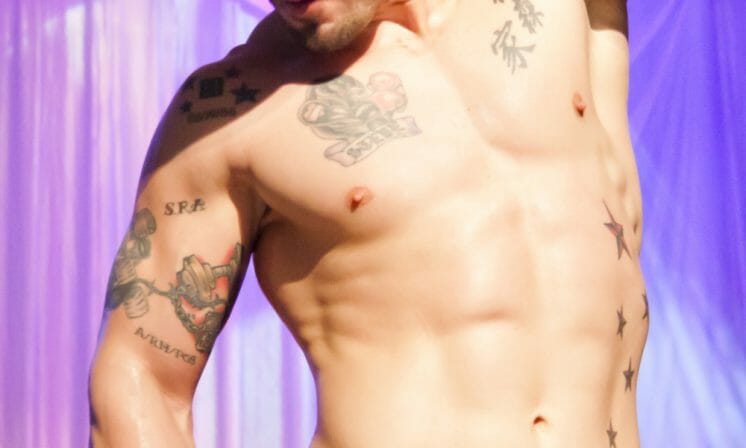 Upon entering the Cunard Centre on Saturday, Jan. 25, it was clear that I, in my bulky winter coat and grey knit scarf, was overdressed. The air inside the convention centre was warmed to the temperature of skin and was leaking a dull neon glow. A deep bass from somewhere reverberated off the walls and tent-tops of the many vendor stalls. It was my first time at the Everything to Do with Sex Show, and I was nervous.
The centre's wide, rectangular floor space was divided into multiple stage areas, each boasting different sex-oriented itineraries. Against the far left wall was the main stage, where acts such as the Latex and Lace Fashion Show, the Male Review and burlesque performances would be held. Opposite that, far to the right, was the Kink Corner stage and dungeon area. Seminars, on topics ranging from the Guide to Women's Orgasms to lube preferences, were being held in a boxed-in area in the middle of the floor. And weaved throughout it all were vendor booths and stockpiles of dildos, vibrators of every imaginable shape, corsets and lingerie, handcuffs, floggers, whips, dolls, candied underwear, leather everything, ball gags, rope, a menagerie of lubricants and anything else that has ever been invented to assist human beings in getting off.
Heading towards the Kink Corner, which prohibited the use of any cameras, I was asked whether or not I had a latex allergy, as the Corner would not suit me well if that were the case. Along one side of the small, dimly lit area was a black square of inflated latex—a vacuum bed used for sensory deprivation, where a person lies on their back, breathing out of a plastic tube, as the air is sucked from the bed until the person inside is sealed tight like Han Solo in a carbonite slab.
"It's relaxing as hell," one demonstrator mentioned.
From there, I was lightly electrocuted by a human conductor and a small voltage apparatus called the Violet Wand, and watched a humiliation performance, in which a nearly-nude woman was tied to a chair and covered in felt-pen profanities. A woman in the crowd turned away with a smear of vehement disgust on her lips.
However, outside the dungeon, an older gentleman pointed out that, "in there [the dungeon], it's all done with the utmost respect. If we were to take the woman outside, here, that would be shameful and crude. Inside, though, it's monitored and merely a physical act."
I headed to the seminar area to take in some oral sex advice, but found it to be more akin to a pep-talk than to an informative lesson ("if you like sex, clap your hands!") and promptly left.
On the main stage, the Leather and Lace Fashion Show was underway. As men and women took turns parading down the catwalk in skin-tight neon-bright leathers (many of which would have looked great in an '80's film about people living in the year 3440) and thin, revealing laces, I was struck by the lack of object sexuality at the Show.
Sure, I was standing beneath a stage upon which shaking flesh peered down at me, but there wasn't that soda-pop, Botox and plastic sort of simulated sexuality that we are so bombarded by from media sources. It was pure sexuality, for the sake of the body and joy over one's ownership of it.
Lastly, I stuck around for the burlesque show, which amazed me in its totality. Having never seen such a thing in my life, it was as if I were in some black-and-white jazz bar huddled around an ashtray and gin martini.
A little more numb to flesh than when I had entered, I left the show for the rain, and was happy to have my coat.