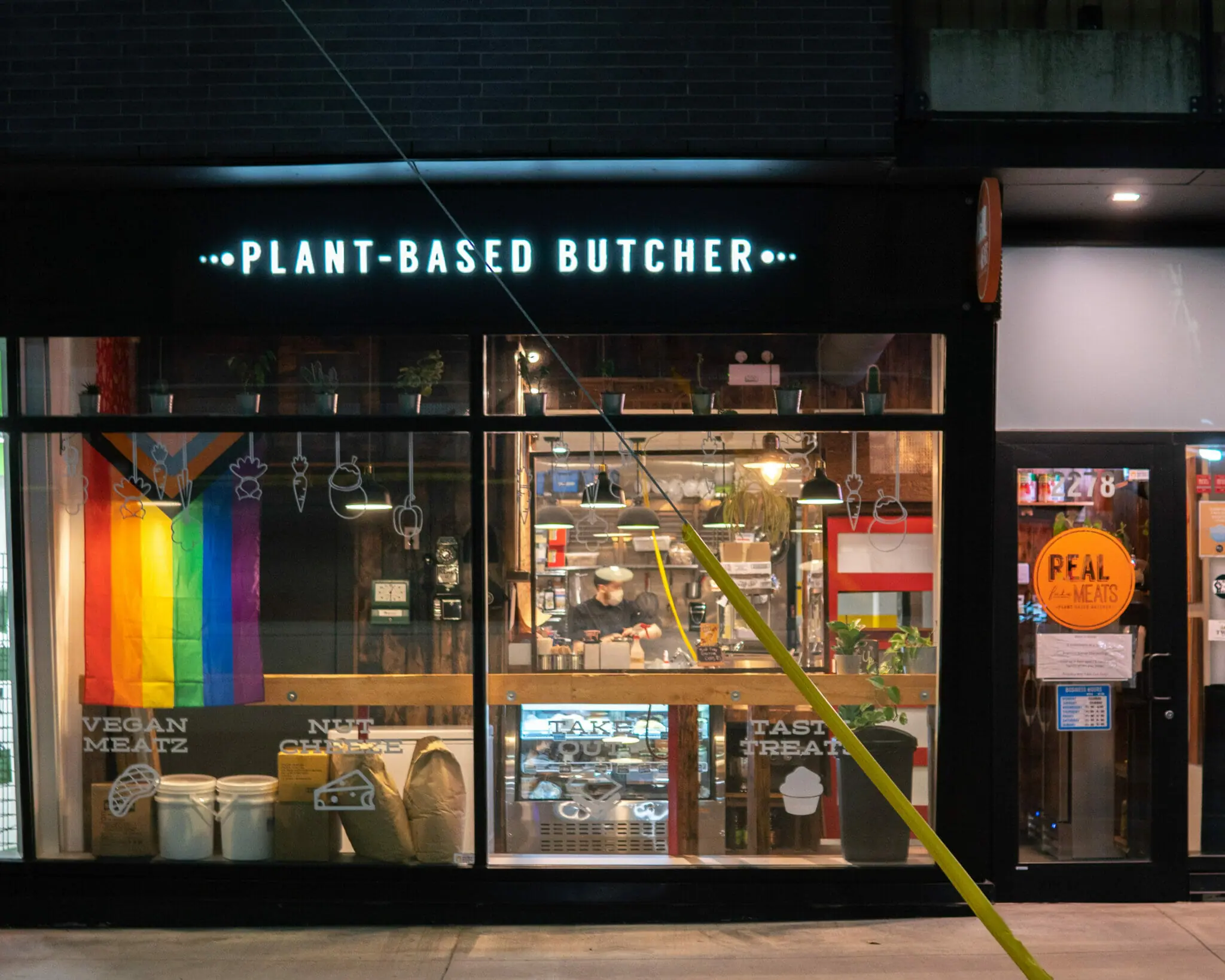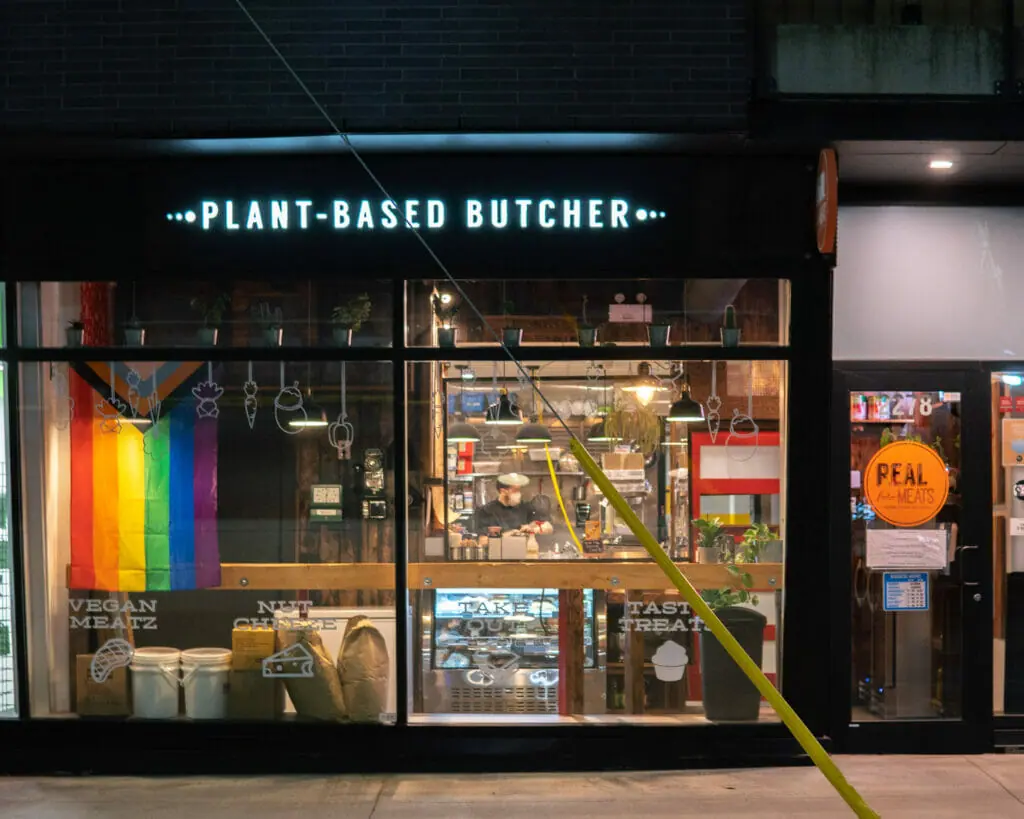 Real Fake Meats: The name might be confusing, but the local restaurant is an absolute hit. It's Halifax's first vegan butcher and the two-year-old Gottingen Street business plays a dynamic role in the community.
The restaurant offers plant-based food to take-out, pre-cooked meals and before COVID-19 had seating for dine-in. They also supply their food products to local businesses. Real Fake Meats seems to be part of a larger global trend toward veganism.
Inside Real Fake Meats
Lauren Marshall is a vegan chef and co-founder of Real Fake Meats. She was the first chef at enVie, Halifax's first vegan restaurant, which opened in 2013. She took five years of vegan cooking classes and attended The Culinary Institute of Canada in Charlottetown.
Marshall founded Real Fake Meats because she believed Halifax was ready to see a vegan butcher.
"Plant-based meats were becoming more in demand because of the progression of the restaurant scene and it was [two years ago] Halifax was ready to see that," she says.
The six seats, wooden walls, chalkboard menus and neon "plant butcher" sign give the restaurant a rustic vibe. It's an easy place for customers to converse when the stools are closely arranged in a line facing the window.
High prices, high variety
The trademark of Real Fake Meats is their comfort food. Menu items like macaroni and cheese, donairs and barbecue wings appeal to a variety of consumers. Though their praise has not come without critique.
Anna Pittas, a vegetarian of eight years, says "it presents a social opportunity to show non-vegans how delicious vegan food can be." However, she believes Real Fake Meats should be contributing to the community members of the North End as their neighbourhood is experiencing gentrification.
Marshall recognizes her business is located in a gentrified neighbourhood, but says Real Fake Meats contributes to the community in multiple ways. They donate to the Adsum House (a local women's shelter) and Feed Nova Scotia, employ the Wright Courier (a local North End driver) for deliveries, and purchase dressings from Hope Blooms, an organization that supports North End youth. Recently they hired local business Taya Ties to tie-dye their store apparel with proceeds going to North End charities.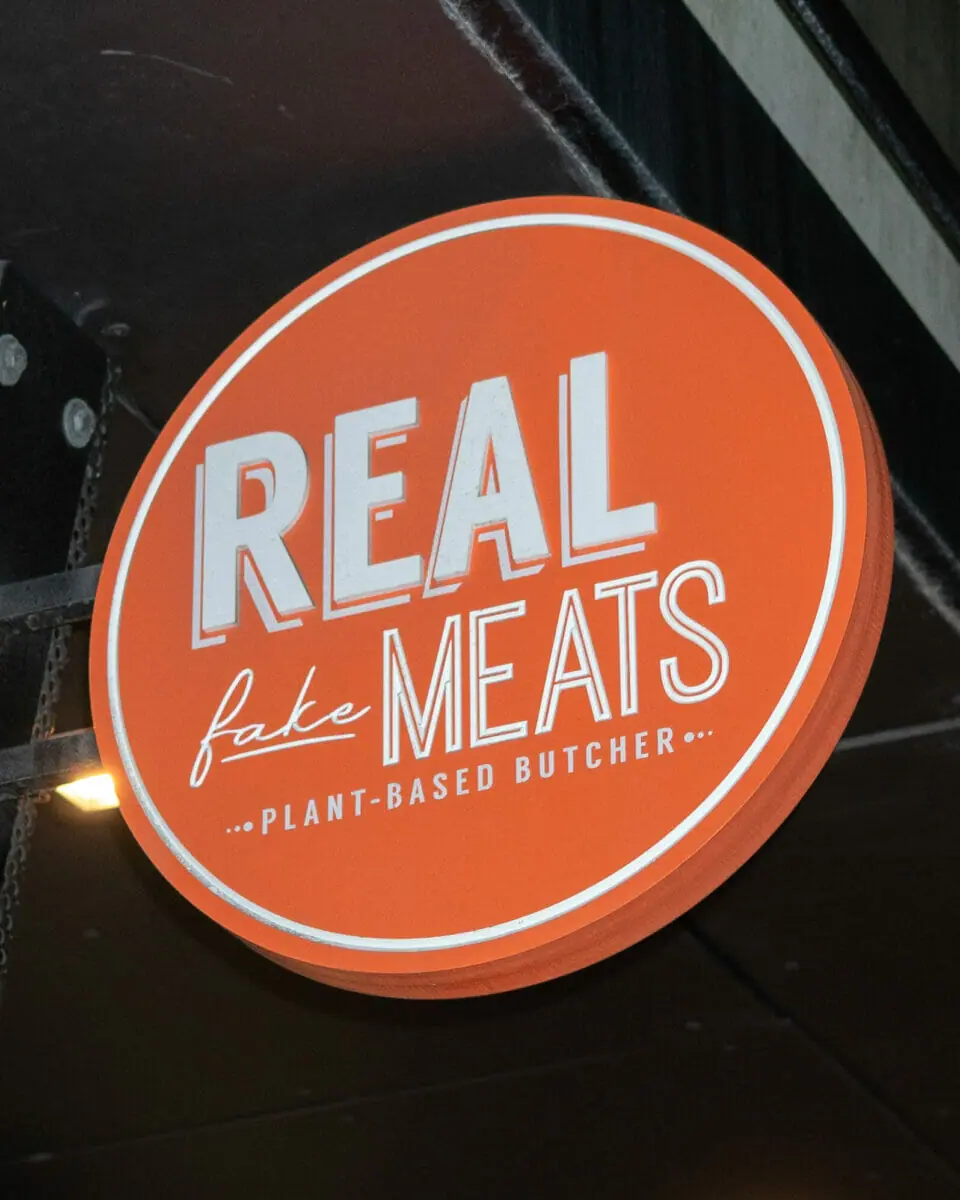 Another deterrent for some customers are the prices at Real Fake Meats. Sylvain Charlebois, professor of food distribution and policy at Dalhousie University and senior director of the Agri-Food Analytics Lab, is not a returning customer due to the prices.
"The price points you find are very high. I bought six patties and four portions of macaroni and cheese for $57. I can't afford to do that every day," says Charlebois.
Marshall defends their price points by highlighting their $6 value menu this month, comparing their $9 burger and fries combo to the $10.98 combo from A&W, and by explaining vegetable products aren't subsidized like some meat and dairy products are.
Jessica McGrath, a vegetarian of 14 years, lives in Dartmouth, N.S., and crosses the bridge just to get take-out from Real Fake Meats. Her only complaint is feeling claustrophobic in the small space. Despite this, it remains her favourite spot.
"The Wild Leek and enVie used to be my favourites, but they don't change their menus often enough," she explains. "When they did, the option I ordered was replaced by some salad or power bowl. No offence to salads, but I can pick up lettuce at the grocery store."
Pittas, on the other hand, eats at restaurants as a treat and enjoys items she can't make at home.
"I would never make vegan chicken nuggets at home. I prefer to eat in and take my time with my food," she says.
Where to find vegan food in Halifax
Real Fake Meats is the quintessential spot for vegans who crave their meaty and cheesy non-vegan favourites. According to McGrath, they entice the "dairy-free people who miss the taste of a delicious greasy grilled cheese."
Marshall also caters her business to people with less time. Katie Mombourquette, a student at Mount Saint Vincent University, gets to-go meals from the fridge on her way home.
The team of four chefs at Real Fake Meats are busy supplying products like fake meats, vegan cheeses and sauces to businesses around the province. In Halifax, they supply to The Nook Espresso Bar and Lounge on Gottingen Street, The Old Apothecary Bakery & Cafe, Organic Earth Market and more.
A local group called Vegan Event Planners organizes social events with vegan food and often serves Real Fake Meats products. The group planned a billiards event last year that served Real Fake Meats' wings, chicken nuggets, cheeseburgers and wraps.
James Purcell, an attendee of the event and vegan advocate, said "the cheeseburgers were identical to a regular cheeseburger from McDonald's. Real dirty and fulfilled that greasy junk food craving. The nuggets seemed no different than actual chicken flesh. It was weird at first how perfect they were."
The future of fake meat in Halifax
Real Fake Meats has adapted to the COVID-19 pandemic by selling "butcher bags" for pick-up when Halifax was in lockdown and moved their menu online for a contactless delivery option. They currently do not have sit-in dining as an option.
Currently, they are the only storefront vegan butcher in Halifax, but similar businesses are expanding and Charlebois believes more competition will arise soon.
"A current phenomenon is the pursuit for inclusiveness. If you don't have a vegan option, you're excluding a lot of people. More restaurants will open and put silver bullet vegan options on menus to make them feel more democratic," said Charlebois.
Honest Kitchen could become an equal competitor. They operate from a commercial kitchen, and do delivery and wholesale for other businesses. They supply vegan products to G-Street Pizza, a neighbouring business of Real Fake Meats, and they are working on supplying their products to more restaurants and retail stores. Their Thai, Jamaican, Indian and Moroccan cuisine already differentiate them from Real Fake Meats. Having this ethnically diverse menu may prove to be a beneficial factor in the future as they gain more recognition in Halifax.