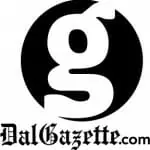 It took two hours to construct a shabby, makeshift camp from tarps in the Student Union Building (SUB), but the Dalhousie chapter of World University Service of Canada (WUSC) managed to recreate a refugee camp.
One student remarked that the only thing missing was the smell of burning plastic, common to many camps, while another passerby noted that there aren't as many four-litre bottles as in the display, because refugees aren't that lucky.
"In the past we've had symposiums and stationary bicycles to campaign for bicycle ambulances," says Marissa Ley, WUSC executive.
"Originally we wanted to have professors and people from the community come in and have a mock jail-and-bail, but more surrounding awareness around refugee rights and what it is to be in a camp and how education can liberate you."
Due to conflicting schedules, though, the jail-and-bail aspect was left out of the demonstration.
WUSC raises money though fundraising and campaigning to sponsor scholarship students from refugee camps and give them an education at schools like Dal.
Although the main goal was awareness, they sold free-trade shea butter products and raffle tickets for donated Tragically Hip swag, including concert tickets.
"We talked about it at the meetings and we talked to the students as well," says Ley.
"It definitely doesn't fit in as well as shea butter and things like that, but originally we wanted to have a large-scale event where we might have a silent auction and with people in the jail-and-bail. The Tragically Hip responded so graciously, so we figured that we had the merchandise and that we might as well use it. It's not the best but they were so great about it, it's hard not to use it and thank them."
When she says 'the students,' Ley is referring to the scholarship students WUSC sponsors. According to an article by The Chronicle Herald, there are currently 8 such students studying at Dal.
"They [WUSC] give students who qualify a chance to go to university and I was one of them," says Kuol Majak, a fifth-year chemical engineering student from Sudan.
"There are always people who want to go and a lot of them are qualified to come and study. I was one of the lucky ones who actually got to."
Majak works with Dal WUSC to help raise awareness, and explains life in these camps to people in Halifax.
"The refugee camps are confined spaces, with a lot of people crowded in," says Majak of his own experience with refugee camps in Sudan.
"Room is limited, housing is rare so most people live in tents. Most of them have no jobs and have to rely on aid. At a lot of these camps, people have to line up for services that we have in our bedrooms, like water. They would line up for two, three, four hours for a bit of water."
His tuition, housing, and clothes are covered, giving him the opportunity to study in Canada.
"We are a levied society, so we get $1.50 from students and that helps fund their tuition and funding costs," says Ley.
"We also get donations from the Dalhousie Faculty Association for different things like a clothing allowance and summer housing."
The refugee camp raised just over $200 for WUSC and was visited by media around Halifax, including UNews, Dal News, and The Chronicle Herald.
Kual Garang, a third-year nursing student, was also at the mock refugee camp. While he isn't with the WUSC society, he and Majak are friends. They both come from Sudan and have bonded over mutual language and culture.
"It caught my attention, and reminded me of my real experience of when I was in a refugee camp," says Garang.
"It also gave me hope that people are doing something good for people who have less or nothing. It gives me hope that people who are struggling with life are not forgotten."
Garang came to Canada was he was 26, arriving in Montreal. He's 34 now and wants to learn French.
"This is my home now. I've been here for some time, so this is my primary home. It's nice that someday I can go to Ontario and when they ask where I came from, I can say Nova Scotia. That would be nice."