Dalhousie
Sea change: Big things afloat at Dal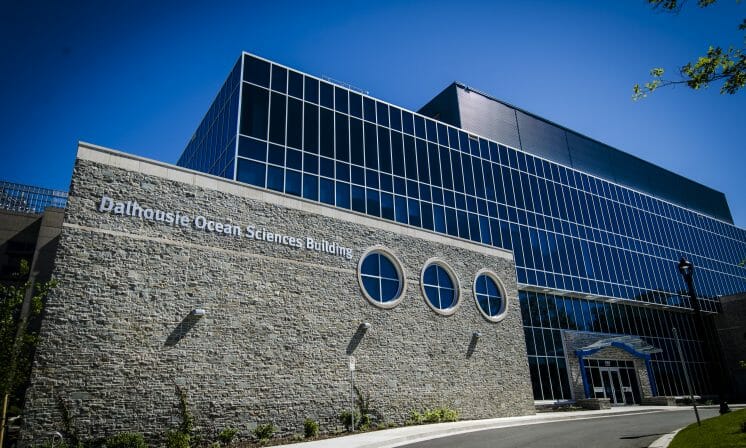 In a quiet corner of the Studley campus, nestled between Shirreff and King's College, some of Dal's most exciting research is taking place. Dal has punched well above its weight in the ocean sciences for a long time. With Dal's newest undergrad, an incredible new building, and boatloads of grant money, it's an exciting time to study the sea.
"There are so many world-renowned scientists who do research here and teach the classes as well," says Nathan Grant, a third-year marine biology student. "So the opportunities that arise—working in laboratories for example—are absolutely amazing."
And if you're not into ocean sciences? A rising tide lifts all boats.
Going global
by Calum Agnew, News Editor
"Globally, the dependence on the oceans is growing," says Doug Wallace, the Canada Research Excellence Chair in Ocean Science & Technology. Wallace returned to Dal from Germany in 2011, bringing with him a team of researchers. His lab is one of the primary occupants of the university's new Ocean Sciences Centre.
In May, Dalhousie was given $25 million over five years from the federal government to establish MEOPAR, the Marine Environmental Observation and Prediction and Response Network. The program will identify potential risks to human activity in the ocean, and develop technologies to mitigate them.
Then in August, Dal was given $1.8 million by the federal government to establish a collaborative graduate research school, linking Dal with two German universities. Students will travel back and forth over the course of programs.
"Climate change, and what we as human beings are doing to the ocean through pollution—all of these issues are coming up all of a sudden, not just in Canada, but globally," says Wallace.
To that end, Dal is nurturing its strong relationship with German science. The new building has a plaque commemorating German chancellor Angela Merkel's 2012 visit to the university. Wallace conducted his research at the University of Kiel before returning to Dal. Boris Worm, a professor of marine biology at Dal, earned his PhD at Kiel. Worm's 2006 study predicting the near-total collapse of fish stocks by 2048 garnered immense attention.
"Our training partnership addresses problems that cannot be tackled on a purely national level—the oceans and atmosphere are connected and mobile, and what is Canada's ocean today will be someone else's tomorrow," said Wallace in a press release.
BSea
by Leah Shangrow, News Contributor
In September, Dal launched its newest undergraduate degree: the BSc in Ocean Sciences.
"It's been 50 years in the making," says Marlon Lewis. Lewis is the chair of the department of oceanography. He describes the program as the first of its kind in Canada, and one of only two or three in all of North America. Previously, oceanography was only available for study at the graduate level.
The degree is research oriented, offering experience  both in lab and field environments. It covers a wide range of subjects: from biology to technology to ocean policy. But it also includes areas of study such as writing and critical thinking.
Dal's researchers believe the program will enable students to develop a higher degree of expertise. "We feel we need a better, more broadly trained student body who understand the complexities of the oceans, and how the different disciplines interlink" says Wallace.
"The need to integrate knowledge across different disciplines has value even at the undergraduate level," he adds. "Complicated problems require expertise and understanding in many different fields because that's just the way the ocean is. It's a complicated place."
Lewis acknowledges the broad applicability of this new degree. "There are wonderful opportunities in the offshore oil and gas industry, mining and transport, and offshore energy."
While future career opportunities are a major draw for students, Lewis says that there are a number of other factors that make this program appealing.  "You go out in boats and take measurements—a very hands-on approach to try and understand how the ocean works" says Lewis. "It's incredibly satisfying. What could be better?"
Dal's approach to ocean science education has the support of one of the world's top educators in water resource protection. Jill Heinerth is an award winning filmmaker and environmental activist. She is currently working on 'We are Water,' a multimedia outreach programme which she calls the culmination of her life's work.
"We still know more about outer space than the deep recesses of our oceans," says Heinerth.
"We need to better understand how they work, how we can protect them, and how we might harness their power to solve issues like global warming and sustaining the food supply," she says. "This type of education is not just important, it is critical to our future."