As Dalhousie University teaching assistants and part-time academics gear up for a possible strike, one member of the Canadian Union of Public Employees Chapter 3912 (CUPE 3912) has opened up about his story of working at Dal and joining the union.
Gabor Lukacs, CUPE 3912's communications officer, was a part-time academic with Dal until August 2021. Early in the pandemic, however, he was removed from teaching a course. He said he feels the reasons why he was removed weren't just, nor was an alleged attempt by Dal's faculty of science to keep him from communicating with students to explain his situation.
Lukacs shared he turned to CUPE 3912 because he doesn't "want to permit the employers to create an atmosphere of fear" for his fellow members and coworkers.
Contract academic removed from position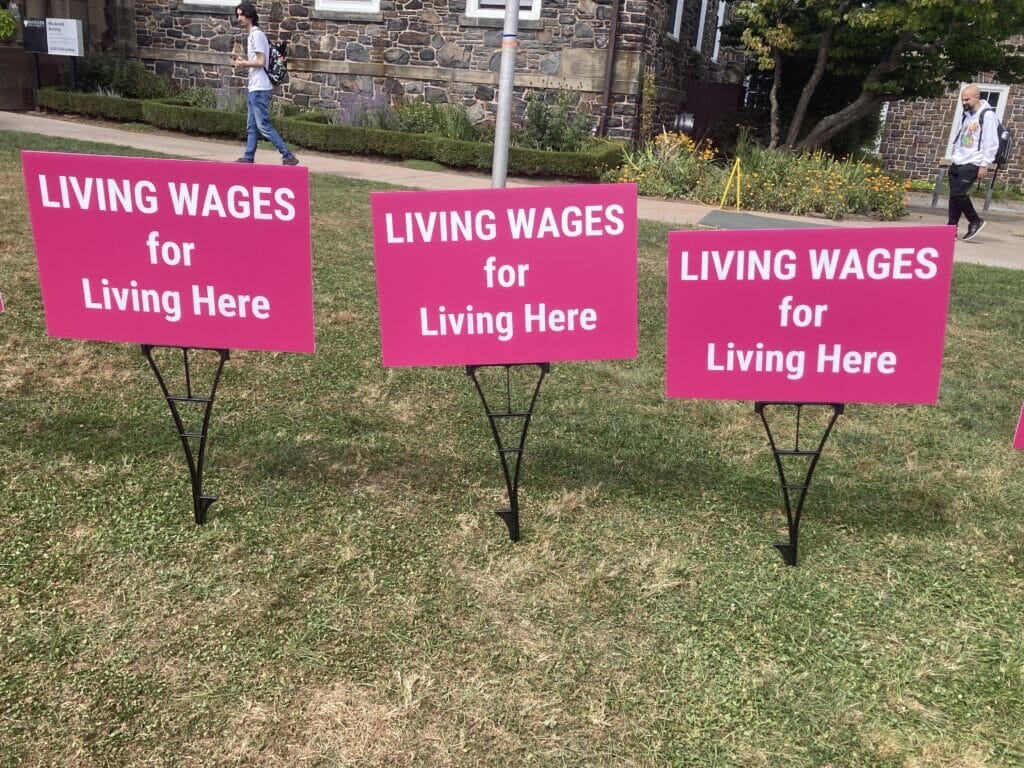 Lukacs said the reason for his removal stemmed from his introduction to the idea of changing the grading system for his commerce math class. He considered this to aid his students as courses shifted to distanced formats in March 2020, the beginning of the COVID-19 pandemic.
His idea? The pass and fail system.
He claimed the grading scheme has been part of Dal's grading practices for at least a few years preceding the pandemic but rarely put to use, especially in the "strict," he said, faculty of science.
Leslie Phillmore, the associate dean of the faculty of science, sent an email to Lukacs soon after he proposed using the practice in his course. The email stated his syllabus was inconsistent with the university's assessment and grading practices.
Six hours after the initial email, Lukacs received another from the faculty, this time removing him as course instructor. It also asked him "not to communicate with students." 
Lukacs said he hadn't implemented his pass/fail grading system when he was removed from his position. He added it was "a very traumatic experience" for both him and his students, who were unsure of what had happened to their instructor.
"Not even being able to tell them I was alive [was the hardest]," Lukacs said. "The students were just told the faculty was going to continue to teach the course. There was no explanation. They thought I was sick or possibly dead."
On March 26, the university emailed students saying they had an option to have their grade changed to "pass" or "fail," instead of a typical letter grade. A pass wouldn't affect one's GPA but still provided course credit.
After not being brought back to instruct the course after the decision to implement university-wide pass/fail grading options, Lukacs turned to CUPE 3912. He said he never had any reason to go to the union before while teaching at Dal, but now he feels a strong "sense of community."
Since joining, Lukacs said he heard claims of how other union participants had been mistreated.
"I love teaching," Lukacs said. "I would love to be back and teaching because I enjoy working with students. But if the price of ensuring that behaviour stops is that I am no longer able to do work at Dalhousie, it's a high price to pay, but I'm willing to pay this price. Because if everybody chickens out, it perpetuates the current state and somebody has to stand up. Somebody has to be willing to take significant personal costs."
The Gazette attempted to contact both Phillmore and the university for comment on Lukacs's claim. Neither responded.
"This is the whole point of the union. We work together," Lukacs said. "If there are thousands of us out there, you cannot blacklist everyone. If you're being wronged, come to the union. We will help you. We are here."
CUPE 3912 reps hope to avoid strike
CUPE 3912 President Cameron Ells said that while the organization is doing everything it can to avoid a strike, it's still equipping itself for that possibility.
Ells said resources needed in this situation include materials such as signs, posters, banners and items of clothing that can help communicate their goals. Other resources are also required, which Ells described as the website and online resources promoting the schedule of events and activities put on by their organization.
"Being prepared and having the materials, the organizational capacity and the resources to go on strike is helping to motivate everybody around the table to come to an agreement," Ells said.
He said this sends a message to the management representatives that negotiate on the Dal Board of Governors's behalf. They are ready to stand up for themselves, regardless of the outcome.
The advocacy work of CUPE 3912 extends beyond negotiating contracts, strike work and bargaining agreements with the three universities in Halifax. Part of the organization's responsibility is to address the grievances and concerns of its membership, especially when it comes to issues related to the university.
Ells said the union provides support to anyone with personal or policy grievances brought up to CUPE 3912. Policy grievances typically deal with general complaints of the workplace, while personal grievances are more case-by-case, when a person feels wronged by their employer.