Student Union
Board of Governors Representative: Mariam Ragab
She wants to see BOG be more inclusive and accessible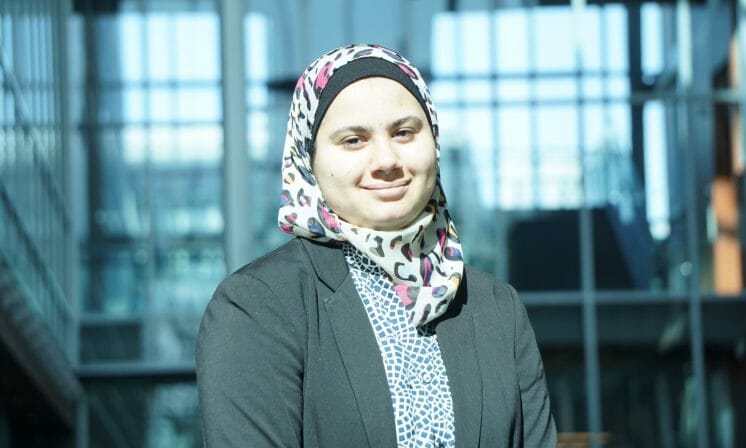 Name: Mariam Ragab
Hometown: Halifax, NS
Major, Year: Computer Science Minoring in Security Studies, First Year
Why do you want to be on the Board of Governors?
Over the past year, I have recognized many concerns with the way the Board of Governors operates and the lack of representation of minorities on the Board. The consistent and dramatic increase in tuition fees across programs indicates a clear disconnect between students and the administration, and the current "hiring freeze" indicates a lack of care for quality of education at Dal.
Furthermore, as an Arab-Muslim Canadian struggling to pay her way through an education, I believe that I can represent racialized minorities on campus, and represent the voices of many students struggling to pay for an education.
I also believe that my experience as a computer student doing an arts minor allows me to understand the perspectives of different students, and to envision a broader scope of issues that affect students.
What do you plan to do once you're elected?
If elected, I plan to listen. I intend to listen to the problems that every student faces at Dalhousie, and to represent those challenges fairly and passionately to the Board of Governors. I also hope to be the voice of students during voting on motions, such as an increase in tuition, for the spending of $650,000 on public relations following a scandal.
While I understanding that running a university is not as simple as one may think, there is certainly room for sustainable development, community leadership, and academic improvement. I think Dalhousie needs to focus on advancing undergraduate and professional programs, and provide adequate support to graduate students who consistently receive less support for an increased student fee.
I will work hard to represent students from different components of the university, and will do my best to ensure that every student at Dalhousie gets their money's worth of education, and that our university is going in an affordable and sustainable direction.
What experience do you have with Dalhousie's Board of Governors?
While I have not had direct connection to the Board of Governors, I have read many of the reports they published in the past year. Specifically, the report they published after Dal Dentistry Scandal had a sounding effect on Dalhousie's campus, bringing to life major institutional issues with homophobia, sexual violence, and discrimination. However, the Board of Governors has taken no real steps to implement any of the report's recommendations – all of which they accepted.
Similarly, Dalhousie's report on divestment failed to deliver key initiatives that ensure our school is sustainable and economically sensible. Dalhousie also still continues to fail Indigenous students by not officially recognizing that we are located on unceded Mi'kmaq territory.
If elected, I will use my research and knowledge of these reports, along with student consultations, to ensure that students' voices are heard and to work with the board to find solutions that satisfy student interests.
If you had been on the Board of Governors this year, what issues would you have brought up?
If I was on the board this year, I would have brought up the need for an increase in funding for the faculties, and I would have brought strong opposition to the continuous tuition hikes. I would also have encouraged the board to take serious steps to fulfill the mandates of the many reports. Additionally, I would have pushed for an increase in sustainable investments and faculty hiring throughout the academic year. Additionally, Dalhousie needs to work on accessibility for students with mental and physical disabilities, an agenda I would have pushed through.
What role do you see the Board of Governors playing in the upcoming year?
The Board will definitely play a key role in the coming year, especially as current and prospective students watch for tuition hikes. Furthermore, the expansion of the ocean institute, and the fascinating research going on across campus, provide for a great medium for students to expand their knowledge, and the Board will be key to providing the financial support, and in fostering the environment necessary for the development of Dal as a whole, and of different groups and minorities.