Following Mahsa Amini's death in Iranian police custody, Haligonians with Iranian connections gathered at the Halifax Grand Parade on Sept. 22, to protest in solidarity with the state's ongoing freedom movement.
With Iran's decision on Sept. 22 to cut off internet access in parts of Tehran and Kurdistan and ban the use of WhatsApp and Instagram, many Iranians in Halifax were left in the dark, unable to contact friends and family at home.
"They [the Iranian police] are actually killing them," Iranian Canadian Kaynaz Niazi said, his voice breaking. He took a moment to compose himself, as Iranian music blared into the cool fall air.
"I just want to be their voice. They need to be heard right now more than ever."
Niazi was one of over 200 people that demonstrated in solidarity with protesters in Iran. Bundled in puffy jackets, sweaters and vests, hours from the arrival of Hurricane Fiona in Nova Scotia, people crowded the square. Some hoisted signs, reading "Women, Life, Freedom."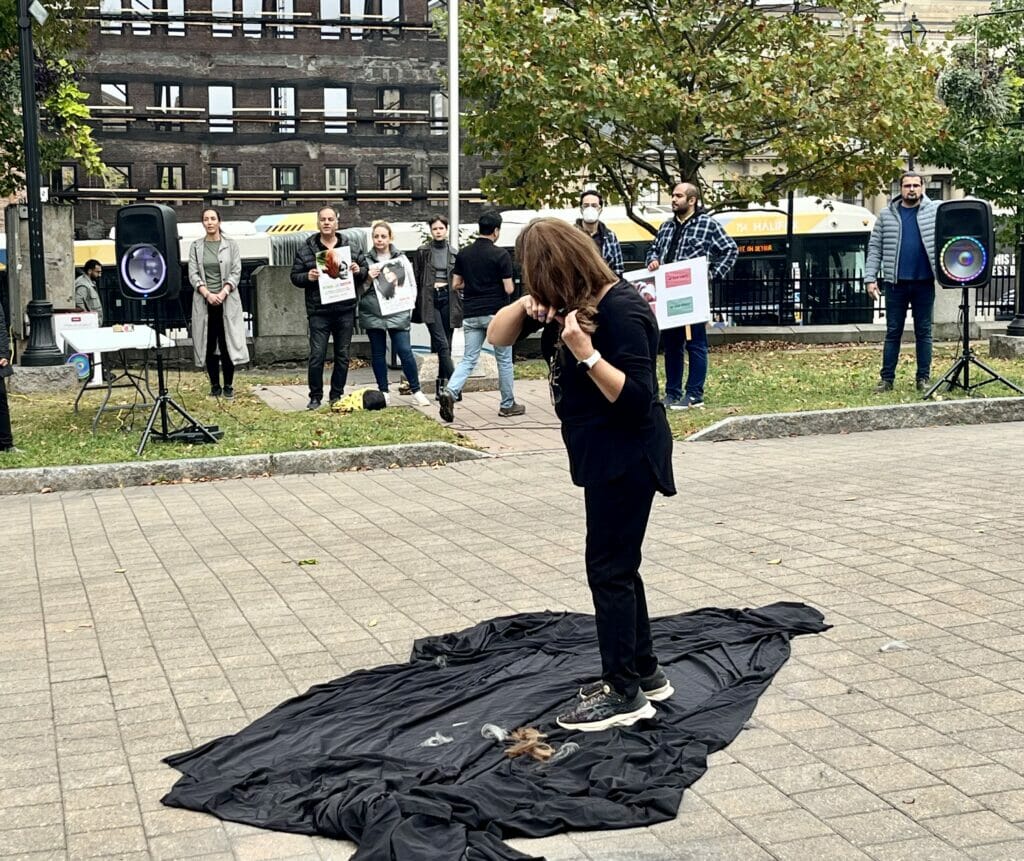 As the crowd grew, hijabs were hoisted up on sticks. Two women stood in the center of the crowd and cut their hair in mourning for the movement's martyr, Amini.
"We just want to be heard because we've had protests before. A couple of years ago, they cut off the internet and they killed 1500 people," Niazi said. "We don't want that to happen again."
Niazi is referring to 2019, when public protests over Iran's rising cost of gasoline resulted in a government crackdown that killed 1,500, according to Reuters. That is more than the total Iranian population living in Nova Scotia which, according to Canada's 2016 census is 1,405.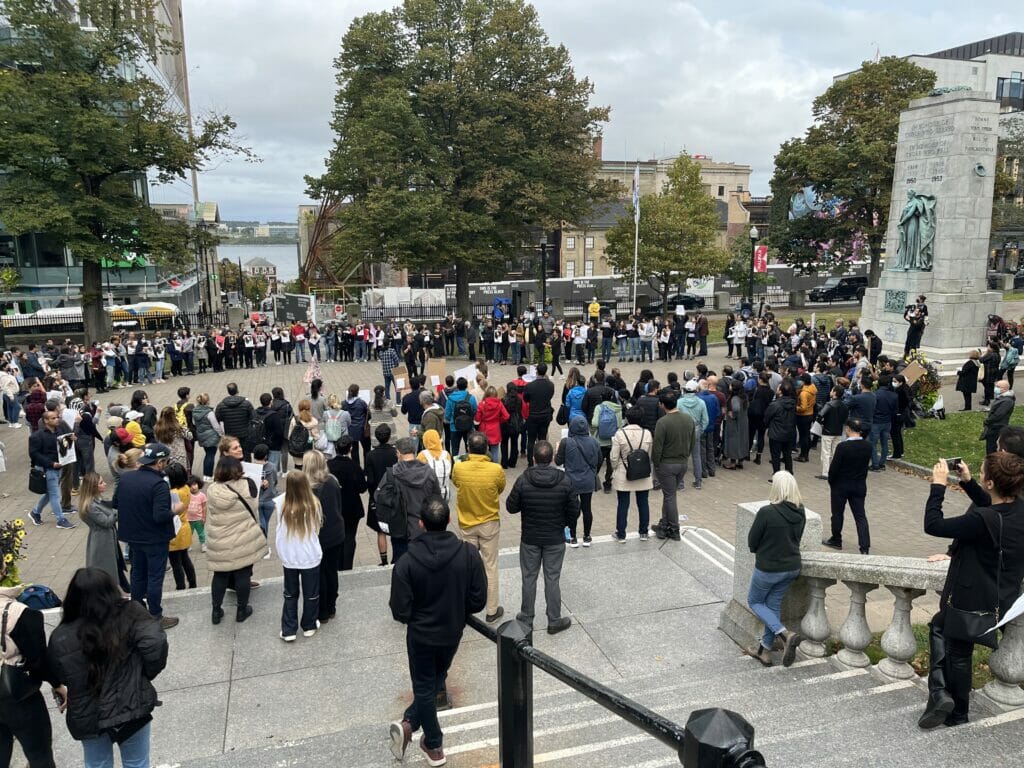 Fighting for freedom
Now, in the last week, the Iranian public has retaken to the streets. This time, it's in support of Amini who was imprisoned for not "wearing her hijab appropriately," according to the state's morality police. Amini, aged 22, later died in custody. Authorities said she died of a heart attack but her family denies this, saying she was perfectly healthy before her detainment.
Speaking out against the Islamic Republic is not only a problem for Iranians living in the state. Many protesters expressed fear for their lives and those of their families while over 10,000 kilometres away in Canada.
"You should be able to choose what you want to wear and how you want to present yourself to society," said one woman. She asked to remain anonymous so she may return home without fear of prosecution. "We are all very desperate and anxious and sad every day because when we live here we see the privilege of having basic human rights."
Despite the size of the gathering and the music, which could be heard across Halifax's downtown streets, only one other media organization was visibly present to provide coverage.
Dalhousie University graduate Neyousha works on campus as a biostatistician. She moved to Canada from Iran 13 years ago. Neyousha has asked to appear by her first name only to avoid retribution in Iran.
Neyousha said she's optimistic about this movement since Iran's protesters seem to have come to a collective agreement supporting women's rights, surpassing gender lines and religious differences.
"Right now, everybody's coming together because even religious people are tired of all this lack of human rights. They don't believe that Islam is, you know, encouraging that," Neyousha said. "Hopefully this movement starts to help all Iranian women around the world. So they have more freedom of what they are wearing."
"People are fighting for their lives."
Iranians are not protesting for or against wearing a hijab, Neyousha said. They are protesting for the freedom to choose.
As someone who doesn't identify as a woman but was forced to wear a hijab, Niazi understands the importance of this freedom all too well.
"I've lived in Iran for 17 years, I've been oppressed pretty much my whole life," he said. "In this matter, there's no such thing as peaceful protesting. People are fighting for their lives."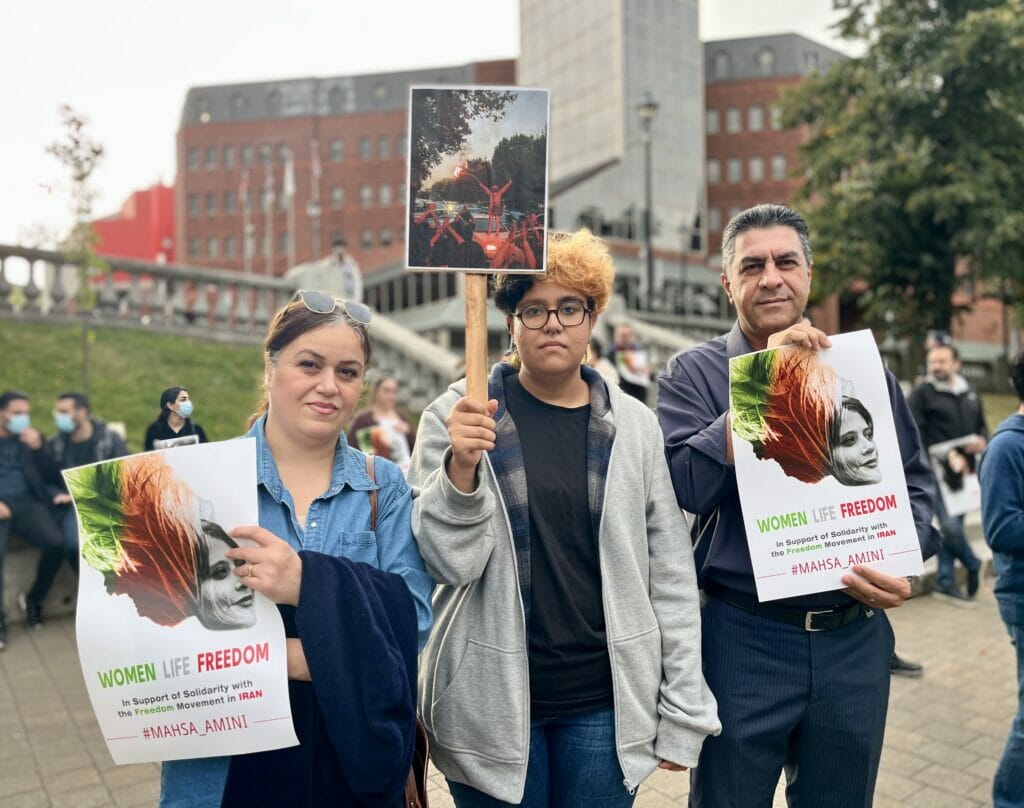 Human rights activist Nazanin Afshin-Jam MacKay referred to what was going on in Iran as a "gender apartheid." She called on Western governments to take action.
"We ask world leaders to restrict the financial, diplomatic trade ties and sports events that lift, and appease and abet this Islamic regime, this tyrannical, corrupt regime that has stolen the lives and hearts of beautiful, freedom-loving Iranians like Mahsa," she said in her speech at Thursday's demonstration.
"I believe these protests will continue, I pray to god that the protests continue and this will be the spark that finally puts an end to this regime."
Since the protest, Canadian Prime Minister Justin Trudeau announced Canada will be imposing sanctions on Iran.