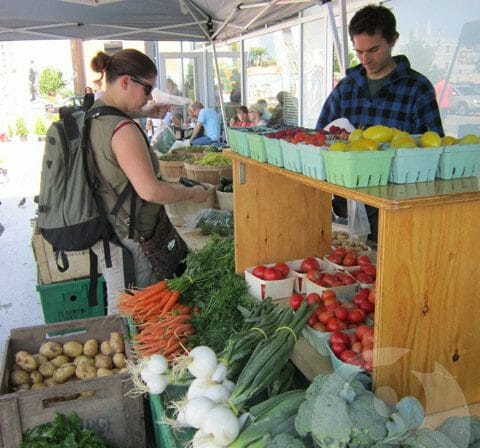 Last semester I took part in a challenge to become a locavore—someone who eats only local foods—as part of an environmental ethics project. The challenge was to eat locally for one full week to see how feasible it is for university students to adopt an environmentally friendly diet.
Being the only student in my group who lived in residence, I was tasked with trying to eat as locally as possible. This was difficult considering I have a meal plan and couldn't always be sure if my dining hall meals were locally sourced.
The week did not go as smoothly as I hoped, as I soon discovered a number of products I consumed were hard to find locally.
One of my favourite things to drink is herbal tea, which is usually imported from other countries, such as India and Sri Lanka. But after I finished my week as a locavore, I found there are ways to make your own tea by purchasing locally grown herbs from places such as the **Seaport Farmer's Market** (1209 Marginal Road). Some vendors even sell pre-made tea satchels, but these are considerably more expensive than making your own at home.
But getting locally grown tea was just the beginning of a number of problems I ran into while trying to be a locavore. I'm very reliant upon pre-packaged foods because I'm not a big fan of the dining hall meals. Luckily, according to Dalhousie University's *Campus Green Guide*, the food offered in residence dining halls is made up of 1/3 local food. So that's good news for the eco-conscious!
But when it came to meals outside of dining hall, I had to give up my stash of favourite foods, including Quaker Crispy Minis, crackers and granola bars, leaving me with no midnight study snacks. I practically lived off of locally grown apples, which I purchased from **Goucher's Farmer's Market** (14395 Evangeline Trail) in Kingston, Nova Scotia. But, surviving the week snacking on apples wasn't ideal as a sole nutrient source. I spent most of my week feeling sluggish, angry and hungry and began to wonder if it was impossible for a student in residence to eat a 100 per cent locally sourced diet. It wasn't until my locavore week finished that I began to realize where I went wrong.
I've been taking environmental science and sustainability courses since I began at Dal and I've learned a lot about preserving the natural world through sustainable living. In fact, I felt I knew so much that I walked into my week as a locavore feeling overconfident. Looking back, I realize I would have benefited more had I done research ahead of time. Also, instead of just giving up the foods I relied on that were not locally grown, I should have found snacks or meals to replace them.
It is possible for students living on or off campus to introduce more local food into their diets—if they do their research. As mentioned before, *The Campus Green Guide* is an excellent place to start for university students, and definitely should remain under the pillow of anyone who takes on this kind of challenge. Websites to consider for those who want to become a locavore include www.thelocavore.ca, a blog by author Sarah Elton that describes methods to living a locally sourced diet and lessening your carbon footprint. Another helpful resource is www.slowfood.ca, a website for Canadians that discusses local eating.
But students don't have to eat 100 per cent local to reduce their carbon footprint. Some other environmentally friendly actions include: purchasing a Brita pitcher instead of buying bottled water; eating lower on the food chain; shopping at campus vendors that produce fair trade and Rainforest Alliance Certified products, such as Just Us!; eating in sync with the seasons; urban gardening; or shopping for fresh food rather than pre-packaged ones.
This truly was an eye-opening experience, and I challenge every environmentally conscious student at Dal to take on a more local diet. Just do your research first.
*Click here for a Gazette photo essay on local food in Nova Scotia.