Opinions
How to road trip like a dirt bag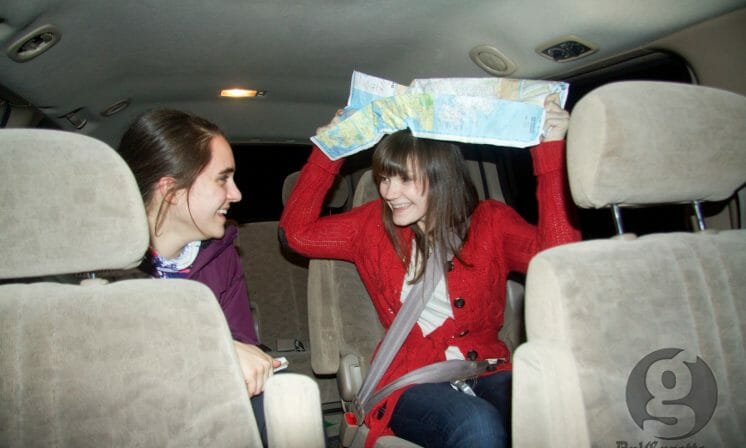 It's day 37 of lunches made of Walmart bread smeared with packets of mayonnaise, and mustard pinched from gas stations across the American Southwest. It's been nearly three weeks since we've taken an actual shower and our backs ache from being crammed into the trunk of a hatchback night after night.
My travelling partner and I had decided to put grad school, and real life, on hold and hit the road instead.
On the horizon: a month and a half of dusty pavement, desert sunsets and red rock vistas. We planned to spend days driving through the Four Corners and tramping across the world of Butch Cassidy and John Wayne.
The only requirement? To live as cheaply as possible.
Our first decision was transportation. We had the option of a Honda Odyssey or a Honda Fit, both borrowed from mom, of course. It was roughly the difference between a mansion and a cardboard box.
While the minivan tempted us with the promise of spacious sleeping room, we decided the gas would murder our wallets. So we settled on the Fit, which allowed us to sleep crunched up in the back of it if we lay diagonally. Luckily, neither of us is over 5'9″.
Our wheels became our glorified kitchen/bedroom/living room over the trip. We chose to guerilla camp in our bright red car rather than pay for a camping spot each night. We took advantage of pull-outs on the highway, side roads and abandoned lots. Cities were tougher, but we roamed the streets until we found a quiet road without street lamps.
We spent most of our time in the wild. Our saving grace was the National Forest System, which contains huge swaths of the Southwest. It's beautiful, remote, and unmarred by human development. The best part? You could camp anywhere for free.
Meals were simple and unchanging. Each morning we'd scoop breakfast out of a giant tub of WalMart oats, sneaking into a gas station to "borrow" hot water. We travelled with a camp stove and bags of Sidekicks pasta, bought for a buck at our favourite big-box store. We cooked dinner on the side of the highway, with cars whizzing by.
One such night, a black mustang pulled a U-turn, and the driver offered us a place to crash for the night. He said he'd always depended on the kindness of strangers when he was backpacking as a young man, and wanted to return the favour.
We put aside our Texas Chainsaw Massacre fears and took a real shower that night. We didn't bathe again for the next seven days.
But we kept (mostly) clean by swimming in lakes, artificial reservoirs and mountain streams. Occasionally we'd sneak into a hotel pool and disinfect our dirty hair with chlorine. It sounds gross, but it really wasn't. I'd hang my freshly washed undies out the car window as we drove down the highway, taking advantage of nature's laundromat.  Truckers would honk hello as we flew by. The lonely road is an open place and fantasies are few and far between.
We filled our days with hikes in national parks ($80 for a pass) where we wandered through hoodoos, painted deserts, and petrified forests. We spent our nights stargazing under the darkest skies in the States.
Two years later, in the dead of Halifax winter, I can still feel the desert heat pouring through the open car window.