Editor's Note: This is a satirical article.
A commercial regularly used during Hockey Night in Canada (HNIC) broadcasts has been cut amid pushback from annoyed fans.
HNIC announced the Frosted Flakes' "cereal celly" (short for celebration) ad will be taken off the air starting with the broadcast of game five of the National Hockey League (NHL) playoffs' second round between the Philadelphia Flyers and Montreal Canadiens.
During HNIC games, ads account for a three-plus-hour timeslot. The Frosted Flakes commercial cancellation bumps HNIC's four commercials down to only three. Remaining commercials include SkipTheDishes' auction commercial (the one where Jon Hamm yells"rabbity babbity boo"), the Pepsi commercial where NHL players are forced to eat chips and awkwardly dance with mascots, and a Loblaws commercial that falsely suggests cauliflower tastes like chicken wings.
As part of their decision to scrap the Frosted Flakes commercial, HNIC cited concerns regarding long-term impacts on ratings.
"We're lucky we still have fans tuning in this time of year," said HNIC's Dawn Charry (not to be confused with Don Cherry, the guy who yells at clouds). "We can't take any chances because viewers can and will shut off the TV to go play outside or something."
A wrongful approach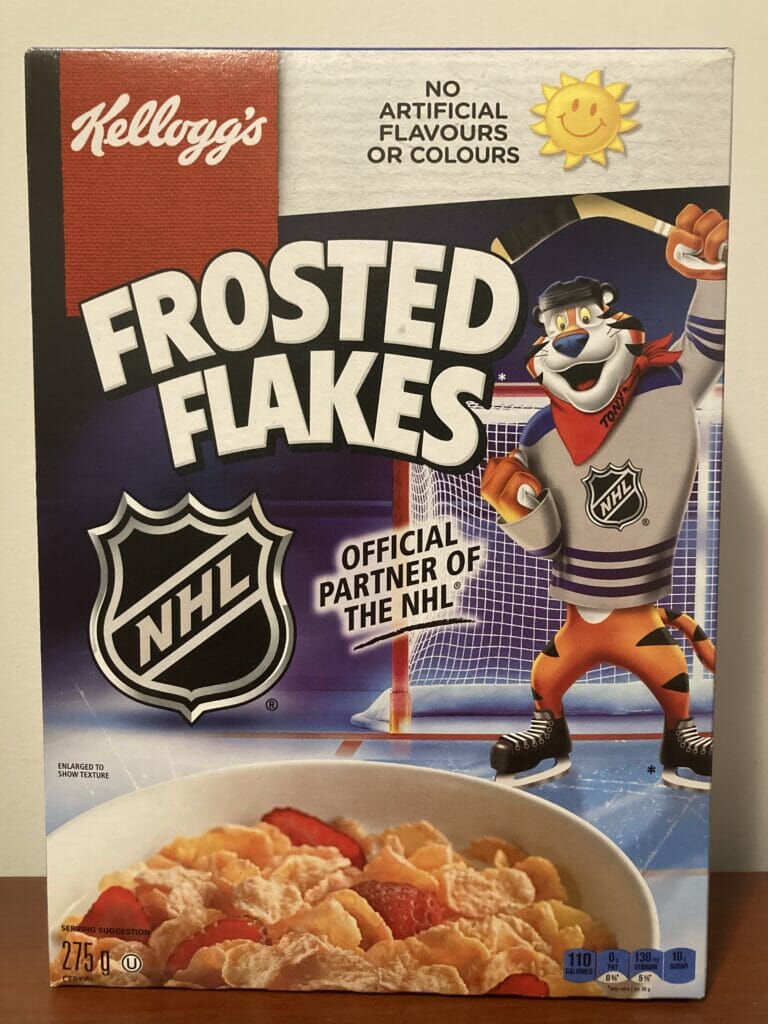 The scrapped Frosted Flakes commercial involves a cringeworthy sequence where a sports fan fantasizes about playing hockey with Tony the Tiger (the Dalhousie Gazette could not confirm if that fan knows anything about actual NHL players). The fan then scores with a slapshot from a nearly centre ice position, which some argue makes no sense as the player isn't being defended and could have skated closer to the net to make the shot. The ad shows the fan celebrating his goal by eating a bowl of Frosted Flakes. The ad set off a social media frenzy and mostresponses weren't positive.
Thankfully, the events of the ad only occurred inside the mind of the cereal-loving fan. Many suspect intoxication may have been a factor as the fan is shown to own merchandise from at least five NHL teams, but seemingly cheers for the Edmonton Oilers based on his jersey's colours.
Frosted Flakes CEO Lim Jahey said the company doesn't know where they went wrong. Their sales have fallen by 25 per cent since the commercial's launch.
"This is the most we've ever spent on advertising. The ad was being shown twice per commercial break. The idea is to get it stuck in people's heads," Jahey said. He added the company is struggling with paying bills. That's not due to a shortage of funds, but because the company's mailbox is being crowded with NHL rule books and copies of Hockey for Dummies mailed to them by fans.
Hockey fan Anne Phillips said the Frosted Flakes cut is an important step for viewer sanity, but work still needs to be done.
"It's great to hear this news today, but I will not be told to have wing-flavoured cauliflower anymore," she said in reference to the Loblaws commercial. "They talked me into trying it. It isn't the same. If you're listening, don't fall for it. It might save your life."
SkipTheDishes president Foodie Williams was pleased with the announcement, as the decision means more airtime during commercial breaks for his company.
"Rabbity babbity boo!" he exclaimed.