Compared to the year before, Dalhousie University spent over 12 per cent more on athletics-related financial awards for varsity athletes in the 2021-2022 school year.
Dalhousie spent $606,499 on athletic financial awards in 2020-2021, a year where competitions were largely cancelled due to COVID-19. In 2021-2022, spending on athletic awards increased to $684,825, according to documents received through a freedom of information request.
Each year, Dalhousie gives athletic financial awards to student-athletes. Coming out of high school, students are required to have an 80 per cent average grade to be eligible for athletic financial awards. While attending Dal, student-athletes must achieve a 2.3 GPA to maintain their awards into the next year.
"If I offered you an athletic scholarship coming out of high school for $2,000, it's a one-year agreement. There's no guarantee that you get $2,000 the next year, you could get zero, but you could also get $6,000 the next year if your performance has changed drastically or our budget has changed," said Dal Tigers athletic director Tim Maloney.
The team with the greatest one-year increase in athletic award spending was track and field. The team saw a 235 per cent increase from the $11,500 in 2020-2021 award funding. In the 2021-2022 season, $38,522 was set aside for awards for track athletes.
Every year from the 1989-1990 season, the Dal women's track and field team won the conference. The men's team has won each year except two in that span.
Maloney said spending fluctuates due to several reasons, such as the competitive positioning of the team against others in their competitions. Most Dalhousie Tigers varsity teams play in the Atlantic University Sport (AUS) conference of U SPORTS, the main governing body of university sport in Canada.
The number of international student-athletes is also a consideration, as they pay more in tuition.
"The coaches may make decisions based on a number of factors like where their team is in a certain cycle, if you're rebuilding [the team], or if you've got a chance to go after a championship," said Maloney.
The number of students who meet the academic requirements impacts the amount spent each year, said Maloney. Due to more or fewer awards being provided based on academic requirements, this can fluctuate the amount spent on awards.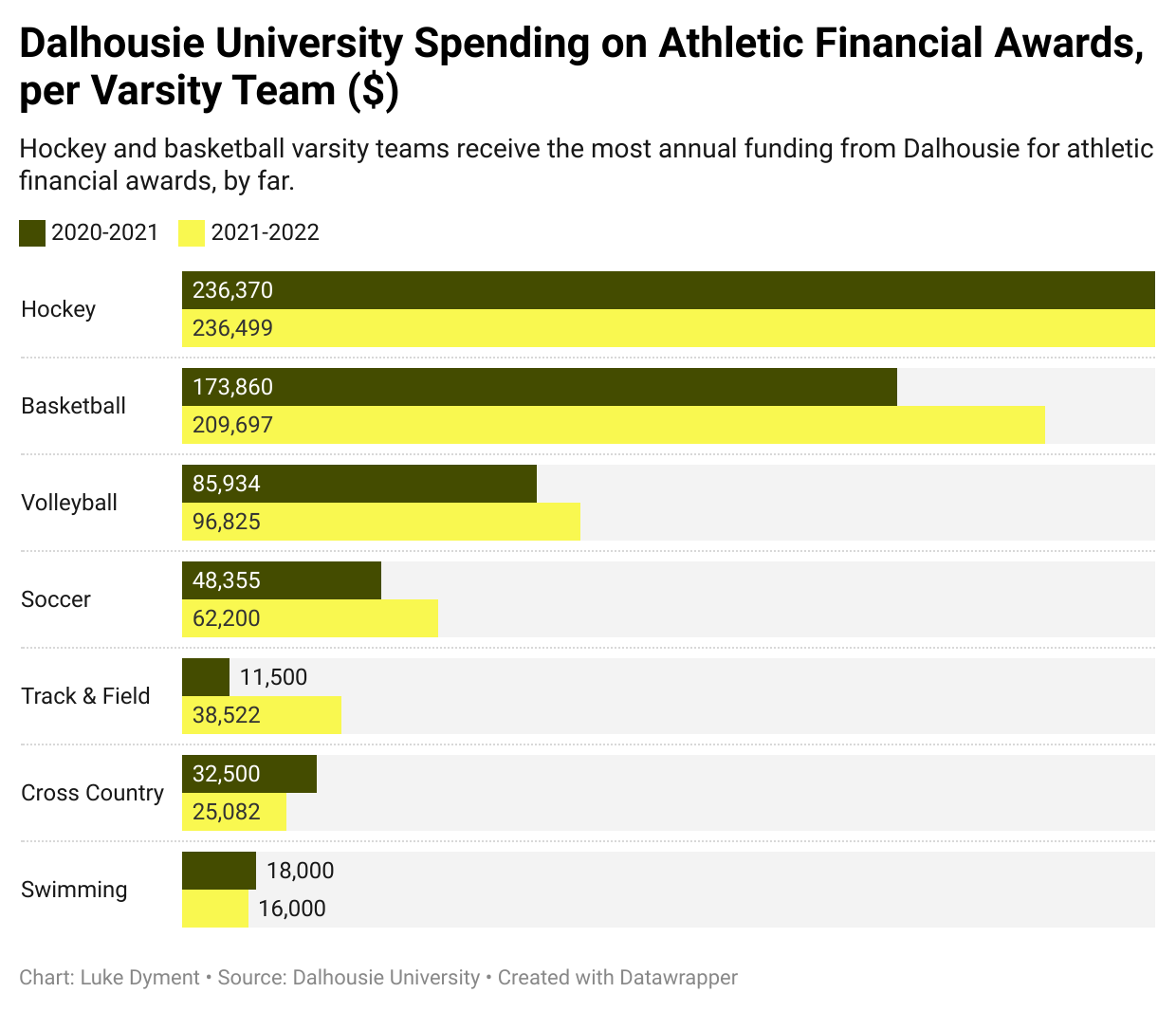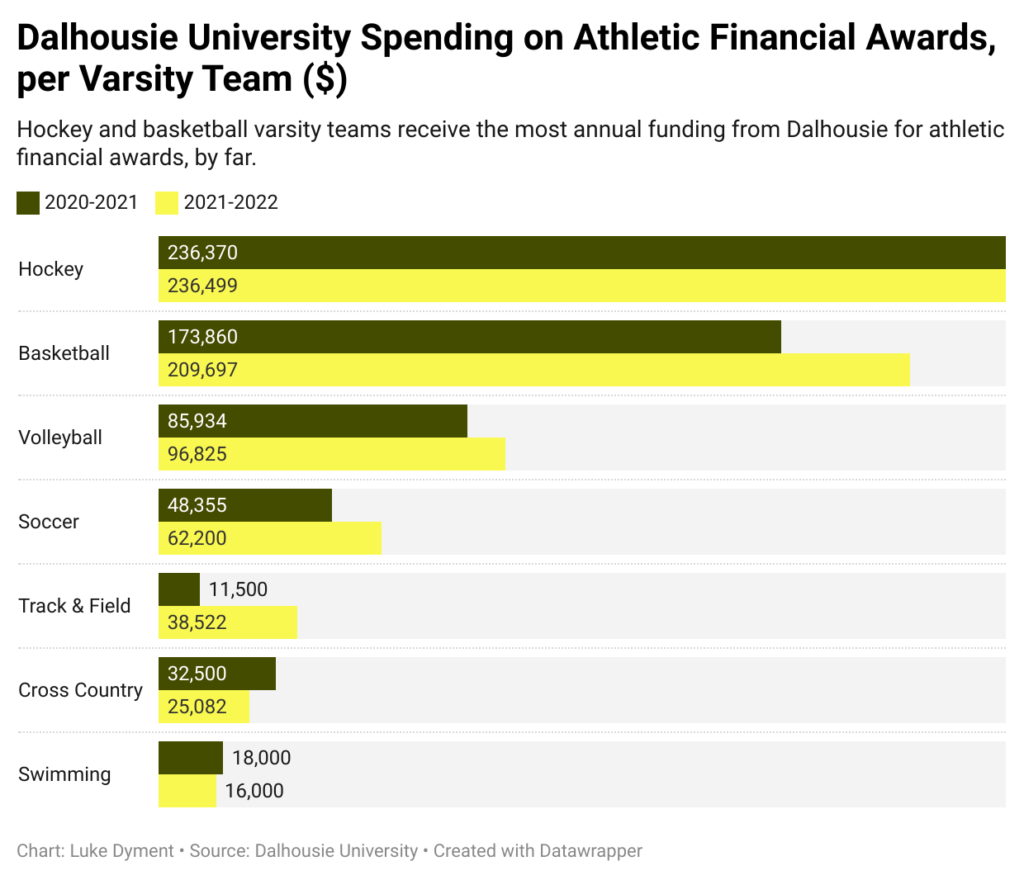 Academic goals of athletic teams
Dal offers its varsity student-athletes 15 hours of free tutoring each academic year, a dedicated student advisor, mandatory study halls for first years and team study halls.
Maloney said the Tigers encourage high performance from student-athletes both academically and in competition.
"If they don't graduate, or walk across the stage and get a degree from one of the most respected institutions in the country, then I think we failed. That's the number one priority," said Maloney. "If we were hanging a bunch of championship banners and our graduation rate was less than 50 per cent … those banners don't feel good to me."
Maloney said the amount of time Dal's student-athletes dedicate to athletics alone justifies the rationale for athletic awards, despite the false notion that student-athletes get full-ride scholarships.
In the United States, athletes playing in the National Collegiate Athletic Association (the American college sport governing body) are eligible for full scholarships without academic requirements. The practice is not permitted in U SPORTS without an academic component.
"Sometimes when I talk to people in the community or on campus, I think they automatically think it's like the U.S.," Maloney said. "It couldn't be further from the truth."
Cover image: Geoffrey Howard