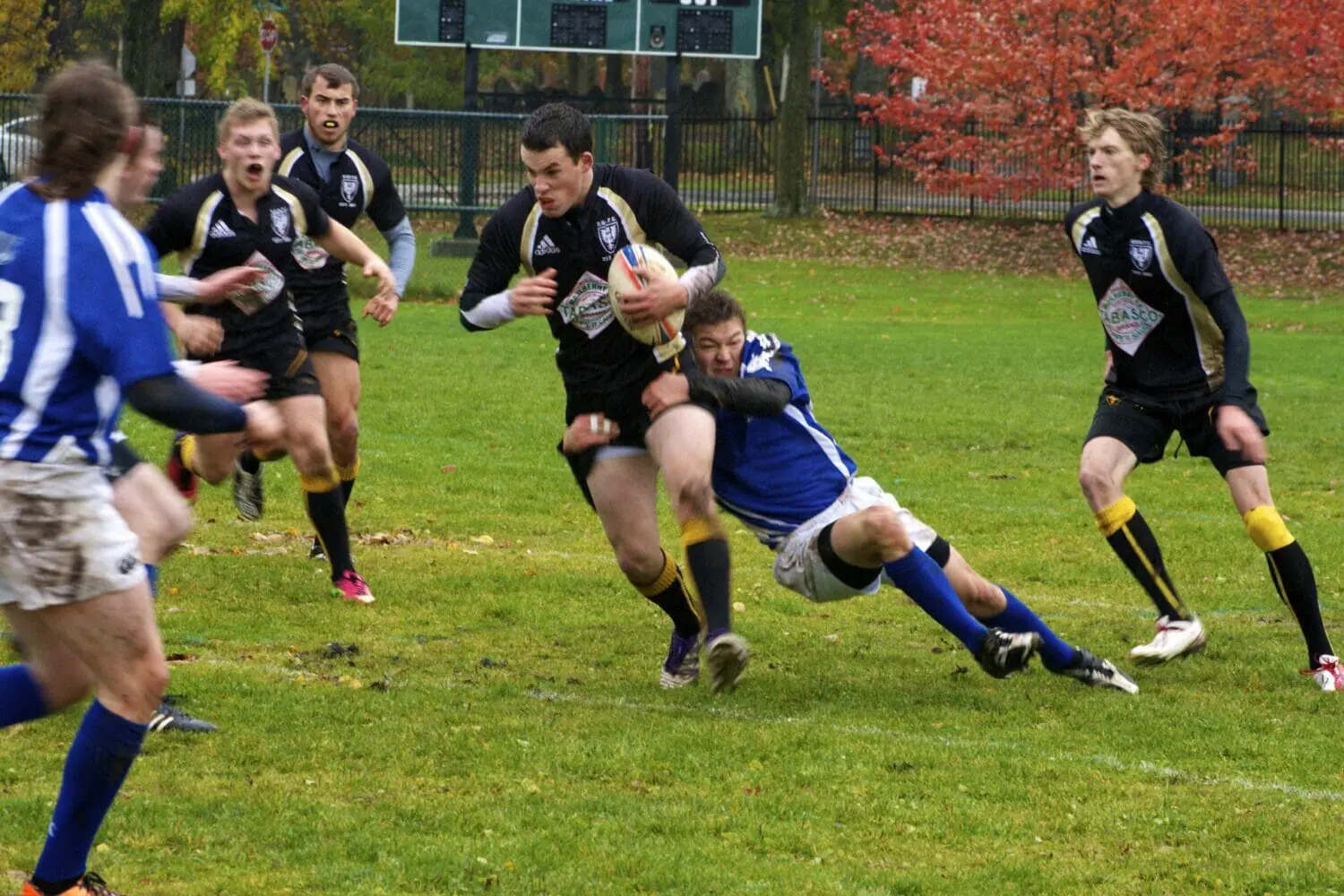 On Nov. 3 Dalhousie and King's College went head-to-head for the second year in a row in the Nova Scotia Rugby Union University Division 2 final.
King's opened the scoring as scrumhalf Tristan Keyes took the penalty restart quickly, racing to the outside and offloading to lock Sam Campbell for the try, but flyhalf Liam Hollett was unable to convert, keeping the score at 5-0.
Penalties and turnovers were critical, and the cold and rainy conditions made securing possession difficult. "It's hard to play when the ball is covered in mud," says Dal scrumhalf Mack Long. "It was really physical [out there.]"
Dal was hoping to notch their second win in two days, as their Division 1 side defeated Acadia the previous day in Wolfville. The team came out of the halftime break with a sense of urgency, capitalizing on a King's knock-on as Robin Johnstone scored to even the tally at five.
Returning from suspension, flyhalf Jake Exton managed to get the conversion to give Dalhousie the lead.
"Dal and King's is always a big game," says Exton, who missed two matches due to a red card. "We played them last year in the finals and we lost. This year we said it's not going to happen again."
King's would bring the ball inside Dal's 22-metre line, but the defense remained resilient, keeping the match close. With seven minutes left to go, King's managed to get the ball over the line, but the referee and touch judge intervened, disallowing the try.
This gave Dalhousie the push they needed as they counter-attacked quickly, with Chadrick Wicks scoring the go-ahead try for a 12-5 lead.
"It is just kind of a matter of inches," says King's coach Rory MacLellan. "We got the ball over the line, we thought we put it down, but it went the other way. That is just the way it goes sometimes."
"Refereeing was a little frazzled," added Long. "Seemed like a lot of team decisions, but it is hard to control those kinds of games."
With the final three blows of the whistle, redemption for last year's losses was complete and Dal players rushed the field in celebration.
"To have two teams both win Nova Scotia championships is huge," says Dal coach Ellis Gray. "We were never out of it, and I am really proud of the way they played."
Gray would go on to praise Exton, who is in his final year. "[He] played very well in the fly-half position, really led the boys well today and got them fired up."
Both Division 1 and 2 sides move on to the Maritime championships next weekend. "We judge a season by the number of trophies you have at the end and I am proud that we have two already," says Gray.
"I'm really proud of the effort my guys gave," says MacLellan, a former King's player who came back to coach this season. "When you come out of a finals knowing you wouldn't change a thing about the way you played, you can definitely hold your heads high."