By Ian Froese (Sports Editor), Henry Whitfield, Arfa Ayub, Tim Vanderweide and Armaan Ahluwalia (Sports Contributors)
Each week the Gazette sports section has arguably the least productive meeting of any section in this paper. Why, you ask? Well, it may say something about my leadership skills, but more so it's because of the many tangents we veer off on. We rave about a team, rant about another and make jokes that non-Tigers supporters wouldn't understand.
That's where the idea of this 'Semester in Review' comes from. We've collected our thoughts from a few months of covering the campus sport beat, had some friendly debate, and organized them here for your reading pleasure. Hope you like it. – IF
Fall Sports Teams in Review
Best
Women's soccer: It's a script we've repeated ad nauseum in these pages so bear with us if you've heard it before: this team is good. We didn't expect much from an outfit which dressed four rookies—and often more—on their starting roster every game, but this team impressed us repeatedly. They upset higher ranked teams to take the AUS banner and performed respectfully at nationals, losing twice against better clubs. Keep an eye out for this team in the future. – IF
Women's cross-country: Crossing the line with a one-two finish at the Dalhousie Invitational, the Tigers dominant displays continued all season. Holly Van Gestel, Ashley Ryer and Ashley Chisholm would lead the Tigers to their second straight AUS crown. – HW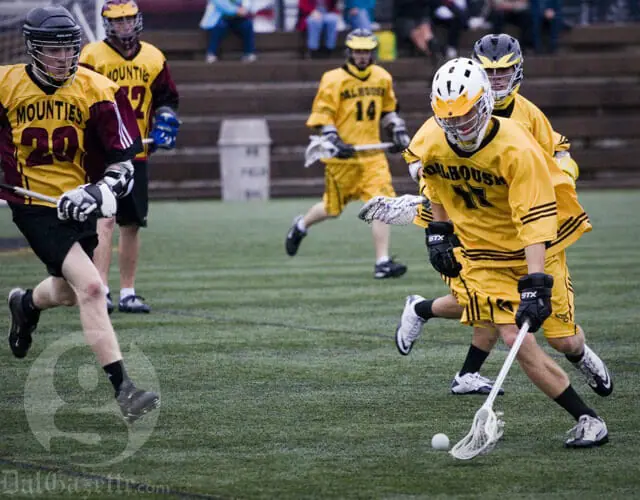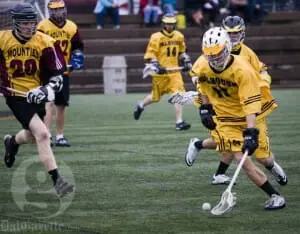 Swimming: It is business as usual for Dal's swim team as they have now won their first three meets of the season. The dynasty that is Tigers swimming, winners of their last 13 AUS men's titles and past 10 women's crowns, have showed no signs of slowing down. – HW
Lacrosse: Preventing a Dal title three-peat, Saint Mary's stole the lacrosse crown last November. That was it, we thought. The Tigers were no longer in a class of their own in campus lacrosse. Then the two teams met for a rematch in early September and the Tigers blasted the Huskies 17 – 8. Ouch. Looks like Dal's dominance, after reclaiming the crown again this season, won't end anytime soon. – IF
Men's rugby: Five consecutive championships. Five consecutive undefeated seasons. Need we say more? Didn't think so. – IF
Not best
Men's hockey: Struggling would be a nice way of putting the troubles the men's hockey team has been having this season. Things have gotten so bad a Dal forward accidentally managed to score on his own empty net! Yeah, it's that bad. Losing 10 games in a row with a victory seemingly out of sight suggests this team clearly has a lot of work to do. And, by a lot, we mean a lot. – Arfa
Football: In a young league continuing to develop, the Tigers football team fell behind this season and were unable to build off their second place finish from last year. A sophomore slump saw the Tigers win just one game all season, finishing with a 1 – 5 regular season record. – HW
Men's soccer: This year's team was a young one, but they got the job done. On the back of captain Ben Ur and AUS Rookie of the Year Bezick Evraire, the Tigers managed to make a bid at the league crown. Some impressive displays at the end of the season indicates there's a bright future for this group. Look for a bounce up to the 'Good' section next year with one or two quality additions. Highlight of the year was their 1 – 0 victory over southend rivals Saint Mary's, while their low point was a three-game winless spell when they lost to CBU twice and came out with a point against St. FX. – TV
Men's cross-country: Without Dan Gorman to lead the way, the men's team struggled against a strong St. FX team all season and slipped to a second place finish this season at AUS. Rookie Matthew McNeil was the only player to place in the top five in the individual race. – HW
Women's hockey: Rebuilding under a new head coach, this is a team that lost its starting goaltender from last year and has struggled to find consistent play and scoring. Their 3-5-1 record so far isn't great, but they are capable of better. – HW
Field hockey: For an undefeated team in the regular season, it's hard to argue with the statement that it's championship or bust. That's why we're finding fault in a program which had an impressive 11-2-1 record. Despite only conceding five goals all season, the Tigers didn't even play in the finals, losing a heartbreaking 1 – 0 semifinal to UPEI. – IF
*Editor's Note: The basketball and volleyball teams have been excluded from either category because it was decided neither had played enough games to justify a ranking.
Best of the Dal Tigers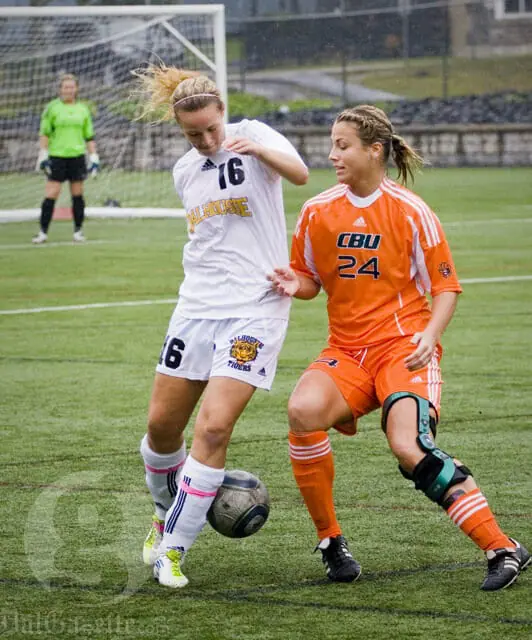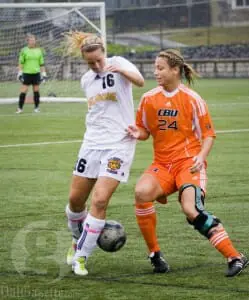 Best Player : Ben Ur, men's soccer
Honourable mentions: Holly Van Gestel, women's cross-country, and Rieka Santilli, women's soccer
Capable of stopping whatever comes his way—as well as putting his name on the scoresheet—Ben Ur leads the way for Dal athletes. All season long, Ur was the man for the Tigers, and to cap off his stellar stops between the posts, Captain 'Does-It-All' added his second career AUS goal. Be sure to give this man a word of congratulations and his gangly arms a good shake when you see him as he recently won a CIS first team all-Canadian award as best goalkeeper in the country. – TV
Best Individual Performance : Bryan Fumerton's five gold-medal weekend, men's swimming
Honourable mention: Robert Nortmann's 30 points Nov. 12 in a 85 – 71 loss, men's basketball
This Uxbridge, Ont. native can swim circles around you, and it seems he can easily out-swim his AUS competition too. Fifth-year Bryan Fumerton claimed AUS and CIS male athlete of the week honours in mid-October when he won gold in all five events he entered at the 2011 Amby Legere meet at UNB. Yikes. – IF
Best Upset: Dal football beating UNB Fredericton at Homecoming
Sitting winless in four games and with a total of just three touchdowns in their first three home games, Dal football finally got their win Oct. 22. The Tigers stormed to a 27 – 1 lead at halftime, and held on for their only win of the season, stunning the visiting Red Bombers. – HW
Best Game: Dal-SMU women's soccer AUS semifinals
Honourable mentions: Dal's 1 – 0 men's soccer triumph at home over Saint Mary's and women's basketball comeback victory Nov. 12 against St. FX
This whole feel-good "Tigers winning the women's soccer banner" narrative almost wasn't the case. It took until extra time in a back-and-forth semifinal for Dal to solve their 2 – 2 deadlock with Saint Mary's. The winner went to Dal midfielder Doriana Homerski, who punched her team's ticket to the AUS championships. – IF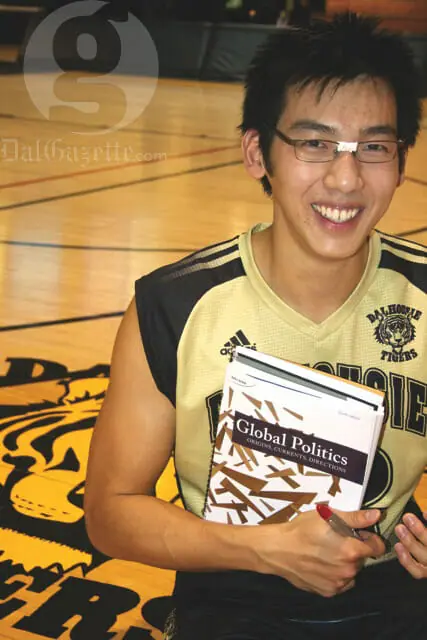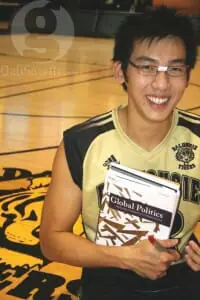 Best Athlete To Write Your Essay For You: Daniel You
Gazette Sports does not condone plagiarism, but if we did, we would recommend asking Daniel You for help. Not just a smart student-athlete, but a smart student, period, You was honoured recently as a CIS Top 8 Academic All-Canadian. A fourth-year student pursuing a career in medicine, You has a cumulative GPA of 4.26. Last year he scored a perfect 4.3. Yep. Perfect. All this while getting quality court time as a starting middle and volunteering in the community. – IF
Best Quote: "We really didn't want to lose to the hipsters on the corner." –Dal Div II rugby player Adam Ansham describing how he had no intention of losing to King's. Dal won 12 – 10.
Honourable mention: "At the end of the day, Holland College had us beat before we even got there" –Dalhousie Founders Club president Jim Wilson discussing how Dal never had much of a chance in the football semifinals, falling 38 – 7.
We got a little flak from some King's rugby players for printing—and putting in the headline—a Dal player's off-the-cuff remark that he was not going to lose to the "hipsters on the corner." The King's athletes may not have agreed with us for perpetrating the artsy-fartsy stereotype by playing up the quote, but we have no regrets. It was and still is hilarious. – IF
Best Score: Ben Ur, men's soccer
Honourable mention: Jocelyn LeBlanc became the all-time Dal women's hockey point leader Oct. 23. LeBlanc currently has 129 points in 92 games.
Doubt you'll ever see this award handed to a goalkeeper again, but, man oh man, can this guy hit a ball. His 70-yard screamer against the Cape Breton Capers says it all. To boot, this is his second career goal for the Tigers, more than most AUS players can boast. – TV
Best Rookie: Doriana Homerski, women's soccer
Honourable mentions: Matt McNeil, men's cross-country, and Bezick Evraire, men's soccer
Homerski scored regularly and she did so when it mattered most. The second highest scorer on the team with eight points, the Waterdown, Ont. resident didn't shy away when the spotlight was brightest. She had the game-winning tally in extra time at the AUS semifinals, bringing Dal to the finals, and she had the Tigers' only two markers in the CIS quarterfinals. We expect many clutch moments from her in the years to come. – IF
Best Team At Not Winning: Men's hockey
Falling behind early in games has become an increasingly apparent habit for this group. Out of their 13 matches, the opposing team has scored first in eight of them. Allowing the first goal is never a good thing, and Dal's struggles are not helping them close these deficits. With a total of four points, enough for last place in the league, and currently on a 10-game losing streak in which they have been outscored 63 – 18, maybe a nice, long, contemplative Christmas break is exactly what's needed to turn things around. – Arfa
Best Fan Support: Dal football
Thanks in no small part to the promotional muscle of the Dalhousie Football Club, the students came out—often dressed in black and gold—to support Dal's gridiron team. The fans were often far too quiet, especially for the afternoon bouts when the patrons were sober, but seeing a little Dal pride is always nice. Too bad the fans had little to cheer for this season. – IF
Best Ass-Kicking: Dal Div I rugby's 60 – 3 win during Orientation Week
Honourable mention: Men's hockey's 10 – 1 defeat to UNB Oct. 29
If 2,000 students had to pick one game to watch this season, this was a good choice. Wickwire was packed during Orientation Week to watch Dal score try after try in their authoritative victory. The triumph being against Saint Mary's made it even sweeter. – IF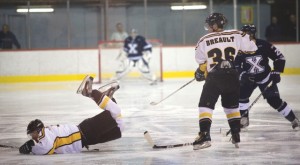 Best Picture Demonstrating A Team's Crushing Disappointment Of A Season Thus Far:
Ladies and gentlemen, your men's hockey team…
Best Finish to a Game: Howe-Risley soccer shootout
Honourable mention: Dal-SMU women's soccer AUS semis
A last-second goal by the Big Horns backup goalkeeper set up a wild finish to this year's residence soccer game, wherein a tied game after two halves of extra time went to penalty kicks. It took 10 rounds of shooters before Howe edged out Risley for a fourth straight championship. – HW
Best Disappointment: Men's hockey
Following a successful rebuilding season in which Dal's men's hockey team made the playoffs for the first time in seven years, this season has been a major letdown. Riddled with injuries, the Tigers have struggled with just about everything, from goal-scoring, to a lack of solid goaltending, to defence, which has allowed an average of 5.69 goals against. – Arfa
Best Animated Coach: John Campbell, men's basketball
It doesn't take John Campbell long to get vocal, usually it is only a few minutes and he is up yelling instructions at his team. Sometimes it is almost as fun watching John Campbell as it is watching the game. – Armaan
Best Story We Never Covered: Women's cross-country winning AUS
Honourable mention: King's women's soccer at nationals
We're not afraid to admit when we screw up, so to our cross-country teams, we apologize. Aside from your first race, we avoided covering Dal's runners as if they were the plague. The men came second in the AUS, and even the league champion women never garnered any recognition in the space. A crying shame, really. At nationals, Holly Van Gestel led the Dal charge, battling through blustery conditions to finish 19th. Other top Tigers results include Ashley Ryer at 29th and Cara Groves crossing the line in 66th. That, cross-country runners, is at least some acknowledgement from your campus paper. – IF
Best Team Nobody Knows About: Lacrosse
Dal's lacrosse team is embarrassingly dominant. They win regularly, and often by tremendous margins. 22 – 0 or 17 – 3, anybody? It's a shame the number of names on the scoresheet sometimes rival the number of fans sitting on Wickwire's concrete bleachers. – IF
Best Team To Watch: Women's volleyball
The women's volleyball team is 7 – 0 so far this season and have a lot of firepower. There are some great spikes and this team is nationally ranked! This category seems like a no brainer. – Armaan