Custio Clayton, a professional boxer from Dartmouth, N.S. and Olympic quarterfinalist at the 2012 Summer Games in London, discussed the challenges he's faced as a Black athlete in a recent interview with the Dalhousie Gazette.
Clayton said there have been ups and downs throughout his career. He recalls a fight he had when he was 14 as a welterweight at the Halifax Forum — a fight which Clayton won. But it was strange; every time he threw a punch, there were boos.
"I think I was more shocked than anything because, at the time, I really hadn't experienced anything like that," said Clayton.
Racial profiling from police
Even his success in the ring didn't make him immune to the ongoing systemic challenges Black Canadians face each day — including racial profiling by police officers.
That's what happened in 2017, when Clayton was racially profiled by Montreal police, in which he said he was handcuffed and humiliated. He spoke with CBC about this shortly after the incident.
Clayton said he did not want to pursue legal action. Knowing what his cousin and fellow boxer, Kirk Johnson, went through in his legal battle with Halifax Regional Police after being racially profiled, he felt it would have been time-consuming given the commitments he had with his boxing career. Clayton was also concerned that pursuing the situation would have gone nowhere.
The 35-year-old recalled another experience of being racially profiled while in Mississauga, Ont. While with friends — also people of colour — police stopped him when he was a teenager, pointing guns at him.
Pulling Clayton out of the car, the police said they were looking for someone. His friend spoke up and said the car was his, which Clayton was driving. Clayton said since he and his friends at the time were young, they just thought it was normal.
Clayton said this was not an isolated incident; he was pulled over by police in Mississauga multiple times without reasonable cause.
"You can't just pull someone over because of what they look like," he said.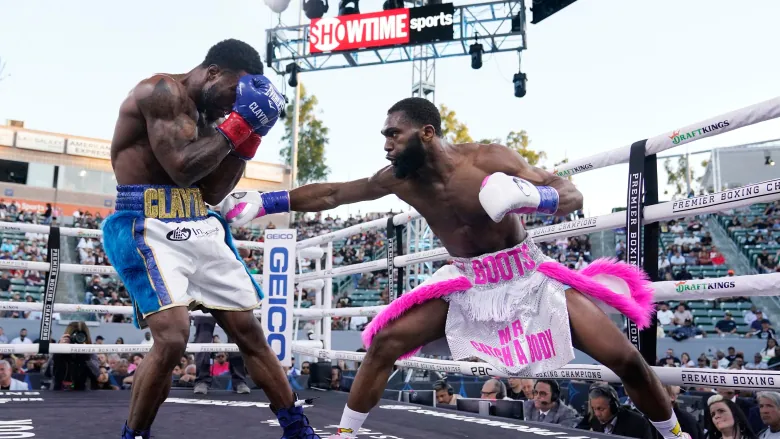 "Never give up"
The boxer said he would tell young Black athletes today in Nova Scotia they should maintain faith in themselves — and rise up against discrimination in sport and society.
"Believe in yourself and don't let no one tell you that you can't do something," Clayton said. "I just find that for a lot of people, they give up when they fail and things don't go their way.
"Never give up because at the end of the day, there's always something waiting for you, there's always a plan for you. Just don't give up."
No matter Clayton's position as a person of colour, he said there will always be potential negatives he will have to face because of his skin colour. But when he powers through these lows and is rewarded — through his success and sport and with family — he finds happiness.
"I think that no matter what, no matter what position you put yourself in, there's always going to be negatives," said Clayton. "I'm happy with what I've achieved and what I've done, what I've been doing; my kids are happy. The people who support me are really happy — that's the main thing."