Sarah Morrison is a fantasy illustrator who is originally from Halifax but now works in the Boston area. She recently was victorious in the Illustrators of the Future contest for the final quarter of 2022. As a winner, she will attend a masterclass in Hollywood, California and have her work published in the 39th volume of L. Ron Hubbard Presents Writers of the Future, which will be released in May.
In the United States, the Illustrators of the Future contest is a major date on the calendars of aspiring science fiction and fantasy artists. In the contest, illustrators and artists submit their work to be judged by those considered to be the best in the field.
I had the opportunity to connect with Morrison about her background, her art and the contest.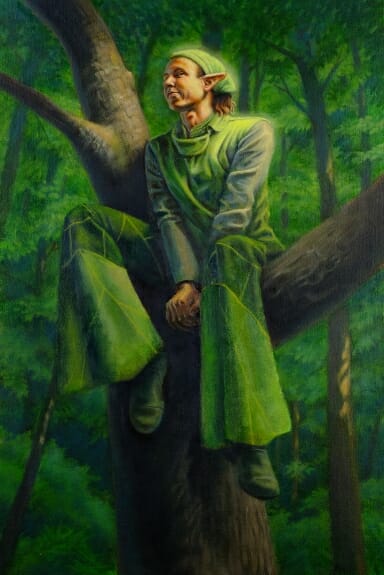 Lifelong pursuit
"[I've been] drawing since I was five," Morrison said. "I was the kind of kid who, if you asked 'What do you want to be when you grow up?' I'd say 'An artist.'"
Though Morrison has always been making art, her style has evolved over time.
"When I was between 10 and 15, I got really into anime. I started drawing more and developing my style while watching Sailor Moon as a kid."
But after a friend introduced her to the world of fantasy novels in her senior year of high school, Morrison began making more fantasy-based art. Around this time, an art teacher told her about a fantasy and science fiction convention that held a student artwork contest. Morrison submitted a drawing of a dragon and an elf, becoming a finalist.
Since then, Morrison has worked on all kinds of fantasy art — including book covers, paintings and trading card games. Regarding book covers, Morrison said that artists typically get to read a few chapters of the book and receive descriptions of the setting and characters from the author. The artists work from that detail.
"From there, I'll do a number of thumbnail sketches and figure out who the main characters are, who should be on the cover."
She will then send in several thumbnail sketches to the art director or publisher who picks one to be fully realized, in painting form, for the book cover.
As for her profile-painting work, Morrison uses real-life models.
"I would have friends over for photo shoots and be like, 'Wear whatever fun costuming you might have' and we'll just do a random photo shoot and pretend you're a character. Sometimes I will go into it having an idea of who the character is and I'll be like, 'I'm gonna have you wear this, I'm gonna have you do this pose.' I'll get it from different angles, different lighting."
Innovative mindset
Inspired by co-workers she met while working in retail after college, Morrison works mainly in oil paint. Though, she also integrates digital art into her work.
"I didn't like doing digital art in the earlier days of it, because of the weird disconnect. There wasn't any pressure sensitivity for your drawing tools. I did some [computer] mouse art, but I wanted to be able to use a real paintbrush [and] use a real pencil."
Over time though, Morrison has come to use tablets for sketch work, saying, "When I'm doing preliminary sketches, I will do them digitally."
Morrison heard about the Illustrators of the Future contest through a friend in the Boston art community. "He was a winner the year before me. I was like, alright, I should definitely apply."
Morrison was also contacted by a contest director who encouraged her to submit again after not winning in an earlier submission. In 2022, her collection of paintings — including The Duelist, Wit in the Woods and Under the Static Sky — was victorious.
Morrison will be attending a masterclass in Hollywood now, where she hopes to network.
"Networking can be really huge. Sure you can send your artwork and portfolios to different publishing companies, but if you actually know somebody and have met somebody who hires in person, it can mean a lot more to make that in-person connection."
Make sure to keep an eye out for Morrison's work moving forward, as she is working on covers right now for some novels set to release in the near future.