The Dalhousie University Tigers women's volleyball team cruised to its ninth straight Atlantic University Sport (AUS) championship in 2021-2022. While they found a dominant form once the conference playoffs began, the season was more of a roller coaster for the squad than they've faced in recent seasons.
Dal had only lost eight regular season games between the 2015-2016 and 2019-2020 regular seasons, with three seasons containing a single loss. Dal lost five games in 2021-2022. But after two losses this past February, the Tigers won seven straight to win the AUS banner and book their ticket to the 2022 U SPORTS Women's Volleyball National Championships.
The Dalhousie Gazette spoke with members of the 2021-2022 squad of the topsy-turvy first post-pandemic season, ahead of the new year tipping off in October.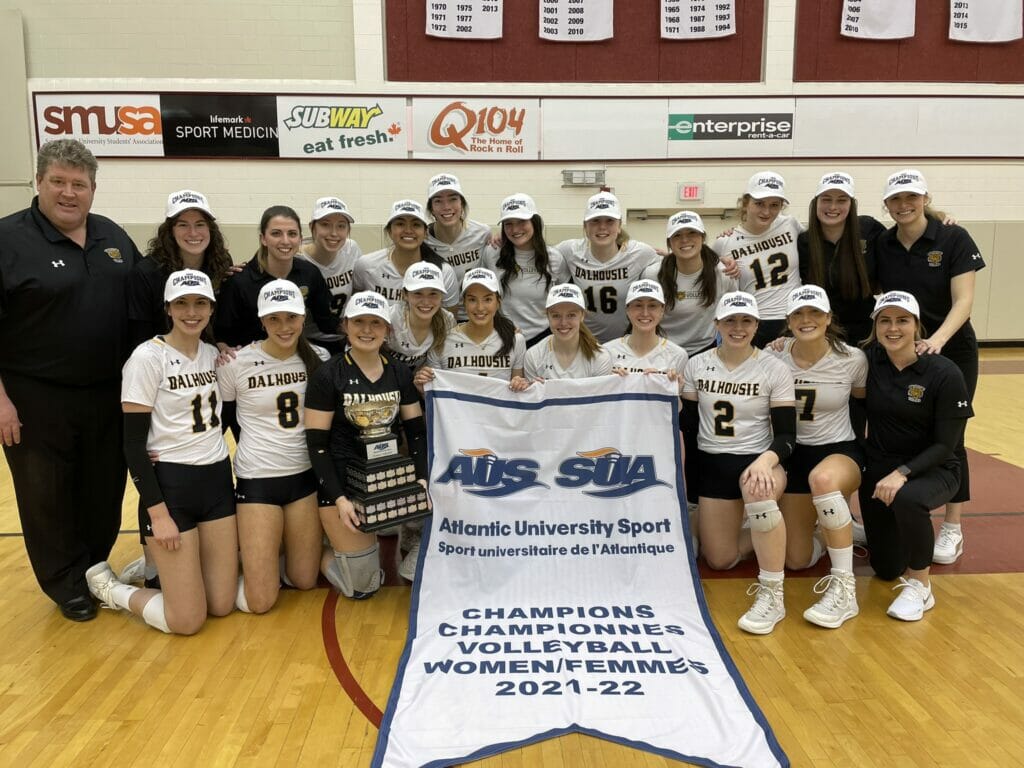 Dal began their season at home with two matches against the University of New Brunswick Reds on Oct. 30 and 31. The Tigers took both.
Brett Boldon, setter: It was such a great experience coming back into a crowded atmosphere, with people in the gym again. It was a bit of an adjustment coming back from the COVID-19 year; it was for everybody. But overall, it was so nice to be back with fans and other teams.
Grace Calnan, middle: I think after a year of just practicing, everyone was pretty excited to start competing again. We were thinking of playing games again for so long. To finally do it again was beyond our expectations.
Rick Scott, head coach: It was exciting. That's the normal and it was good to be back. The year before was surreal, but [playing again] was normal.
Following a hot start at home, Dal's first road game was on Nov. 6 in Wolfville, N.S., against the Acadia University Axewomen. The team featured stars such as eventual AUS MVP Taylor Collombin and setter Charlotte Dean. Acadia beat the Tigers three games to one.
Calnan: The team itself is difficult to play, but especially so in their gym [the Stu Aberdeen Court]. They have a big fanbase.
Julie Moore, outside hitter: It's always a tough trip travelling to Acadia and playing in their gym. Their school has a ton of pride. They were also a very, very talented team. I don't know if we knew what to expect. They had more veteran players than us at the time.
Dal's next challenge was their crosstown rival, the Saint Mary's University Huskies, a veteran-heavy squad powered by all-star hitters Megan Bruhm and Olivia Bell. SMU prevailed in five sets on Nov. 12.
Moore: Like Acadia, SMU was a talented team with some experienced players. These teams, I would say, made that year the strongest the conference has ever been since I started playing.
Boldon: A lot of their starters were pretty seasoned with older players, so they knew the game quite well. Their middles were in their fourth and fifth years. They had a very consistent lineup and style of play, which worked well for them.
Scott: The bottom line is there are good teams in the conference. We always knew that, but they came out and played very well against us. They have good setting, middles and outside hitters. We've had some success over the past few years but it's never been easy, even if our record was 19 wins and one loss. It's nothing that surprised me, it's just a bit of an adjustment for our team to lose and get comfortable being uncomfortable.
In November, Dal posted a record of three wins and three losses. Beating the Universite de Moncton Aigles Bleues twice and UNB once more, they dropped their final game of 2021 to the Axewomen. They wouldn't play again until February 2022 because of the holidays and the outbreak of the Omicron variant of COVID-19.
The Tigers trained in small groups in January while waiting out the COVID-19 outbreak. Come February, Dal dropped two of their first three matches back, with only two weeks to go until playoffs.
Moore: We had a players-only team meeting in the dressing room. We went around and were super open and honest about how we were feeling about things. Some girls were anxious about some aspects of our play. It was a beneficial meeting to have, to let everyone express how they were feeling and how we could support each other going into the last bit of play.
Boldon: We had a pretty big team meeting. We decided things were going to have to change and we were all on board with it. We were ready to commit to that. That's when it clicked.
Scott: The season was a little bit up-and-down. We'd play well then maybe we'd have an off game. I thought we hadn't played our best volleyball until the end. I felt our best was yet to come.
Before playoffs, Dal embarked on a trek to Memorial University in St. John's, Nfld., from March 4-6 to face the Memorial Sea-Hawks. The Tigers won all three games, losing just one set all weekend.
Dal faced MUN again in the first round of the playoffs, winning in straight sets on March 10. Next up? Acadia, in Wolfville. The Axewomen took the first set in the AUS semifinal.
Boldon: I think when we came off [the court after the set], we were fired up. We looked at each other like, "Okay. Let's friggin' go. We have to pick it up."
Moore: It was the biggest game of the season, hands down. Knowing we haven't had a ton of success in that gym, I think some girls were a bit worried. After the first set, we knew we weren't playing our best game. We took that first set to kind of adjust to the craziness; I never played in an environment like that before, nor have the rookies.
Calnan: After that first set, we knew that was where we needed to dig in.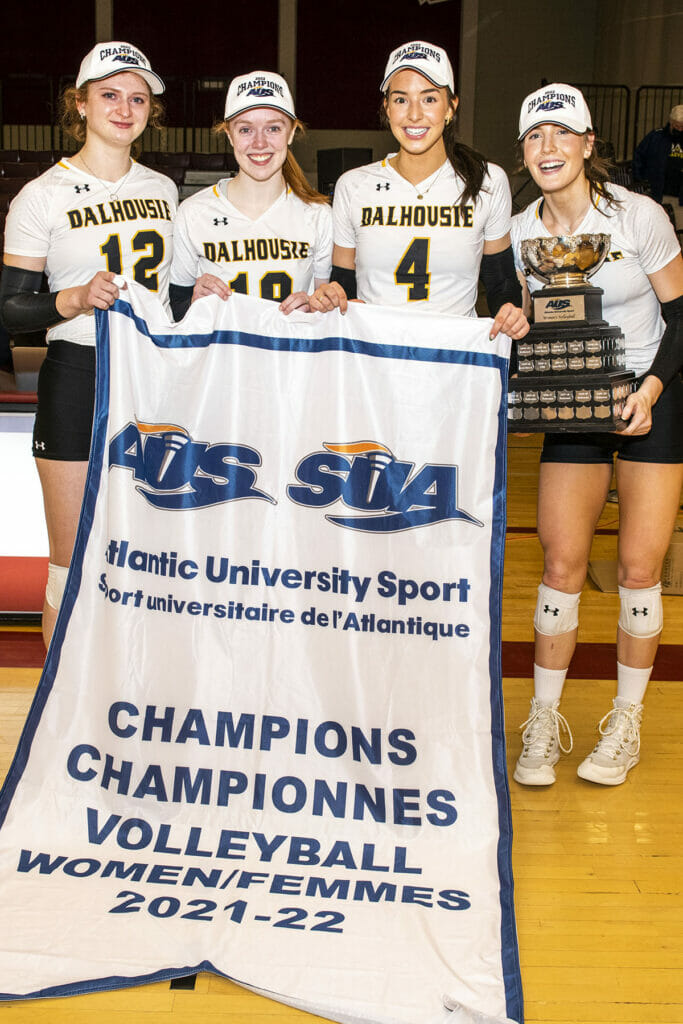 Dal took the second set 25 points to 10, tying the match. On the strength of Moore's 19 kills and 20.5 points, the Tigers took the match and advanced to the AUS final. They would face SMU at the Homburg Centre. With both finals games away from home, Dal kept rolling, aided by the championship MVP Moore's play.
Scott: Julie was outstanding in the playoffs, especially in the Saint Mary's matchups. She was a player in her fourth year of eligibility who'd been in a lot of big games. She was our leader and a very good player. That's what championship teams need: their best players to be their best players. She needed to step up for us, and she did.
Moore: From the start of the year, we had a lot of girls who hadn't played yet in the AUS. Going through the year, girls were put in pressure situations. We played the semis. We played so many games over the last month. [By the finals], we knew our game a lot better than at the start of the year.
Boldon: One big part of it was we were all healthy. A few times, we had injuries. Not that that's an excuse. We were missing Vic [Victoria Turcot] for a little while. We were motivated coming off the semifinal win. Our season was a long one, so once we got to the end and saw what we wanted right there, we went 110 per cent.
In the best-of-three final, Dal dropped just one set in two matches to win the conference banner. Rounding into form just in time for the postseason, a younger squad pulled off the AUS win and a berth at the U SPORTS nationals. They lost each match in Calgary but saw what the winners did to win.
Calnan: Something we have to remind ourselves of is we can compete with these teams and we need to go in with confidence. Confidence can win games. We know the AUS is up there with the other [U SPORTS] conferences.
Scott: We went four sets with [the University of Alberta Pandas]. We played well and were right there. Then we went four with the Brock University Badgers. We had a lot of young players on the floor who had never been in a national championship. It's tough to win there. We're right there. Come this year, we need to make up three to five points [in the score] each set through serving, passing, attacking, blocking and digging. If we do that, we can beat Alberta and Brock.
Moore: Matching up against Alberta was crazy. They had the U SPORTS player of the year [Kory White] and had such a talented team, different than what we would see in the AUS. It was beneficial this year but also leading up to next year. I think just three girls on the team had been to nationals before. It was a totally new experience for 90 per cent of the team.