The Dalhousie University Tigers men's basketball team's streak of three straight Atlantic University Sport (AUS) championships is over.
Dal fell to AUS MVP Elijah Miller and the University of Prince Edward Island Panthers in their AUS semifinal at the Scotiabank Centre on Saturday night.
UPEI beat the Tigers 80-65, in a rematch of last year's AUS Championship. Miller put up a game-high 29 points, including with five three-point shots made and four assists.
Shamar Burrows, a fifth-year veteran and a crucial part of Dal's last three titles, played what was likely his final game in the black and gold on Saturday. He said he is disappointed by the result but proud of his team. The veteran chipped in 14 points in the loss.
"Despite the outcome, I'm happy to say, they fought alongside me all the way," he said.
The game started close in the first half, but the Tigers were outscored by UPEI 30-13 in a game-changing third quarter. That was enough to put Dal's dream of four straight AUS titles out of reach.
Alex Ruiz, a second-year Tiger from Valencia, Spain, was a member of last year's championship team.
"This moment is hard; this moment is hard for everyone, being how hard we worked every single practice, every single game," Ruiz said. "We have to use this as motivation for next year and remember this feeling because we're not really used to losing."
Ruiz is looking to put in a summer of work to get better. He has a ton of time left with the team in his U SPORTS career at only 21 years old.
"I have a bright career in the future years, and just need to make sure we come back better and punch the league next year."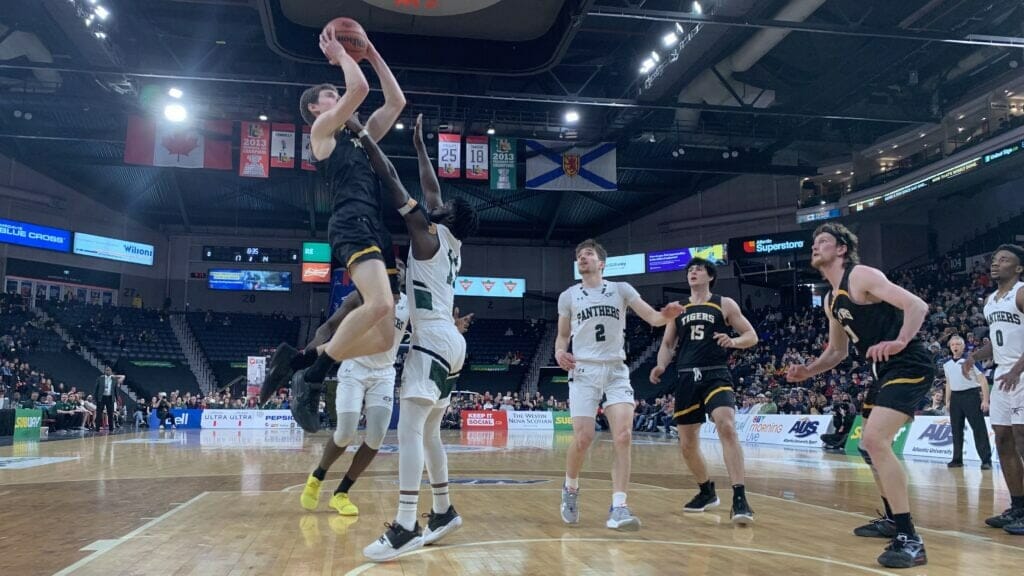 This is a situation Dal head coach Rick Plato hasn't been in for five years. The last time Dal failed to take home the banner was in 2018 — the Saint Francis Xavier University X-Men beat the team in that year's semis by five points.
Dal's season likely over — but not officially
After the loss, it's still not impossible for Dal to qualify for the U SPORTS Final 8 Championships from March 10-12, also taking place at the Scotiabank Centre. STFX (the hosts) and UPEI have already qualified in the two AUS berths. However, there is an "at-large" berth picked by a U SPORTS selection committee — given to a non-championship team or host based on a long list of criteria.
However, Dal's chances are very low for earning that spot — because of their poor record against top teams in the AUS this year and the success of teams in other U SPORTS conferences.
Plato is disappointed about the loss, but is optimistic about years to come as the Tigers still have a young group of players.
"We were in the national tournament [within] the last six years. We'll have a lot of motivation," said Plato. He told his players after the game to focus on their schoolwork for the rest of the semester.
Plato, as he did after Dal's quarterfinal win over the Memorial University Sea-Hawks, praised UPEI's Miller for his play. The four-time AUS coach of the year said Miller is the league MVP for a reason. 
"He's not cocky or arrogant. He lets his play speak for itself."
Miller gave props to the Tigers, a team he knows well from past playoff duels like last year's final on the same court.
"They set the standard here in the AUS," Miller said. "I love playing against coach Plato. They have a good team and it feels good to beat them knowing we were a quarter short of being in the championship game. It's a great feeling right now."
While UPEI clinches a spot in the Final 8 nationals with the win, they first look to take the AUS title against the nationals host and top team in the conference: StFX. They tip off Sunday afternoon at 4 p.m.
The Panthers haven't won the AUS since the 2002-2003 season, while X looks for its first banner since 2005-2006.