Reported with files complied from Matt Stickland, Opinions Editor, Kaila Jefferd- Moore, Editor-in-chief and Josh Young, Sports Editor
Black and gold swarms of students flooded the streets of Halifax's south end as they took part in Homecoming shenanigans last weekend.
Dalhousie University's 2017 Homecoming weekend officially began Wednesday Oct. 11 at 7 a.m.
Individual faculties ran their own homecoming events for their student collectives from Oct. 12 to Saturday Oct. 14. The fourth annual President's Fun Run/Walk began at the sound of a shotgun shot at 9 a.m. on Saturday.
But students had another idea for starting the #hoco celebrations off with a bang Saturday morning.
Most of the Saturday morning high-energy partying was kept around the Jennings-Larch-Preston neighbourhood; young adults scaled the rooftops of their rental properties and overtook other residents private property who weren't interested in becoming involved with the festivities.
By 10:20 a.m. Dal President, Richard Florizone had taken to Twitter to publicly condemn any Tigers participating in the disruptive celebrating.
2. I am disappointed to hear that some students are drinking excessively and disturbing our community.

— Richard Florizone (@DalPres) October 14, 2017
According to Halifax Regional Police Inspector Dean Simmonds, there were 23 off-campus arrests as a result of raucous homecoming house parties.
A fourth-year psychology student at Dal, who wishes to remain anonymous due to possible repercussions from speaking against Dal, was detained on Saturday for seven hours.
She was attending a kegger on Chestnut street that required students to show ID to ensure everyone at the party was of age. The organizer of the party was making sure that none of the 200 guests in attendance left their private property.
The kegs were tapped at noon. She showed up about 1 p.m. The police showed up around 2 p.m.
"[The police] were yelling at us to get out of the house," she recalls. "After everyone had left the house they were yelling at us on the street. It was chaos."
She stopped on the corner of Chesnut and Payzant, having a smoke and trying to find her friends. Then she was arrested; she was told it was for disturbing the peace.
When they arrived at the station she says she was kept in the back of the cop car for about 30 minutes before being processed and put in a cell with 8 other women.
"One officer was staying around our cell … and was just flirting with the girls," says the student. "He didn't go over to the guys cell at all, he hung around our cell."
Throughout the seven hours, they were denied blankets because they are only for the people who stay overnight and she says she didn't get a chance to call her friends to let them know where she was.
"They didn't give us toilet paper; I had to beg for water after seven hours," she says.
When they were being released at about 9 p.m. Saturday night, an officer explained how leaving works, then handed them a copy of the 'You honk, we drink' story from CBC.
"He handed it to us, and made one of us read it," she said. "He was like, 'I hope you guys are embarrassed' … he went on to be like, 'Oh, just so you know because of you guys I was called in on my day off.'"
When finally released, she wasn't given a fine or charged.
She was escorted to the gate by yet another officer, "he said well at least it's a funny story to tell," she says.
"I'm not laughing. I was in there for seven hours. For no reason. You didn't tell us anything; and denied basic human rights."
"I know our officers acted appropriately on that particular date dealing with the situations at hand," said inspector Simmonds. If any student has any complaints about how they were treated, Simmonds says they can head to the police station or call 902-490-5020 to file a complaint with professional standards.  
The only other Canadian university to make headlines with homecoming charges and arrests this year is Queens. According to the Canadian Press Kingston police charged 330 people and arrested 33 this past weekend.
Officially, homecoming wrapped up Sunday afternoon after the Alumni Football Game but the spirit of homecoming had been depleted by Saturday's events, and were replaced with name-blaming and finger pointing.
How did #hoco happen?
The party achieved its size in large part due to a facebook group. The facebook group wanted to "make Dal great again." The group has since been taken down.

A group of students decided that Dalhousie's rating dropping from 10 to 16 in the Macleans party ranking was something that needed to be "fixed."
Due to the methodology of the party ranking #hoco17 will have zero effect on Dalhousie's rank; ranking depends on a self-reported survey of students who estimate how much they party per week. Consistently having large parties that get shut down prematurely would actually hurt Dalhousie's ranking long-term.
In response to the homecoming chaos, Dal hosted a "community meeting" on Tuesday night from 7 to 9 p.m. as part of their community outreach to engage with their "neighbours" and ask for their input as to how they can deal with students.
About 10 students showed up to the public meeting, which was held in the Dalhousie University Club; some students had repeatedly raised their hands without the mic coming to them. Only once was a student given the opportunity to speak: Mike Sampson, resident of Jennings Street and SMU student.
"Honestly, university students are going to party; they're going to drink no matter what," says Sampson.
"Dal kind of dropped the ball on giving them a place they could safely drink, and go party, and have that sense of community … it could have been handled a lot better if it had been a university planned event instead."
Sampson got invited to the Facebook group on Thursday and there were already around 700 members. "I looked through it. It seemed like the general consensus was 'this is a bad idea. Won't the cops shut this down immediately?'"
Dal and booze
The rowdy weekend comes just six weeks after Dalhousie's first attempt at hosting a "dry" Orientation Week from Sept. 2 to 11, which had been undermined by attention garnered by students partying in the Howe Hall residence and sharing their binge-drinking videos to Instagram, and allowing the popular account @totalfratmove share their content.
President Florizone says he has generally heard positive feedback from the drinking ban on O-week; but he's also heard concerns that it may push drinking off campus.
"There isn't a simple solution to this in terms of policy," said Florizone. "That's exactly why we're taking the approach we are tonight [at the community meeting.]"
Dalhousie was more hands-off for homecoming weekend, and didn't put in any similar sanctions to ban alcohol from residences or campus, the only involvement Dalhousie had with homecoming was the few school-sponsored events.
The trial run of a dry O-week earlier this year was considered a success despite a viral video of a multi-floor beer-bong being used in a dry residence – that evidence is anecdotal.
According to Verity Turpin, assistant vice-provost student affairs, overall Dalhousie recorded less alcohol-related incidents during the dry period over the same period last year. She also said there have also been less incidents off-campus. At the community meeting, Constable Robin Sherwood also said that incidents in the community have been going down.
Florizone said that he takes the drinking on campus seriously, especially in light of the student death. He said they have worked on alcohol harm reduction and reviewed alcohol policies.
Resident Assistants (RAs) in the in LeMarchant Place residence, where a student died in 2015, has half the amount of RAs than last year. There used to be 10 RAs, now there are five. The RAs have been replaced with event organizers that come in and run events, like trivia. These event organizers come for the events and leave. The RAs live there.
Turpin says that the decision to reduce RAs in LeMarchant was because Dalhousie expected there to be more upper year students living there. The amount of first year students in LeMarchant exceeded Dalhousie forecasts.
Part of the community?
"There were always students raising their hands, but they just walked by and passed over, over and over again," said Jamal St. Lewis, a fifth-year management student who was at the community meeting. "It was nearly all negative about how students weren't respecting spaces. How students damage property."
St. Lewis says that part of the problem is that with social media, students can see what other schools are doing. In real time. They can see the big homecomings at Queens, UBC and McGill. They know that OttawaU and Carleton have their Panda Game. They see the massive parties that shut down streets.
"Someone says 'hey this is our 200th year – why don't actually have a block party? Something larger than house parties … a single fun run and a single varsity game," he says. "Students saw what was going on at other campuses for years and they said 'why can't I have that?'"
When students move into the south end to live close to campus, they're immediately welcomed with a reminder that they are coming from away and infiltrating "mixed" neighbourhoods that consist of both students and families.
Every year, Councillor Waye Mason sends out his fall newsletter; in this fall newsletter he includes a page of it specifically for students. He reminds them that: There is no "student ghetto" in Halifax – you are as likely to live next to your professor as to an apartment of undergrads.
The HRP also run an annual prevention and education program called "Operation Fallback;" more officers are scheduled to patrol the south end neighbourhoods surrounding both SMU and Dal on Thursday, Friday and Saturday nights for the month of September, and includes educating students on responsible alcohol consumption.
The consensus among students is that they feel left out.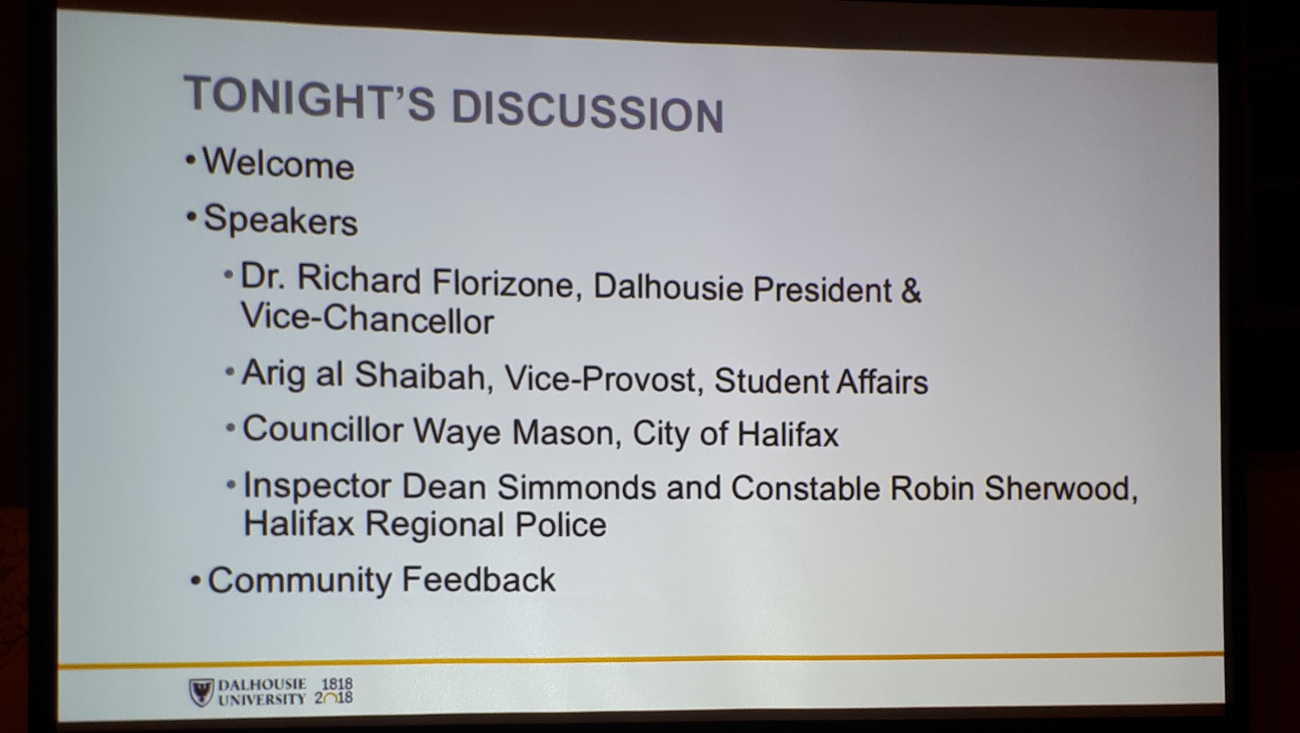 The Dalhousie Student Union reached out to the university to address the issue of dealing with student life, said Turpin on Tuesday night – while Dalhousie reached out to the police and the "community members."
Three distinct groups were in attendance at the community meeting: Dalhousie administration, community members – or, Dal's neighbours – and students.
Each group wants the same, collective goal: to establish a sustainable and harmonious relationship between the three. But it's clear, by addressing students as "students" and the non-student residents of the south end as "community members" that this meeting was for "community members" and Dalhousie to figure out a way to deal with the students; they are a problem to be dealt with by the community, not as part of the community
Moving past homecoming
"I think what Jennings [Street] was trying to do – to provide an area to drink, because Dalhousie doesn't give that to us," says the student arrested on Saturday night. She thinks that Dal should provide a space for students to be able to come together. She believe Dalhousie needs to be proactive in planning large events and in creating a space that is legal, safe and fun.
St. Lewis gave one concrete example of how he thinks Dalhousie can bridge the gap to bring together the non-students and students together as community members of the neighbourhood surrounding Dal's campus.
St. Lewis says that when Trudeau and Obama got elected, they both did the same thing: they went on stage with students, and it was filmed it. The students had topics they wanted to talk about, and they had a conversation.
"I would love to have Florizone on a stage, have five or six students on the stage with him and they could have a discussion," says St. Lewis. Having it filmed would mean that community members could see what students were concerned about. They could also see the president of the school answer questions and be held accountable for his answers.
At the end of the meeting Cory Williams, a tenant in the 'yellow house' made famous by Ross Andersen's reporting, was talking to a community member and he said that students are trying to be part of the community, but don't feel like they are. Williams gave a simple solution to the man he was talking to: just come on over and say hi every once and awhile.