Julia Sarty
Her swim teammates say she excels at everything - and she does A LOT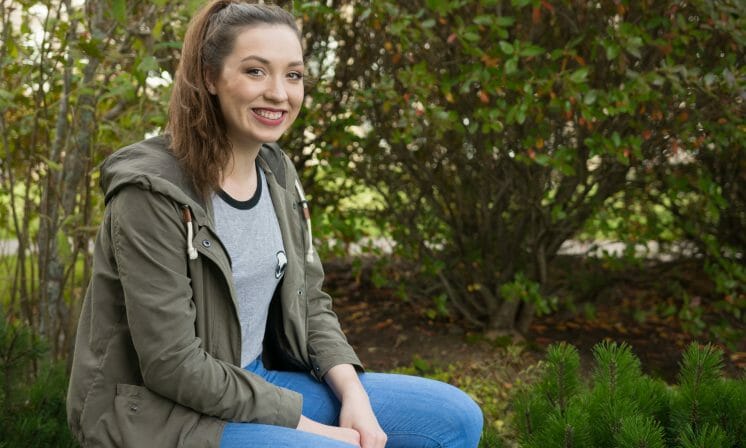 Hometown: Halifax, NS
Major: Electrical engineering, second year
Proudest achievement to date: My biggest thing is keeping myself together. I've been able to be on the Varsity Swim Team for two seasons now – which is excellent and a privilege – as well as keeping up with some artistic stuff; I did ballet, up until recently.
Next big thing she wants to achieve: Making sure I sleep. That's a goal currently. And in the long run, finding a job that I actually enjoy.
Favourite pizza flavour: Pineapple, but not with ham!
From a friend: "Julia Sarty is without a doubt one of the most well-rounded students at Dalhousie University.  Quite simply, Julia excels at everything she does.  Last year, Julia danced a lead role in the Nutcracker production at the Rebecca Cohn and also raced on the Varsity Swim Team and finalled at AUS Championships, where Dalhousie Women's Swimming won the banner for the 18th consecutive season.  Julia is an engineering student at Dalhousie, and is the deserving recipient of many scholarships including the prestigious Nova Scotia Health Research Foundation: Knowing About Research Scholarship, the Dalhousie Percy B. Jollata Award, the Dalhousie Julius D. Solomon Scholarship for 2nd year Engineering, and a Dalhousie Alumni Association scholarship.  Julia shares her passion for science as a judge for the Halifax Regional Science Fair and is on the organizing committee and the grand-award judging panel as well.  She is also the CHS Poetry Club founder, which is a closed door student program for written expression.  Furthermore, Julia is a presenting volunteer for Alzheimer's Nova Scotia conferences, acting in a play that has been performed for Alzheimer's awareness more than 50 times.  Despite how extensive this list is already, it only scrapes at the surface of how incredible Julia is!  And, most impressively, despite her busy schedule, Julia always has time to help her classmates, teammates, and friends succeed.  She knows how to cheer everyone up with a funny dance or a joke, and even though she's probably one of the most accomplished students on DAL campus, she never once brags about her accomplishments.  All I have left to say is – DAYUM, YOU GO GIRL!" –Dalhousie Varsity Swim Team