Lara Lewis
"I try to be real as f*ck"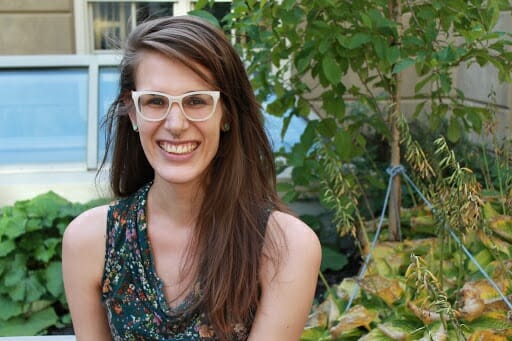 You'll want to remember the name Lara Lewis, because the current King's journalism student is well on her way to being a household name with her extensive theatre experience.
Lara Lewis is from the Annapolis Valley of Nova Scotia, and has had the gift of being an entertainer since childhood, or as she says, "the gift of gab". "When I was younger, it was 'Lara, stop talking…', and for me it was like 'Well I'm not going to stop talking, dammit!'"
Lewis has stayed true to herself, and said that sometimes that may include being loud. On staying grounded, Lewis said "I try to be real as f*ck, and I think that's the only way to be when we're living in a culture, dripping with irony and insincerity."
The colourfulness of her character is one of the reasons as to why she is such an incredible artist and vibrant member of the theatre community.
She first began theatre when she did a theatre degree, and had a teacher who taught her in a course on Canadian Theatre.
"A lot of conversations in the class came down to cultural imperialism, and what it means to create Canadian art, and how we as artists need to actively nourish and build our distinct culture for ourselves. So we don't become absorbed into becoming American North."
During this time, Lewis also felt firsthand the barriers that female performers face compared to their male peers. Lewis said, "Something that's a not secret in the least, is that males receive a lot of preference over females just because of sheer numbers. There's a perception, that I think is pretty real, that standards tend to be lower for males than females."
Despite these barriers, Lewis has gone to hold board positions in theatre groups, and currently holds the positions of the Artistic Director of Taboo Theatre, the Vice President of The Villain's Theatre Association, a position on the board of Rolling Bold Productions, and is the Youth Outreach Coordinator for 2b Theatre Company.
Lewis also directed a film for the Fringe Festival, where one of her cast members won Best Female Performer.
"I'm super proud of that… We casted, we rehearsed for a month, and I really like new script development. I'm working again with that same authour, and we're aiming for a workshop production in February."
Lewis is also working with another writer, Luciana Fernandez, who wrote a show on a "little bit of cancer" she had.
Lewis hopes to one day be an Arts Editor, even though it may mean distancing herself from the theatre community that she works hard for. On her reasoning for joining journalism, she said "I had a crisis recently, where I was like 'Wow! Maybe being a journalist would be a more viable career option than being a starving artist who has to write grant applications every time she wants to not be homeless', then I said it aloud and was like 'yeah, that actually probably would be.' I think right now I'm focusing on my academics, but ultimately I would like to find a balance between the two. "
While Lewis has overcome barriers herself, she recognizes and still battles a lot of the challenges that hold women back in Halifax.
"I think it's hard to be a girl in general… I find with a lot of older male faculty members, no matter how good you are, there's still a really strong undercurrent of internalized, unconscious misogyny. Unconscious preference to male students over female students, and unconscious preference of male students to female students of colour especially."
She believes female Dalhousie students also face issues of gender violence, stating that "Gender-targeting, and gender violence, whether it be physical or not, is really rampant on the Dal campus."
The Dalhousie Dentistry scandal, that made national news headlines in 2014, and received a year of coverage due to the vulgar remarks and incitement for sexual assault made by the "Class of Dalhousie Dentistry 2015 Gentlemen." Lewis states that the inaction Dalhousie took in holding the accused accountable in this situation, speaks to the rape culture that exists on Dal campus.
"I think it's difficult to feel safe when you're in that environment. No matter how productive or positive your academic environment could be, or the people you surround yourself with, there's still that undercurrent of potential danger."
Lewis faces unique challenges herself, as a Mi'kmaq transwoman, Lewis states that barriers of employment and housing discrimination are still prevalent in Halifax, adding "we have formal legal protections now, but there's no way to check that or enforce it."
When asked what was her reason for challenging the issues women face at Dalhousie and in Halifax, she said, "I don't think there's any one catalyst. Especially as a transperson, someone who has experienced male privilege and then the flip side of male privilege, which is the devaluing of women, I think that it's natural to want better lives for your peers."
You can see some of Lara Lewis's work in the upcoming "The Murder Play", which will be a production from Taboo Theatre Company coming soon. For now, if Lara Lewis could share one message to her fellow women of Dalhousie, it would be "Do what you want, and if people think you're a c*nt then whatever. Also, get laid if you want sometimes but don't feel the pressure to. Girl power, f*ck the man, Black Lives Matter."