Healthy eating is hard, and it's especially hard if you feel like you have limited options. While Dalhousie doesn't have an abundance of healthy eating options, there are still some ways to avoid eating poutine and pizza everyday.
Here is a top five list of some of the calorie-wise, veggie-filled options you can have around campus:
5) Subway at the Killam
If you ditch that amazing Italian herb and cheese bread and opt to have your favourite toppings in a salad, you'll find it will be just as filling and make you feel less sluggish. The breads, processed cheeses and meats are the unhealthiest things at Subway so try and opt for their grilled chicken breast for your protein and go light on the cheese.
4) Pita Express in the Life Sciences Centre food court
Not all of it is healthy, but you can certainly choose healthier options. Try to stick with whole wheat for your pita, load up on veggies, and try hummus instead of creamy sauces.
3) The Galley in the King's College Wardroom
Hearty soups and veggie samosas are some of the delicious and healthy options that The Galley has on offer. You can also find a ton of gluten-free foods, and even some baked goodies that won't fill you with sugar.  Your daily Tim Hortons coffee is probably a lot sweeter than you realize, so opt for The Galley's fair trade and organic coffee instead to cut down on sugar.
2) Pete's ToGoGo in the Student Union Building
If you need something fast, this is easily the healthiest stop you'll find on campus. With a salad bar that has pretty much everything you can think of and sandwiches made with fresh ingredients, Pete's is the place for your health fix. Their salads are also a good size for a reasonable price, so you won't walk away feeling hungry.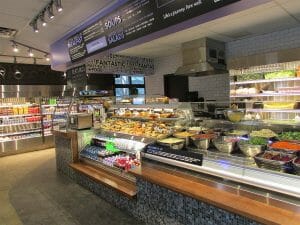 1) The Dalhousie Student Union Farmer's Market
If you want to make a full meal out of the food here you're going to need some prep time and cooking skills. That being said, if you're looking for healthy, affordable produce you can always find it at the DSU Farmer's Market. If you live near Studley campus, you can find the market in the SUB lobby on Tuesdays and Wednesdays from 10am-3pm. The market is at the Sexton campus Alumni Lounge on Wednesdays from 11am-2:30pm. Indulge in your vegan dreams with low-cost, local fruits and veggies.