Two Dalhousie University students took home the top prize at a national engineering competition earlier this month. Though they sometimes feel like they don't belong at Dal, to them the win is a reminder: women belong in engineering.
Annika Benson and Kayleigh Landers, who are both preparing to graduate from engineering at Dal this spring, won first place in the re-engineering category at the 2021 Canadian Engineering Competition hosted by the Canadian Federation of Engineering Students. The competition took place during the last weekend of February 2021.
For the competition, Benson and Landers were given a week to redesign a university campus to be more accessible and eight hours to repurpose salmon cages so they could be used for a more sustainable method of aquafarming called multi-trophic aquaculture.
After experiencing anxiety about her place in engineering during previous competitions, Benson said this win is the ultimate validation.
"Something that I think has actually made this win even more meaningful is I'd gone from those moments where I genuinely questioned if I belonged in this field, to being like, 'I won one of these competitions. I absolutely do,'" Benson said.
Is Dal supportive of women?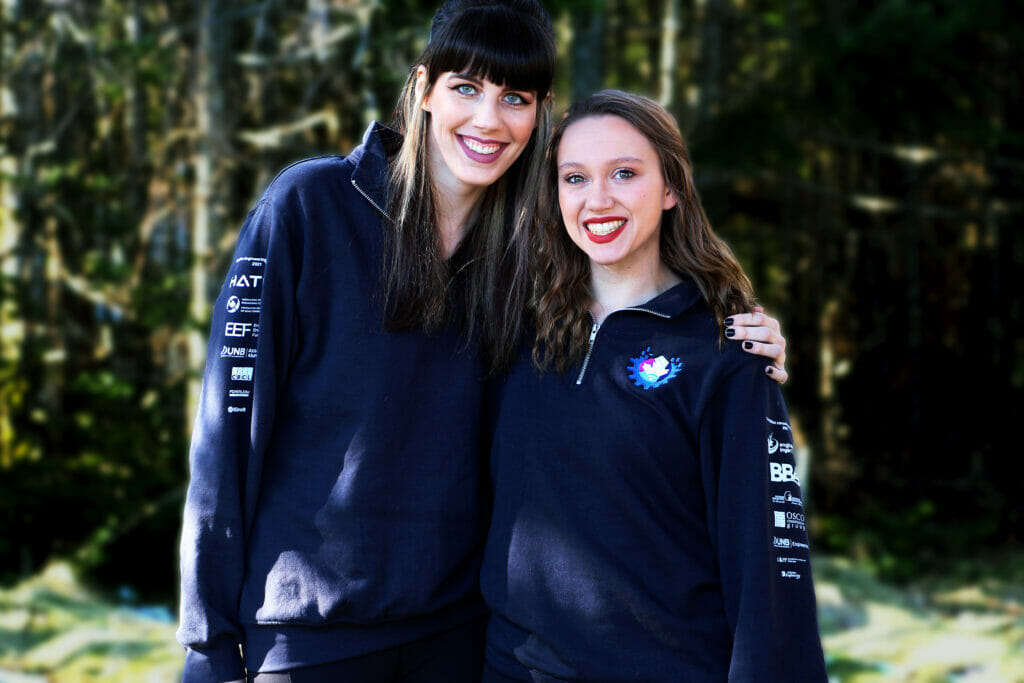 Nearly 50 years after the department of engineering first opened, Norma Eddy became the first woman to receive an engineering degree from Dalhousie in 1956.
Sixty-five years later, "there are so many females and non-binary individuals in engineering at Dalhousie who just inspired me so much," said Benson. "Every single one of those people that I know, they're all doing such incredible things."
Aside from Benson and Landers's success at the national competition, engineering student Sierra Sparks was also chosen as Dal's 92nd Rhodes Scholar in 2020.
But there's still a lot of work that needs to be done to ensure women feel welcome in the engineering department, Benson and Landers said.
Some of that work is being done, but only thanks to the advocacy of students who still feel unwelcome on Sexton campus, Landers said.
The most pervasive issue affecting women on Sexton campus is a lack of bathrooms for women on every floor of campus buildings, said Landers.
"You can't find a female washroom. It is impossible. But there are male washrooms beside the stairs on every floor in every single building," Landers said. "It's because [the buildings] are old and were designed when females weren't students or they weren't supposed to be students."
Sexton campus has 22 female washrooms, 27 male washrooms and 44 gender neutral washrooms according to Janet Bryson, Dalhousie's associate director of media relations and issues management.
"We had heard from students in 2019 that there weren't enough female washrooms centrally located in main areas," Bryson said in an email to the Dalhousie Gazette. "There were a number of washrooms that were changed to reflect enrolment trends in our STEM programs."
In 2019, the Gazette reported the added washrooms were in converted rooms, which students still considered inconveniently located.
"Any of the newly constructed buildings on Sexton campus are 50/50 washroom designations or gender-neutral single use washrooms," Bryson said.
Because the engineering faculty is male-dominated –– Benson and Landers have had three female engineering professors between them in their entire academic careers –– it's difficult for women in engineering to see themselves succeeding beyond Dalhousie, Benson said.
"Hopefully, as females start entering this field, we'll have more female professors who will be good role models for future students," Landers said.
Landers said she's often reminded of the lack of women in her field by some of her male professors who will acknowledge her presence in their class by addressing the class as "lady and gentlemen."
Competition highlighted gaps in curriculum 
Taking part in competitions like these is valuable because they provide students with knowledge that is often left out of coursework, Landers said. Specifically, accessibility and sustainability minded design.
"The way that we tackled it, because it hasn't been covered in courses, was I just tried to go to the contacts that I had who I knew would know about [accessibility issues]," Benson said. "We reached out to a bunch of different people in the university and broader community, who kindly opened up to us about their experiences with the built environment," she said.
This provided insights into multiple things the pair had never considered. For Benson, one of these things was the way quadriplegic people interact with doors.
"Yes, you have that button. But if you can't reach out and push it, what does that look like?" she said.
What they discovered was the best design is a physical post that acts as a large button people can push their wheelchairs into.
For Landers, another important lesson was that hallways need to be wide enough for a wheelchair to complete a 360-degree turn. A six-meter-wide hallway became a central part of their design.
Benson was also able to bring some of her own experience to the competition. She is neurodivergent –– a term that indicates variation in the brain affecting learning, sociability and other mental functions –– something she said usually isn't considered when discussing accessible design.
"For me, as someone with a learning disability, I really enjoyed having the opportunity to go: 'How could you make a classroom better for someone who doesn't necessarily have a conventional learning style?'" Benson said.
Some of their ideas included an electronic whiteboard attachment that automatically takes notes for students, Benson said.
As the pair prepare to graduate, they're glad to have spent so much of their time competing in these competitions. Through these contests, Benson said her friendship with Landers has grown far beyond the lab partners they started out as.