Content warning: This article contains discussion of sexual assault.
On March 15, University of King's College President William Lahey apologized for the university's role in shielding former professor Wayne Hankey against multiple sexual assault accusations. The apology followed a long-anticipated independent review conducted by lawyer Janice Rubin.
The partially redacted review was made public during an event at King's College's Alumni Hall. It concluded the school knew of the late Hankey's inappropriate behaviour and covered it up on multiple instances.
Lahey addressed the crowd of about 75 people with several apologies.
"On behalf of the University of King's College, I unreservedly and unequivocally accept Janice Rubin's findings and her five recommendations," he said. "This includes her recommendation that King's has a responsibility for what happened to those who have come forward.
"We must accept accountability by making amends to those who have been harmed including providing appropriate and just compensation as called for in Ms. Rubin's second recommendation."
Hankey held multiple positions at King's and used the power to abuse young men and boys at the university, according to prior allegations and Rubin's review. He was one of the creators and the first director of the university's first-year Foundation Year Program (FYP), a residence don, the school librarian and an Anglican priest that helped run the on-campus chapel.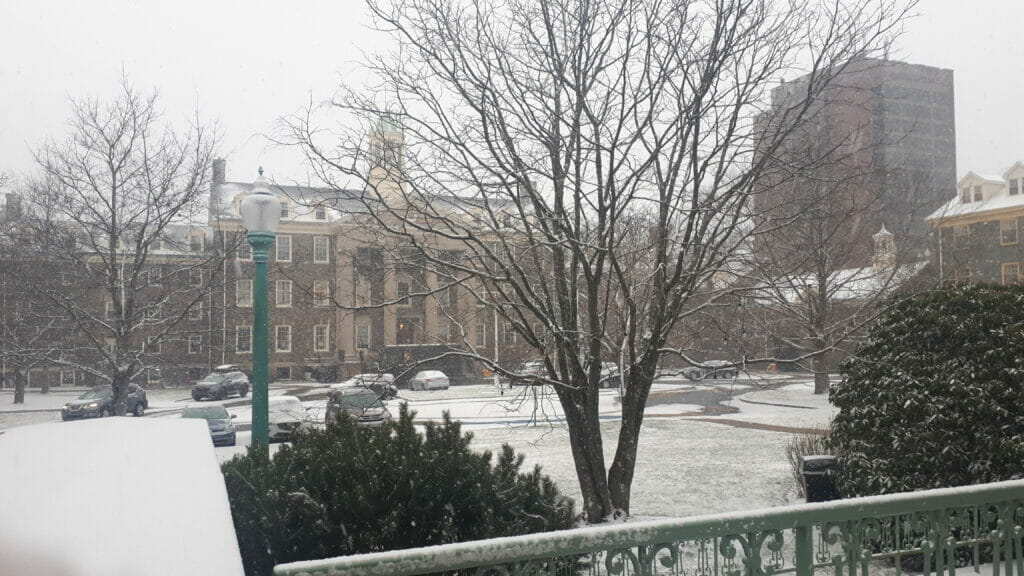 Known secret
Criminal charges were laid against Hankey on Feb. 1, 2021. On March 4 of that year, Rubin and Elizabeth Bingham of Toronto-based firm Rubin Thomlinson were hired to review the accusations independently. The report contains accounts of incidents involving Hankey and recommendations to help King's formulate its response to the situation.
In 1990, Hankey was found guilty of sexual assault and stripped of his Anglican priesthood by the church's court. He gave what the court accepted as a confession of guilt to the charges. The accusation was brought against Hankey by a King's student who alleged he had been repeatedly assaulted by Hankey over several years.
The independent review determined there were 13 distinctive incidents, including the one brought in front of the church court in 1990.
The ruling was relayed to King's, who assembled a committee in 1991 to determine how to discipline Hankey. The university chose to remove Hankey as a don and impose on him a one-year suspension without pay. After the suspension, he returned to work at both King's and Dalhousie University.
The review clarified that had more people wanted to bring accusations against Hankey, "there would have been no obvious mechanism at the university to do so."
Hankey retired from King's in 2015 but continued teaching a course at Dalhousie until the first charges were laid against him in 2021. The charges were dropped when Hankey died on Feb. 5, 2022 — two weeks before his trial was set to begin.
Student response to the report
Current FYP student Iris Fisher felt blindsided when she found out about the accusations against Hankey in September.
"It was something that was very devastating to hear as a new student because it felt so swept under the rug. It felt so hidden," Fisher said. "It felt like I was manipulated into coming [to King's], like I was tricked. I didn't want to be here. It really did take away a lot of the joy I had coming into FYP."
The independent review was ongoing at the time of Hankey's death.
The review states, "In our view, King's response to becoming aware of Dr. Hankey's inappropriate behaviour, or suggestions of it, was lacking. This served to protect Dr. Hankey. We wish to be clear that this is our conclusion even when the university's behaviour is judged by the standards of 30 or 40 years ago."
Rubin Tomlinson received all documents that King's had concerning Hankey. According to them, the number of documents was "underwhelming" and "generally unhelpful in establishing the critical facts." It was also found that at least one report prepared by the 1991 committee that investigated Hankey was "destroyed."
Lahey's apology and address of the review were followed by a question and answer period open to the media, students and others.
"I think that I expected Bill Lahey to take responsibility for his institution the way he does when there is success through King's," Fisher said. "He avoided answering any question. He relied on the subjectivity and the nuance and the privacy that is needed in this situation, to avoid taking concrete responsibility for the things that he needed to."