Jennings, Preston and Larch streets played host to thousands of partying Dalhousie University students on Oct. 1. This comes almost six months after Dal initiated a plan to address the rise of unsanctioned street parties by educating students and working with members of the community, the city, and Halifax police.
This year's events started with a relatively quiet afternoon, with students respecting police orders to stay off the road and remain on their properties. While their neighbours were disgruntled with the noise, events during the day were tame and ended at 4 p.m.
Later that night, however, 3,000 to 4,000 students returned to those streets, with crowds overflowing onto Jubilee Road as reported by Halifax Regional Police (HRP). The police report also said a fire was lit on the street and a person was stabbed. It took over two hours for police to disperse the crowds.
"People are furious," Halifax regional councillor Waye Mason said. He's responsible for district seven of HRM, which includes Dal and the surrounding community. "This is not what Dalhousie has historically been."
Mason is correct. The first notable unsanctioned homecoming party at Dal only occurred in 2017. That was the first year Dalhousie implemented a dry campus during orientation week following the death of a student from alcohol poisoning in 2015 and their parents suing Dal the following year. Having a dry campus during orientation was intended to educate students on safe drinking practices.
Mason said that the dry campus is the root of the problem because "it pushes the parties out into the community."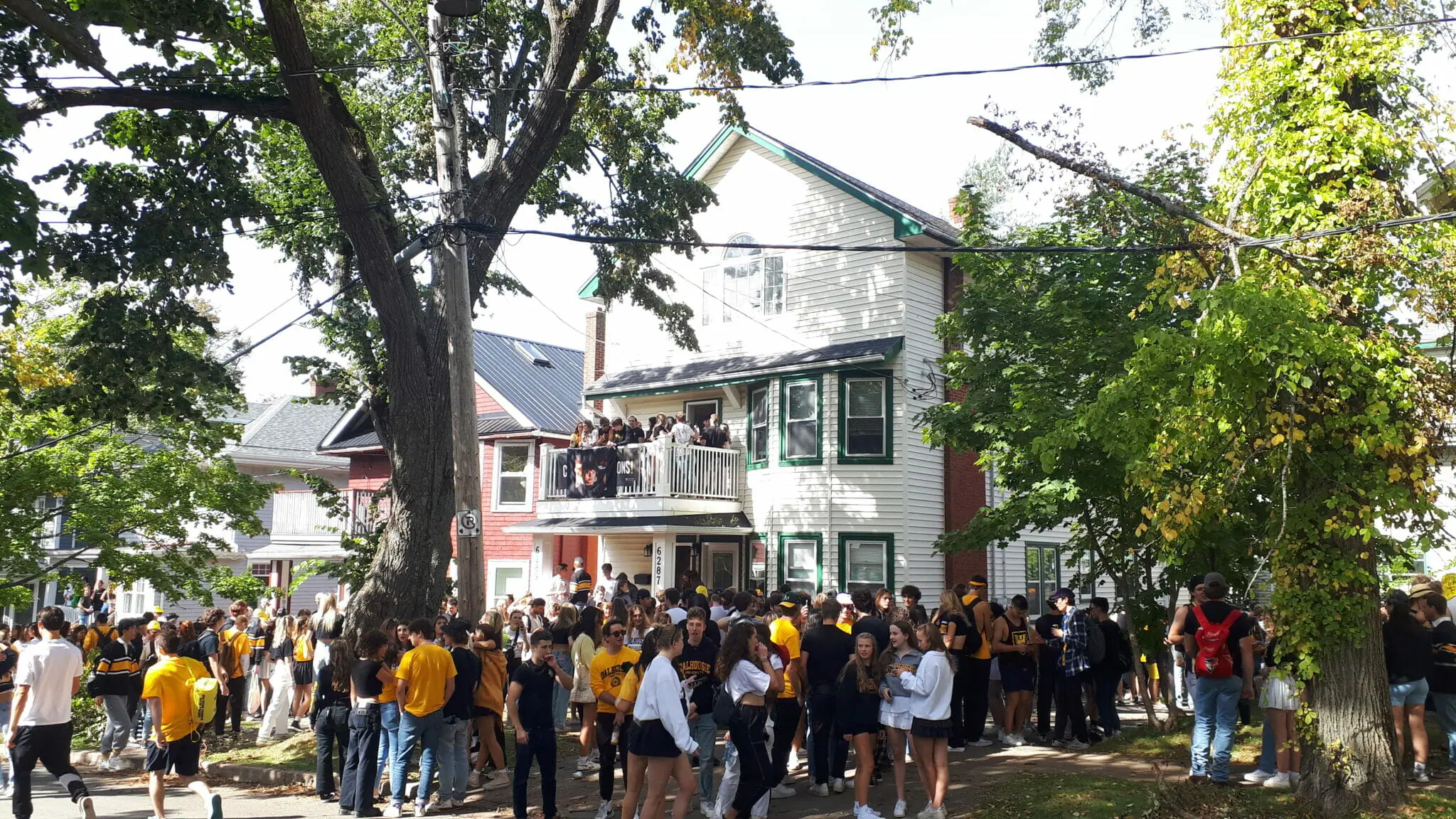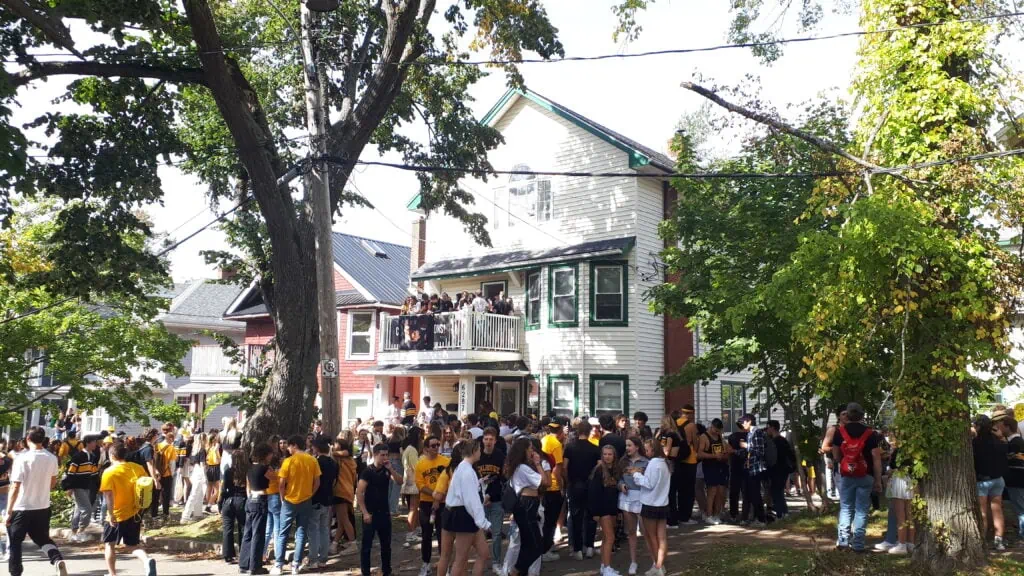 Perspectives on HoCo
Leading up to HoCo, the Gazette reached out to students and community members about their concerns and perspectives on how homecoming is handled. Many respondents were in favour of the parties happening on the r/Dalhousie subreddit.
Not everyone was a fan though.
"It's stupid," said Reddit user u/NL902. "It was never a thing and then it just became an excuse to party and piss off the neighbourhood."
A similar question was posed to community members around Dal.
Genny Killin, who has lived on Jennings Street for years with her husband, rolled her eyes when asked about her experience with students celebrating homecoming on her street last year.
Killin said she's frustrated, partly at students but primarily at Dalhousie. She doesn't understand why dealing with student parties and drinking has become her problem, especially since most people living on her street aren't students.
"Dal is a factory and students are both the product and effluent," Killin said, "Dal needs to take responsibility for the problem."
Peggy Walt, a longtime Edward Street resident, expressed similar views to Killin. While she doesn't live where the homecoming parties happened last year, she's had a fair share of experience dealing with student street parties.
"Why do we have to go through this? I have driven people to the emergency room before," said Walt.
Both Killin and Walt want Dal to do more to fix the problem and said the issue has only worsened since Dal instituted a dry campus policy in 2017.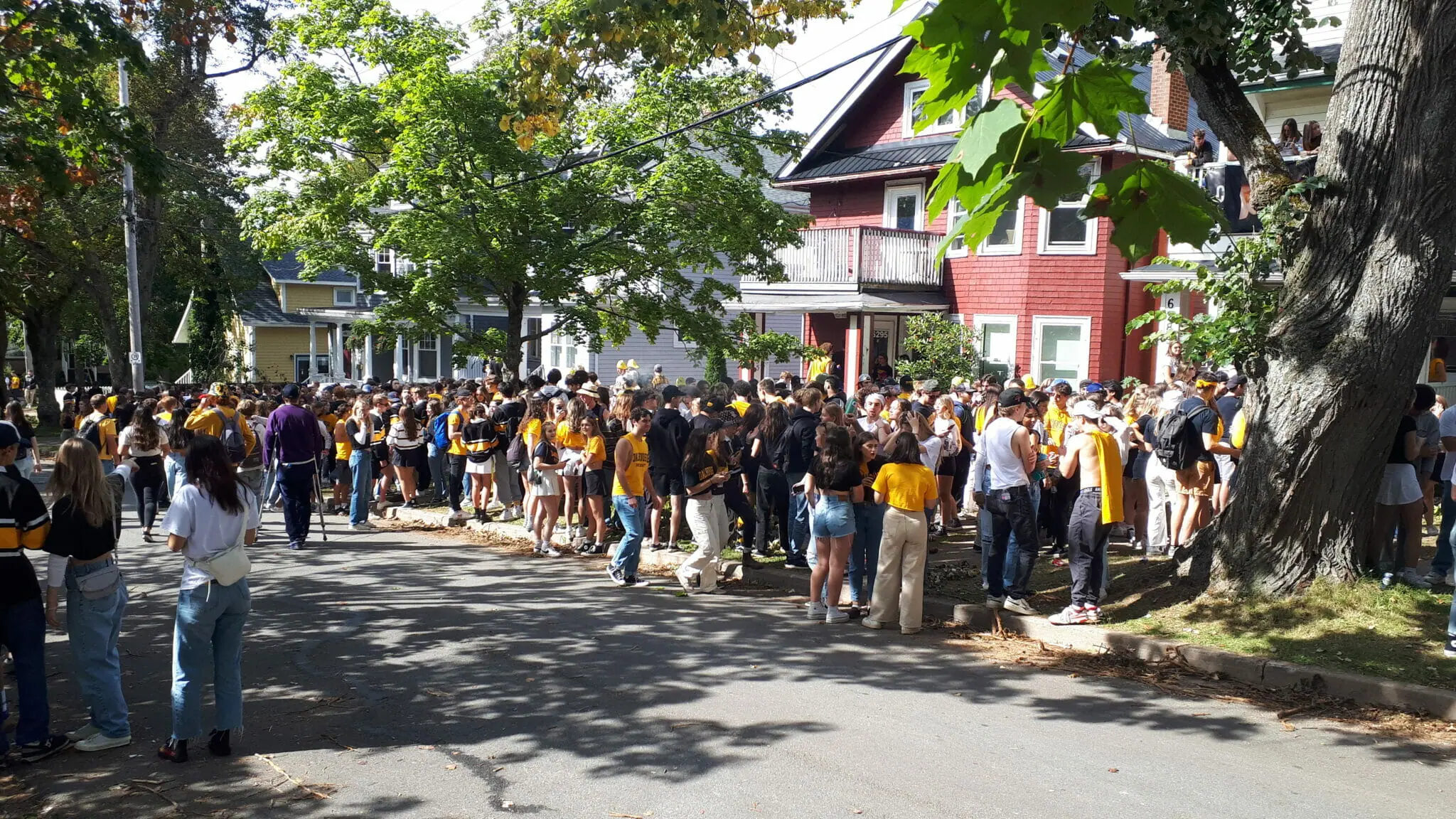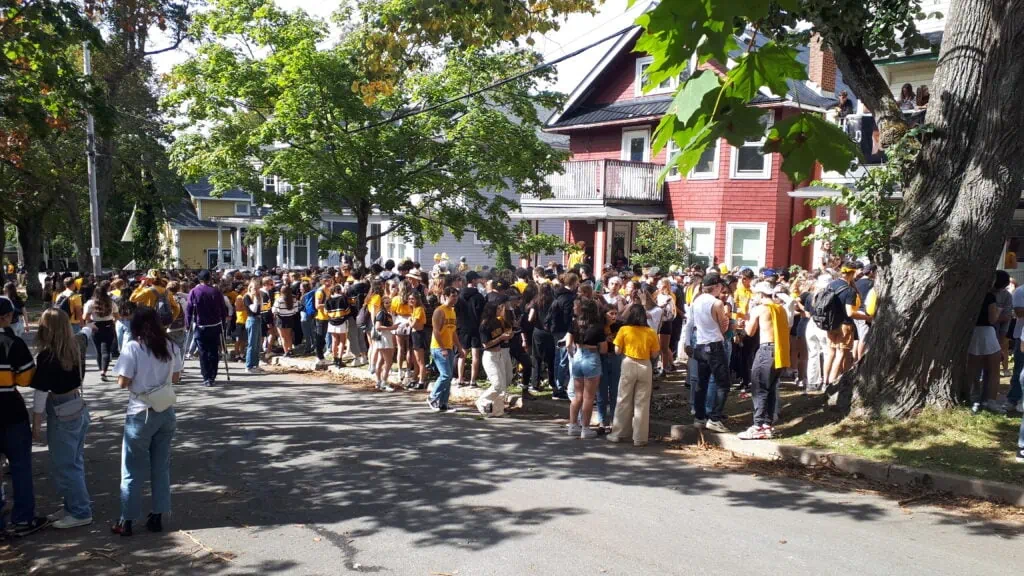 Dal implements plan to address street parties
In March 2022 Dal began a plan of collaborative work to address unsanctioned street parties Dal students attend. It's working with Inspiring Communities, a not-for-profit organization that works to build collaborative relationships to implement social change. Dal Security, the Dalhousie Student Union, a researcher from Queen's University, staff from Halifax Regional Police and five community members close to campus will also be consulted in the plan.
This plan's goal is to work with the nearby community to find a solution to the problem. Part of this plan comes with clear communication to the Dal student community about not participating in unsanctioned events, as seen in three newsletters from Dal President Deep Saini.
Mason doesn't feel that the newsletters do enough to address the issue.
"Dal doesn't take responsibility which is infuriating," he said. "This gets worse the longer you don't address it."
Mason wants Dal to be more transparent about how they will address the problem. Specifically, he said he'd like to know which students, if any, are disciplined by the university in relation to the street parties.
Dal is studying Queen's partying issues. What was Queen's response?
Dalhousie isn't the only school in Canada that has this issue with street parties. For instance, Queen's University is famous for its large parties during orientation week, homecoming and St. Patrick's Day. With Dal working with a researcher from Queen's, the Gazette looked into how Queen's addresses its large student street parties.
Queen's administration worked with the city government in Kingston, Ont. and Kingston Police to create the University District Safety Initiative. The initiative acknowledges the safety risks with these large parties, especially regarding the strain the parties put on emergency services in the city.
The University District Safety Initiative is only implemented at select points during the year. During these times of increased partying, the initiative increases the severity of the penalty of the Nuisance Party bylaw in the city. This forces anyone who is found in violation of the bylaw to go to court. The fine can't be paid online or through the mail. The city of Kingston website said the goal of this bylaw is "to ensure that people charged with an offence account for their actions in person."