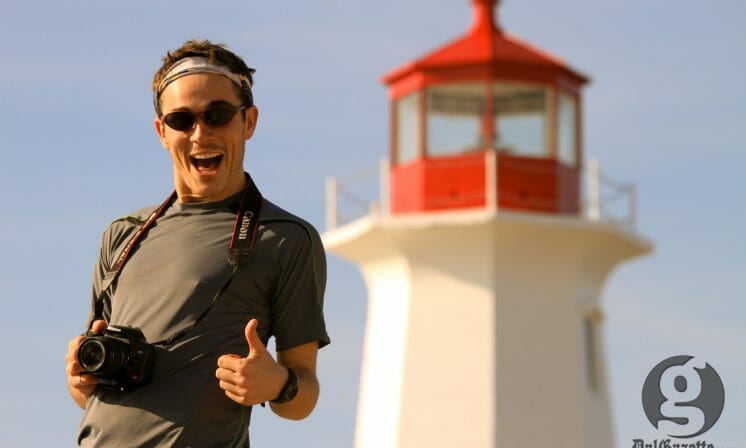 The prairies did not prepare me for this.
I arrived in Nova Scotia in autumn 2010, a young man of 18 seeking his destiny in a faraway land. I was trading my home province of Alberta, with its arid plains and assorted cows, for ocean breezes and roads with curves. The first time I ventured out on the winding highways of the South Shore, I felt slightly nauseous—but it was the nausea of possibility.
These kinds of transitions are never easy. Using my keen observational skills, I quickly detected a problem: there was a noticeable lack of mountains. Hills, yes, and even some ski resorts, but no real mountains. This took some getting used to. In my old Calgary neighbourhood, I could see the snow-capped peaks of the Rockies from the side of the road. In my neighbourhood in Halifax, I can see a Wendy's.
Fortunately, Nova Scotia has natural wonders of its own—besides the bacon mushroom melt—that (nearly) rival the mountains' majesty. The short drive from Halifax to Wolfville is a beautiful one, contrasting glimpses of the Bay of Fundy with a sprawling view of acres and acres of farmland. Heading out there in the fall is a particularly special experience, as the changing colours of the leaves turn the entire landscape into a startling tapestry of red, orange and green. This is not something we get to experience in Calgary; usually, the leaves turn brown one day and it snows the next. Many Calgarians are happy about this sudden transition because it means they can go skiing. Those of us who don't ski, however, cry until the tears freeze to our faces.
Of course, no consideration of the differences between Alberta and Nova Scotia would be complete without a mention of the latter province's true treasure: the Atlantic Ocean. The roar of the surf and the impossible vastness of the sea itself are truly breathtaking—the kinds of things that put one's individual life into perspective. As an Albertan, I'm just surprised every time I see water.
Sure, my province has a few decent-sized lakes nestled among its many mountains, but they are not easily accessible from within Calgary's city limits. By contrast, in Halifax, one need only take a relatively short walk to Point Pleasant Park to catch sight of the sea. And let's be honest—in a contest between lakes and oceans, the ocean wins every single time.
In addition to the geographical changes, culture shock awaits any Albertan who ventures to the east coast. This is because Maritimers appear to suffer from a strange neurosis known as "friendliness," a condition that may be particularly unfamiliar to those from dense urban centres such as Toronto.
How does this friendliness manifest itself? Well first, people seem to genuinely enjoy talking to you wherever you go. Take, for example, the nurse at the blood donation clinic who tells you about the time she drank too much champagne and banged her head on the kitchen counter. Or the 20-something working the rental car desk at the airport who appears sincerely apologetic when he asks you, for the sixth time, if you would like to upgrade your seat.
The west is known as a fairly friendly region, but it simply cannot compete with the Maritimes when it comes to injecting doses of humanity into the minutiae of everyday life. In this final category, Nova Scotia beats Alberta to a senseless pulp—in the friendliest way possible.