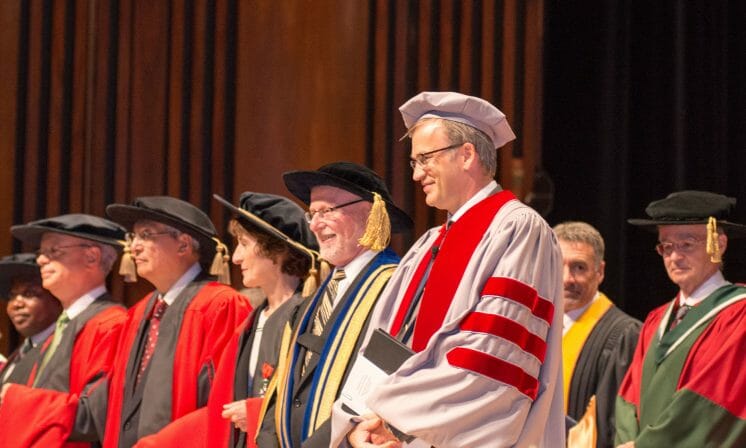 Let's be frank: inviting a who's who of post-secondary royalty to the welcoming party for new Dalhousie president Richard Florizone didn't come cheap.
Eight university leaders from all reaches of the globe descended on campus earlier this month for an induction ceremony and a preceding panel discussion. These international leaders came from afar–Qatar, China, Brazil and Israel to name a few countries.
You can bet they were flown into town handsomely on Dal's dime, with no reasonable costs spared.
Let's not forget the dozen or so representatives from neighbouring post-secondary institutions that visited, too, including Florizone's former colleagues from the University of Saskatchewan.
It was an expensive day, no doubt, and one that left a sour taste in students' mouths.
This was the same week the Gazette covered two visible consequences of a 3.5 per cent budget cut to all university departments. A few days before, we reported on the student uprising against the Killam Library's diminished hours, a situation which has since been rectified. Later, we unveiled how austerity is responsible for the potential cancellation of the luncheon celebrating Dal's academically gifted athletes.
The university's financial affairs did not look great, which made the existence of a lavish induction ceremony questionable. This is a time, after all, where rising tuition is not enough to offset an increasing budget.
But it's for that reason that a posh ceremony, despite its costs, may be justified.
Like it or not, this university is a business. It needs outside financial support when tuition and government funds alone are not fitting the bill.
A little networking with international heavy hitters cannot hurt this university.
We need these university leaders to help us, in the same way that we need international students to enrol so Dal can collect more tuition dollars. We also need alumni donations and big corporations to fund our researchers.
Florizone said as much in his induction ceremony address.
"Without public support, without students, without donors, without researchers and scholarly collaboration, at home or around the world, Dalhousie would simply fail to exist," he said.
Yes, this month's ceremony came at an exorbitant cost—rumours are that it was well into the six-figure range. A lot of money for an event where maybe 300 people and one mainstream media reporter bothered to attend.
But in today's post-secondary climate, where Dal must contend with its continued growth with less money, we need strong international partnerships. If a little pomp and circumstance can charm our global suitors, we're better off for it. Nobody will complain if we profit from this with the enrolment of many more international students.
We didn't spend hundreds of thousands of dollars for the sake of throwing a nice party. This was a business decision–a calculated decision that will hopefully benefit the university in the long run.
Here's hoping the financial hit was worth it.