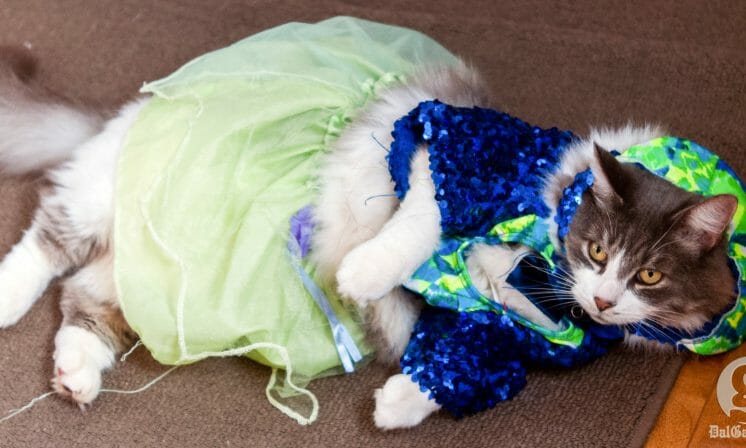 I want to take you all on a journey with me. Let's venture back to early 2000s when The Simple Life was the rage of television and everything was "so hot" because of Paris Hilton. Remember how she had those little Chihuahua puppies that she dressed up? Yeah, that was weird, right?
Ladies and gentlemen, this is the exact memory I relive every time I see someone with their pet dressed in a costume on Halloween night. Nothing is scarier than this image—except for maybe an episode of Here Comes Honey Boo-Boo. If you're one of those weird fans of the show, you're probably thinking, "Those things have nothing to do with each other though! Leave Honey Boo-Boo alone." These two things have more in common than you might initially realize.
Dressing up your pet is like forcing your child to compete in beauty pageants. First, you're making an ass of them and they don't know it. Second, there is something wrong with making those kinds of decisions for another being, regardless of whether it's a little girl or a cat. Costumes are pretty individual. I know a lot of people who plan in months of anticipation so that they have something cool to wear on Halloween night. Maybe your dog feels the same and you're putting girly mouse ears or something on them. How would you feel?
Worse, I will never understand why some people dress their animals up as other animals. That is just plain weird. You will probably end up giving your animal some psychological complex that hasn't been identified yet. What happens when your dog becomes afraid that he's not good enough because you've dressed him as a mouse, and that you'd rather have a pet mouse? Okay, a little silly— but to be honest, so is this topic.
I'm definitely taking aim at the worst of the worst pet costumes. I'll fess up and admit that sometimes pet costumes can be cute (I have a heart, especially if you're Dorothy and bring your puppy as Toto) but for the most part they're just weird and they go too far. The animal often looks uncomfortable and that takes away from any "awww" factor that the costume has going for it. Don't put your dog in anything that makes them droop like they're in the waiting room at the vet, and I'm okay with your costume.
All in all, if you're going to dress up your pet, keep it classy and simple and ultimately don't push it too far. Isn't that what significant others are for? Try dressing your date, not your pet. Happy Halloween, pet owners!