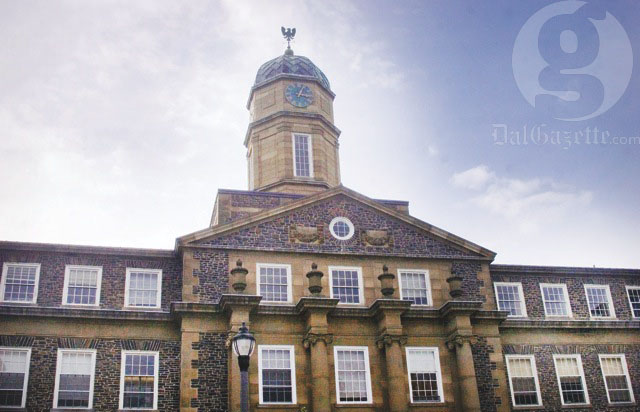 After a long and busy year, we took a few minutes to look back on the biggest stories on campus. Here's our list of the top 10 stories of the academic year.
10. Dalhousie women's volleyball wins second consecutive title
The Dalhousie Tigers women's volleyball team handled the pressure of being the reigning AUS champions exceptionally. Despite losing key contributors from last year's title run, the team kept most of its core intact and benefited from younger players and new acquisitions like Katherine Ryan and Desirée Nouwen. With Maggie Li continuing to be a dominant force at the net and Abby Czenze coordinating on the floor, the Tigers took first place in the regular season before defeating familiar foe Saint Mary's to retain the crown for another year.
9. Divest Dal comes to town
This time last year, relatively no one had heard of Divest Dal. This year was their year and they've gained a lot of ground, as well as supporters. The Board of Governors has heard them out and the president has since set them up with subsequent meetings, all relatively quickly.
Divest Dal is made up largely, but not solely, of students who have appealed to the university to divest from fossil fuels and other such investments and implement policies to protect students' tuition from funding morally questionable industries.
8. Academic All-Canadians Banquet gets axed, then reinstated
Little-known fact: Dal is one of the only universities in the area that celebrates its academically high-achieving athletes like this, but the event was nearly cancelled due to budgetary and staffing issues.
In October, the banquet was looking dubious. After rallying the troops—meaning coaches, support staff and students—the banquet was put back on.
To qualify for Academic All-Canadian status, athletes had to spend 20-30 hours a week training for their respective sport while maintaining a grade-point average higher than 3.43. Out of 240 varsity athletes, 100 were given All-Canadian honours for the 2012-13 academic year, which itself is a record-breaking amount.
7. Preferred name policy coming to Dal
Dalhousie students have a lot to be proud of, and taking a proactive stance on social issues is one such reason. John Hutton, one of the Dalhousie Student Union's (DSU) two Board of Governors reps, brought the issue of preferred names forward and university policy has since been changed. Students will now be able to choose the name by which they want to be addressed, without needing to have legally changed their name beforehand. This is a great step towards equality especially for transgender students, who already face challenges in the university system.
6. SUB renovations turn heads
When the DSU announced a minimum price tag of $10 million for sweeping renovations to the SUB (Student Union Building), people were both interested and shocked. The plans included a potential atrium, several outdoor patios and a completely reworked interior. Architect Keith Tufts, of Lydon Lynch Architects, is a Dal alum and had dreams for what the SUB could be. The DSU's levy, which asked for funds to build the atrium, failed. However, the plans to rework the core of the building are still a go. Expect this to be a big story next year as well.
5. Student union president not a student
In case you don't remember, Sagar Jha dropped his only class in February. This means he is no longer a student, a requirement for being student union president. There was an initial uproar when the news broke via mass email to Dal students, but while Jha has been the butt of a few jokes, the constitutional demand for a two week pause before a recall vote has probably cooled a few heads. Because of storm closures, the council meeting at which the decision will be made has been rescheduled to Apr. 2.
4. First new Dal president in 18 years
Richard Florizone joined Dal at both the best and worst time: while the university has over 18,000 students, it's also struggling financially after years of cuts to its provincial grant.
So far, Florizone has been a very different president than his predecessor, beginning his tenure with his 100 Days of Listening campaign, a strong social media presence and a more approachable style of work.
3. Student advocacy—almost $140,000 on the line
While some students don't know what student advocacy means, those who do were seeing red these past few weeks. The DSU had been shifting towards internal advocacy, arguing that $140,000 was a lot to pay to outsource our political voice to the Canadian Alliance of Student Associations (CASA) and Students Nova Scotia (SNS). These groups advocate for student issues and rights on the federal and provincial levels, respectively. The union first freed up the funds by bowing out of both organizations. After many confusing rounds of votes, the DSU has rejoined CASA as an associate member, and SNS with a full membership – but that could still change this semester.
2. Rape chant ripple effects
While the much discussed rape chant was limited to Saint Mary's University in Halifax (UBC had their own problems), its effects were felt across the city. Students decried the terrible chants and fought to spread a more sex positive environment, especially focusing on consent, across campuses. From videos to lectures and more, Dalhousie really responded to the idea of making campus safer and more inclusive, which is why this is number two on our list.
1. Library cuts
This story goes back as early as March 2013, when the budget was cut—but it didn't really get people's attention until October, when students started protesting cuts to library hours. Over 1,000 students signed a petition demanding hours be reinstated, which made people look a little closer at the library's budget. Soon, it was realized there was no money after November to continue with new acquisitions.
This was undoubtedly the biggest issue on campus. It affected most people on campus—students, alumni, professors, researchers—in some way. People mobilized and demanded better, with success. But following the announcement of next year's library budget, there has been a renewed outcry, especially from the Faculty of Arts and Social Sciences (FASS). This one, almost certainly, isn't over yet.
 Honourable mentions:
Fountain family supports Dalhousie arts with $10 million donation
DSU election voter turnout at 10.9 per cent, lowest in a decade