The agave rises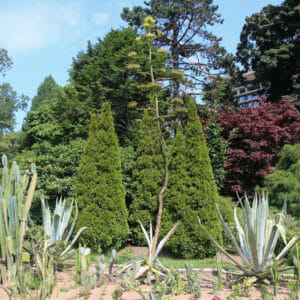 Who knew an agave plant would be a hot topic over the summer?
Staff at the Public Gardens didn't wait until the first full moon in June to welcome Halifax's agave plant from its greenhouse to the outdoors.
The agave had outgrown its indoor home. The odds didn't look good and there was widespread speculation that the plant, which only blooms once in its lifetime, had met its demise before its prime. Things started looking up for the agave, when it began visibly growing again and was joined by two garden-mates.
It's since bloomed.
Dal's FOI bill
A Canadian Union of Public Employees (CUPE) researcher sent a Freedom of Information request to Dalhousie University for the number of full-time and part-time profs the school has employed in the last decade and in return, they were given a hefty price tag. According to CBC, Dal told CUPE it would have to pay $55,000 to get the information requested.
Families belong together
What started off as a local response to the United States' immigration practices turned into a crash course in journalistic responsibility. On June 30, local activists gathered in Grand Parade Square to protest the separation of children from parents at the US border. A tweet by CTV reporter Ron Shaw suggested protesters "chased" a US military band away when they arrived in the square for a planned outdoor concert.
This interpretation of events was challenged by people who participated in the rally. The band was in town for the Royal Nova Scotia International Tattoo – which had no outdoor performances scheduled that day. Shaw eventually deleted the tweets, but protesters – including Dal student Masuma Khan – were harassed when the misinformation spread. CTV web producer Andrea Jerrett apologized to Khan directly via email.
Fond farewell
In June, the Dalhousie University Board of Governors announced president Richard Florizone's plans to step down from his position in early 2019. He'll be leaving Halifax altogether. He's taking on a job at Quantum Valley Ideas Lab; a research lab in Waterloo, Ontario. (See more about the good, the bad and the ugly of Florizone's five-year Dalhousie stint here.)
Florizone isn't the only prominent figure leaving his current post. Chief Jean-Michel Blais is saying goodbye to the Halifax Regional Police by March 31, 2019.
"The decision to retire is not one I made lightly," Blais said in a press release on July 4.
Blais held a press conference following his announcement, but he was mum on the details as to why exactly he was retiring and what he plans to do next.
Sexual violence policies on campus
On June 26, Dalhousie University's Board of Governors officially passed a new sexual violence policy. Days earlier, students at the University of King's College protested their school's sexual violence policy. Read more here.
Frowning goat
The saga of the Smiling Goat Organic Espresso Bar continues. Everything started when Jagpreet "Kit" Singh took over the two Halifax Smiling Goat locations in 2016. His management style proved unpopular among staff, many of whom quit soon after Singh took ownership. Four additional locations later (two Spring Garden cafes, along with King's Wharf and Hollis Street) current and former Smiling Goat staff – as well as the cafe's suppliers – pushed back. Workers voted to form a union in March.  
Now, two lawsuits have been filed on behalf of Singh and his company, Hebron Hospitality Group. The suits name six specific former employees and takes aim at union organizers. As Marina von Stackelberg wrote for CBC in June, this is the first time Singh has taken legal action against his employees, but several lawsuits have been filed against Singh for unpaid bills.
Meanwhile, the Glitter Bean Cafe opened its doors at the former Smiling Goat location at 5896 Spring Garden Road (which was a Just Us! prior to Singh's takeover) in July, attracting customers with the promise of colourful lattes and a queer-friendly space.
Abdoul Abdi stays home
Nine months after Abdoul Abdi's story initially made headlines, Minister of Public Safety Ralph Goodale has stated the Government of Canada will not pursue deportation for Abdi.
The announcement came after Justice Ann Marie McDonald set aside the decision to send Abdi to a deportation hearing on July 13. Andrea Gunn of the Chronicle Herald was one of the first to report Abdi's story. He is originally from Somalia but came to Nova Scotia with his older sister when he was just six years old. They were taken from the care of their surviving relatives and were brought up in the foster system. As Abdi did not have Canadian citizenship (the Department of Community Services never applied on his behalf), an aggravated assault charge in 2014 brought not only jail time, but also the threat of deportation upon his release.
Canadian activists such as Desmond Cole and El Jones rallied around Abdi, with supporters arguing that the foster system had failed him.
Butt out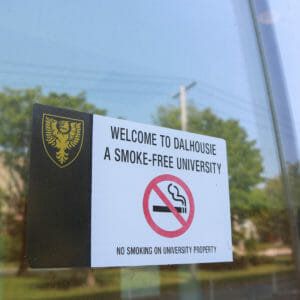 Smokers and vapers may soon have to be more careful about where they light up. Halifax Regional Council voted to pass the "respecting nuisances bylaw" on July 17.
In short: municipal properties such sidewalks, parks and playgrounds are no smoking zones – unless a designated smoking area is indicated. Failure to comply could cost you anywhere from $25 to $2,000. HRM spokesperson Brendon Elliot told CBC's Mainstreet, "We are saying that you will have to look for a sign for where you can smoke […] Whereas smokers right now walk down the street and they see a sign that says no smoking."
After public outcry, council voted to look at excluding tobacco from the bylaw. The regulations are expected to be put in place before recreational cannabis becomes legal in October.
That's the ticket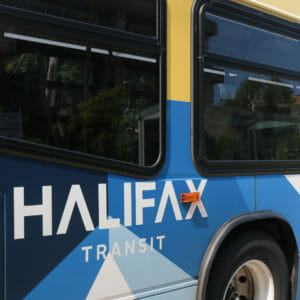 In August, Halifax Transit announced it will be implementing a new bus ticket design, with each ticket being about the same size as a Canadian dollar bill to correspond with an upcoming fare collection system.  
CORRECTION: A previous version of this articles incorrectly identified Singh as "Jaspreet "Kit" Singh." The correct spelling of his names is in fact, Jagpreet "Kit" Singh. (March 9, 2019)